Roadie Tuner App Update: New Tunings Available to Download Right Now!
by Karine Janho, Jun 27, 2019 . 2 min read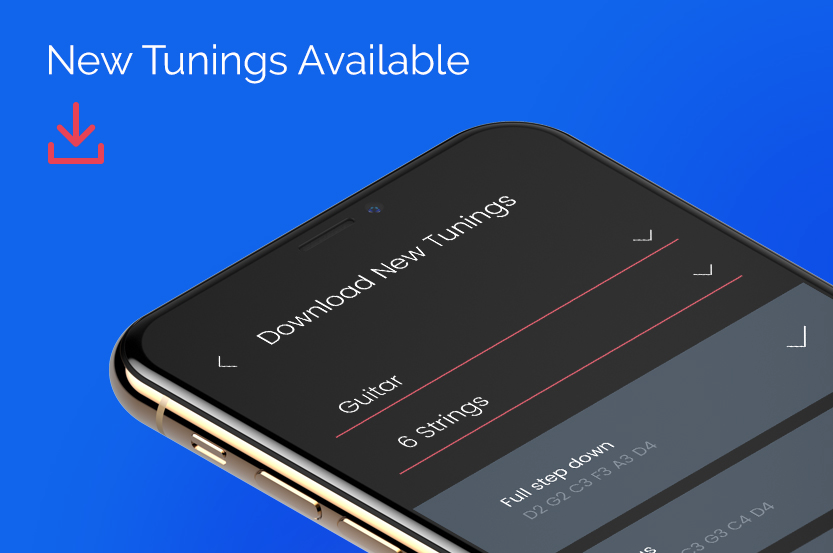 We work really hard to keep our Roadie users happy and nothing gives us more satisfaction than to release new features that make musicians' lives better!
You asked us to add more tunings to the Roadie Tuner and that's exactly what we did.
With this new Roadie Tuner app update for iOS and Android, you can now download new tunings, including Full Step Down, All Fourth, Low C, The Nick Drake Tuning & more! Once you have downloaded them, you can send them to your Roadie Tuner device by hitting the Sync button. As simple as that.
You can also suggest new tunings you want us to add to our library and we will make those available to download.
How to Download New Tunings
Please note that the following is only applicable if you have already connected your Roadie Tuner device to the app.
After opening the app, head over to the 'Tunings' tab.
Next, you need to click on the red download icon in the top right corner of the Tunings tab.
You  can then select your instrument from the drop down menu:
For example, we are going to choose Guitar, and then select 6 strings.
Out of these tunings, we will select the New Standard tuning (NST) to download, by clicking on the red download icon next to it:
After that, you should see the red download button turn into a white checkmark. That means your tuning has been downloaded.
Now, you can find your new tuning in the original Tunings tab:
Remember to Hit the 'Sync' Button
Congratulations, you have just added a new alternate tuning! To get it onto your Roadie Tuner device you will need to press on the 'Sync' button.
New Tunings to Add?
Of course, we are open to your suggestions, so go ahead and send us the new tunings you would like us to add and we'll get to it!
Get Ready to Explore Some New Sounds
Make sure to update your Roadie Tuner app to get the latest version on iOS or Android so you can start downloading new alternate tunings.
If you have any questions, get in touch with us anytime on support@bandindustries.com
Happy Tuning!
Further Readings – Alternate Tuning: Everything You Need To Know
Get our free Alternate Tunings Guide!