5 Challenging Ukulele Songs to Try Out
by Rodrigo Sanchez, Jan 18, 2021 . 4 min read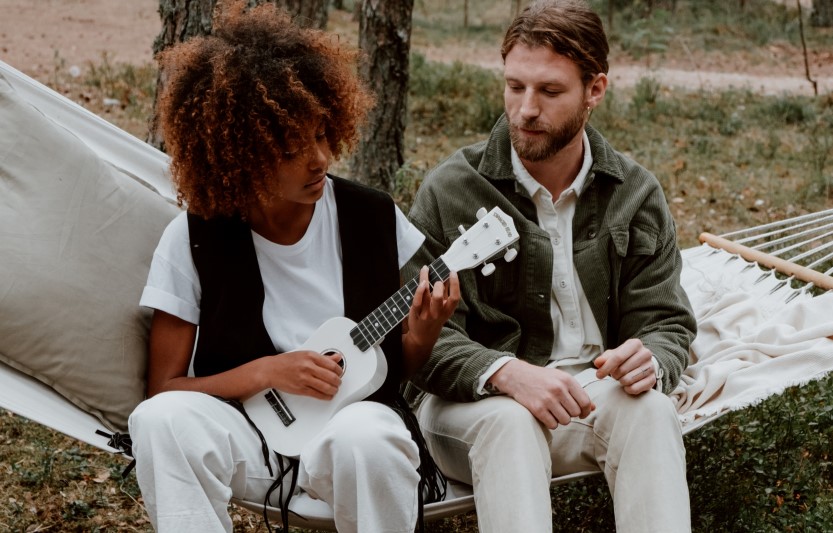 These 5 challenging ukulele songs will give you a run for your money. They might feature complex chords, trickier song structures, and more involved strumming patterns.
All of them are great for those who have been practicing diligently. If you already know some easy ukulele songs and need a challenge for this new year, keep reading. We're going to look at songs that are for more advanced players but are still great fun. And to have more uke info and resources at your fingertips, download our very own ukulele app available on iOS and Android. Here are 6 challenging ukulele songs to try out.
If you want to impress everybody at a get-together, bust out this classic AC/DC song on your uke. "Back in Black" is one of the best-known rock songs ever and quite popular among guitar students. However, it is a challenge for uke players, mainly because of the reduced size of the instrument makes it a bit tricky to play. This song features five easy ukulele chords (E D A G B). However, they change at a fast pace and have riffs inserted among them. These riffs are a big part of the song's identity and will provide great fun for any uke player looking for a challenge. Remember to start to slow first and then speed up. Consider using a metronome. 
This classic from the 80's uses some complex chords that employ sevenths (Dmaj7, for instance). In reality, seventh chords are not crazy advanced but will appear so if you have never played them. This is especially true for the ukulele. "Everybody Wants to Rule The World" also features a more elaborate form that employs syncopation on the chord changes. That means it will be a good challenge for those of you who have experience with the instrument. The beginning riff will also prove to be a lot of fun. No, I'm not being sarcastic this time. 
One of the most famous songs by the greatest band ever. "All You Need Is Love" features a simple strumming pattern most of the way, followed by that famous riff that distinguishes it. However, this easy strumming pattern then turns into a beautiful fingerpicking part for the interlude. The chords also move faster than in easier ukulele songs and feature dominant sevenths (like in G7). All in all, this is a great song to learn and offers the right amount of fun and challenge. If you practice. 
This version of "Somewhere Over The Rainbow" by the late IZ is perhaps the best known uke cover ever. This song is an old jazz standard and one of the most recorded pieces from the American repertoire. It features simple chords and strumming but its structure can be tricky. IZ made a classic again with his beautiful version, which is the one we are going to learn here. 
Another flagship ukulele song. "Can't Help Falling In Love" is a classic and has been covered by many artists, including Elvis Presley, UB40, and Twenty One Pilots. It uses simple chords but its structure can be challenging. The harmonic movement is not what you find in your typical ukulele song, and that can also take a bit to get used to. A beautiful song that also offers a nice challenge. 
These 5 Challenging ukulele songs to try out are a step forward for those that can already play easy songs. Once you master these, you can move onto other challenges like alternate tuning uke songs. With some practice, you will amass a nice repertoire that can be loads of fun for you and your loved ones. Leave us a comment with the uke songs you'd like to learn. 
Get our free Alternate Tunings Guide!