9 Common Causes of Poor Guitar Intonation
by Frederik Nielsen, Sep 2, 2019 . 3 min read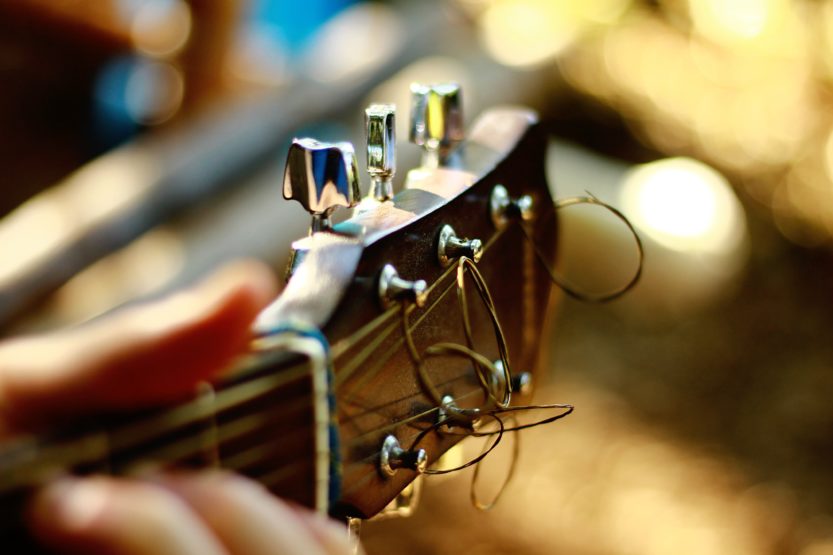 Guitar intonation is, as the name implies, related to the tone of your guitar strings. You've probably noticed that certain strings sound off no matter how well you've tuned them.
Poor manufacturing usually causes bad guitar intonation. Or, it might be that you've simply used your ax so much that you've worn down parts of it.
What Causes Poor Guitar Intonation?
Manufacturers set up your guitar in a very specific way, and any flaw in the setup, however tiny, can have a massive impact on how your guitar sounds. Here are some common causes of poor intonation.
1. Faulty Guitar Strings
Not all guitar strings are created equal, and maybe you've bought a bad set. Eliminate this cause by changing the strings. You can do that quickly and easily with the Roadie 3.
2. Too High String Action
Sometimes, If you've set high action at the nut or bridge of the guitar, the strings have to bend further when you press them down towards the fret. Adjust your strings to a lower action to avoid this cause.
3. Extreme Guitar Neck Relief
Extreme neck relief is one of the causes of high action, which leads to poor intonation. Turn your guitar sideways to see if your guitar neck is straight dipped or over bent. If it's not flat, then straighten the neck.
4. You Have Not Positioned your Intonation Pieces  Properly
The strings rest on the intonation pieces that form part of the bridge. Improperly positioned intonation pieces can cause poor intonation. Adjust them individually for each string.
5. The Nut Is Worn Down or Not Set Properly
A worn down or improperly positioned nut can cause bad intonation. A worn-down nut will need replacement, and a nut set too high should be filed down in order to lower the string action.
6. You Have Not Positioned your Frets Properly
Each fret represents a half step on the chromatic scale and is positioned based on mathematical calculations. Check to see if you'll need to re-fret the board.
Further Reading: Mattias Eklundh's True Temperament Guitar
7. The Frets Sit Too Loosely in the Slots
The frets can sit too loosely if you've dropped the guitar or they're manufactured wrong. As with poorly positioned frets, the only solution to this problem is to re-fret the board.
8. The Nut and Frets Are Worn or Damaged
The friction of the strings can wear down the nuts and frets on your guitar. So, you may need to replace the nuts or replace the frets if either of these become worn down or damaged.
9. Switching String Gauges
Alternate tunings are great, but they sometimes require higher gauge strings which can increase tension and warp the guitar neck. Combat this by not switching string gauges too often.
Have you identified the problem?
Hopefully, the reason for your guitar's poor intonation is one of these nine reasons we've listed above.
Stay tuned for our next article on How to Intonate a Guitar!
Know of any common causes of poor guitar intonation that we've missed? Drop us a comment in the section below and share your knowledge!
Subscribe to Gain Access to our Alternate Tuning Library & Accompanying E-Book Guide
Discover the origin of the most popular tunings, some less-known facts, AND most importantly, learn how to play songs in your desired tunings.