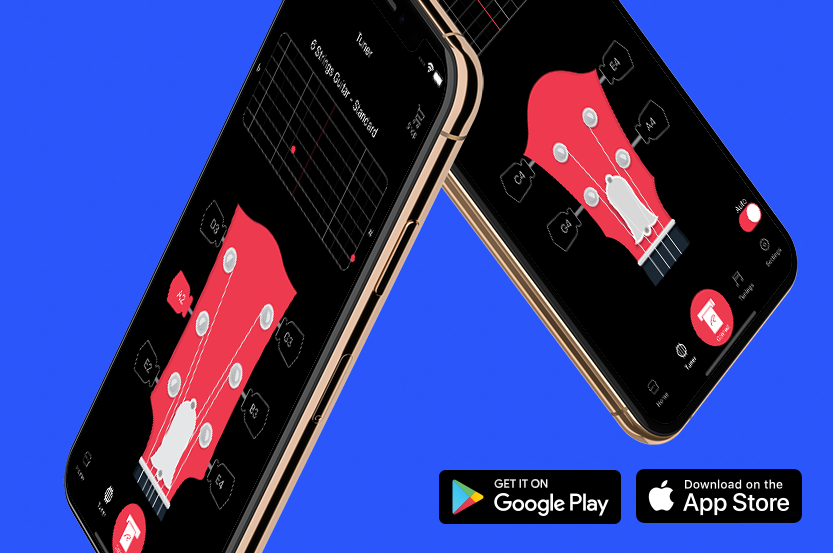 Band Industries, the makers of the Roadie automatic guitar tuners, are excited to announce the launch of their new free tuner app.
The Roadie Tuner app has always been around as the all-in-one companion for their line of hardware tuners but it now also serves as a portable and reliable free tuner for all string instruments! It was released on Android earlier this year and already counts hundreds of users daily. As of today, it is available to download on iOS too.
About the App

Designed by musicians for musicians, the app's beautiful, minimal and intuitive interface allows you to tune almost any string instrument on the go and stay up to date with the latest Roadie upgrades. Explore a wide variety of alternate tunings, create your own custom tunings and consistently get the best sound out of your instrument.
With the Free Tuner You can:
Tune any string instrument on the go including guitar, ukulele, mandolin and banjo.

Choose from a multitude of tunings: standard, open G, open D, Drop D, half step down, D modal and much more.

You can even create and save your own custom tunings!
It's fast, accurate and easy to use: simply pluck the string on your instrument, the app will listen directly from your device's microphone and guide you visually until you reach the perfect pitch.
It's Also the Perfect Companion for your Roadie Tuner:
It serves as a control center for your tuning experience when using any of the Roadie Tuner products. You can: 
Create and store a profile for each of your instruments (electric, acoustic, classical, 7 and 12-string guitars, ukuleles, bass, mandolins, banjos, etc.)
Refine your advanced tuning settings: change the reference pitch,  tune with a capo and modify the desired frequency to the cent.
Access music news, our latest updates and tips on how to improve your playing.
Create custom instruments such as a dulcimer or a santour or anything else with geared pegs.
Turn off and on Roadie's beep and vibration function depending on your needs.
Switch to left handed mode to switch the direction of the Roadie screen.
The best part? Through the app, you will also receive the latest firmware updates and feature improvements for your Roadie Tuner device.
Roadie Tuner makes tuning a breeze. Download the app so you can immediately get to playing.