The 8 Best Willie Nelson Songs
by Rodrigo Sanchez, Oct 29, 2021 . 6 min read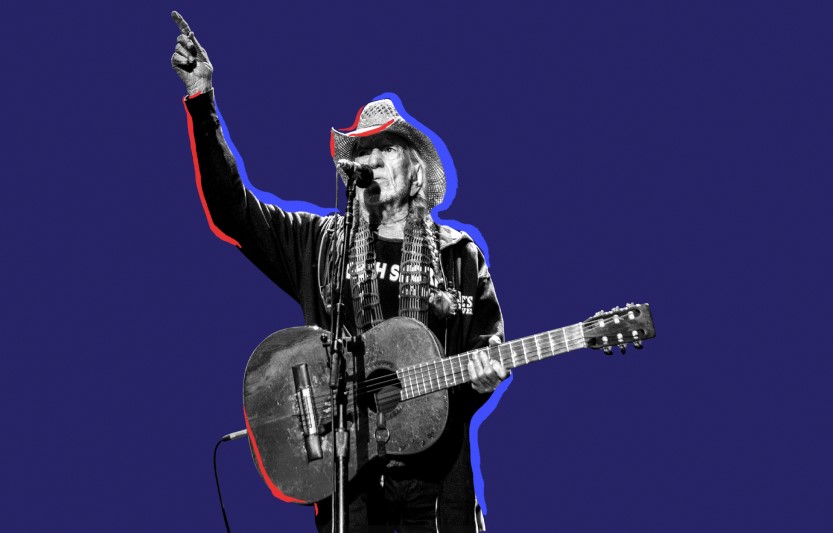 It is quite hard to pick the best 8 Willie Nelson songs. He is such a prolific writer and has written a myriad of great songs over his long career.
Willie Nelson started writing songs at the very young age of seven and has not stopped since. That means he's been a songwriter for 80 years, and quite successful as well. 
Although he is mostly associated with country music, Willie Nelson is an icon with an incredible body of work. Besides releasing well over 60 albums, Nelson has acted in 30 films. Additionally, he is an outspoken artist and is the figure most commonly associated with Outlaw country. This is back when country music still sounded country. Willie Nelson is the recipient of several Grammy awards, a Kennedy Center Honors, Gershwin Prize, and is also a member of the Country Hall of Fame. Without further ado, here are the 8 best Willie Nelson songs. 
Pretty Paper was one of the first songs Willie Nelson wrote once he got signed to Monument Records. Nelson recorded his own version of this song in 1964 in which legendary songwriter and musician Chet Atkins produced. However, it was Roy Orbison who turned it into a hit. The year was 1963, and it was thanks to producer Fred Foster that Orbison agreed to record it, making it a hit. 
This song is responsible for reviving Willie Nelson's career in the mid-seventies. After a string of hits in the '60s, Nelson's career was a bit slow in the following decade. Not a man to rest on his laurels, Nelson kept at it, writing and touring constantly, always working at his craft. 
Blue Eyes Crying in the Rain was part of the seminal album Red Headed Stranger. This album became a major reference point for country music and in great part because of Blues Eyes Crying. Although this song was written by Fred Rose, Willie Nelson is the artist that made it legendary. 
Funny How Time Slips Away was first recorded by country singer Billy Walker. It is considered a country music standard and was written by Willie Nelson in 1961 when his career just started out. It was later recorded by none other than Elvis Presley. Naturally, once the biggest musical act of that era recorded it, the song became a hit. Furthermore, the recording by "The King of Rock" cemented the song's status in American music and further elevated Willie Nelson's fame. 
On the Road Again is a song about life as a touring musician. This song features a different subject matter, as it is not about love. However, it is one of Nelson's most recognizable songs as it connected deeply with his massive fanbase in the very early 80s. It won the Grammy Award for Best Country Song in 1981 and is featured on the album Honeysuckle Rose. Written and performed by Willie Nelson, the song is considered a classic country song and one of his best ever. 
To All The Girls I've Loved Before is a classic that was made famous by Willie Nelson and Julio Iglesias. It was written by Hal David and Albert Hammond. This song marked a breakthrough for Julio Iglesias in the English language market and was a massive hit around the world. To All The Girls I've Loved Before was a true win-win situation for both artists. This song was Willie Nelson's biggest European hit as well as Iglesias' biggest song in the United States and Canada. 
This song was first recorded by Faron Young and became a big hit in 1961. It was written by Nelson in the beginning of his career and became a staple of country radio in the sixties. Hello Walls is one of the most important songs in Nelson's career as it significantly increased his audience. Additionally, it also expanded his influence among his peers as well as record producers and recording businessmen. In 1996 he recorded it again, but this time as a rock version for the album Twisted Willied with the Reverend Horton Heat band. 
Good Hearted Woman was written by Waylon Jennings and Willie Nelson and became a hit in 1971. This song reached position 3 on the US Hot Country Songs Billboard chart and went to number 1 on Canadian RPM Country Tracks. It was written in an interesting fashion. Walon Jennings had the initial idea and wanted to get Nelson's help. Jennings found Nelson in the middle of a poker game and told him about the son. They started playing poker together and discussing the song in the middle of the game, all while someone wrote down the lyrics they were coming up with. Never heard that before!
Crazy was written by Willie Nelson in 1961 and became a hit for several artists throughout time. One of the most notable versions was recorded by Linda Ronstadt in 1977. Other artists that have recorded this song include Julio Iglesias, Chaka Khan, Elvis Costello, and Diana Krall. However, Patsy Cline was the artist that made this a massive hit, and she was the first one to put the song on the map as well. The year was 1962 and Crazy took over the Country charts, starting the journey of a song that is truly legendary. 
The 8 best Willie Nelson songs are a true testament to his prolific output and special touch. Simply said, he never stopped once he got a guitar and started writing songs. Willie Nelson still writes music and tours to this day (pre-Covid) and is revered the world over. However, it is in the USA where he is a living legend, not only for his work on music but for his activism. 
It is quite hard to have a successful career in music. However, to have a career like Nelson's is nothing short of impressive. Feel free to leave a comment with your favorite Willie Nelson song. There's still plenty to choose from. 
Subscribe to Gain Access to our Alternate Tuning Library & Accompanying E-Book Guide
Discover the origin of the most popular tunings, some less-known facts, AND most importantly, learn how to play songs in your desired tunings.