Top 4 Famous Pedalboard Setups
by Rodrigo Sanchez, Oct 12, 2020 . 4 min read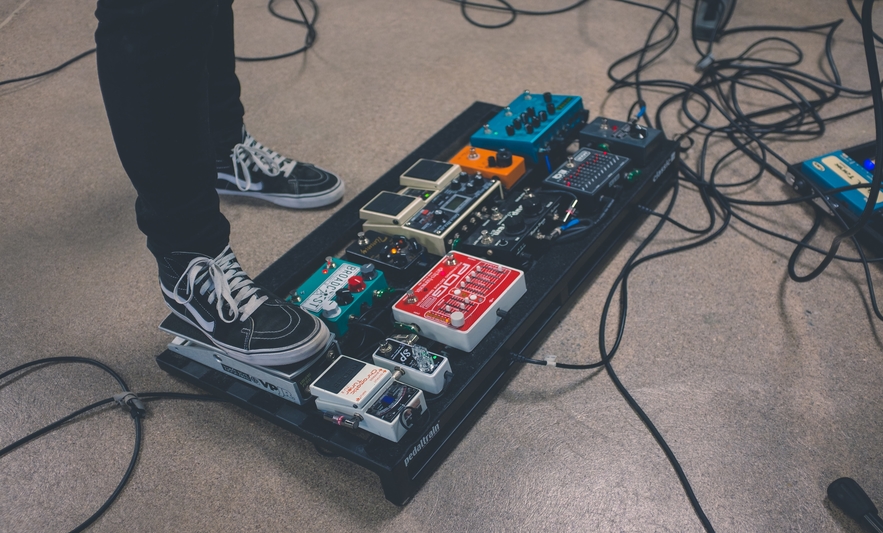 There are so many famous pedalboard setups. Sometimes the same guitarist will have different setups for different situations. This is partly because of the seemingly endless amount of guitar pedals in the market. As a result, the possible combinations are endless.
Granted, some of these pedalboards may appear like an exaggeration. And they are. But this is understandable. For instance, if you're a guitar hero you probably have every pedal company under the sun begging you to use their products. As a result, you do try more than a few. And to many, it is important to try out new pedals in the eternal quest for that ideal sound. However, restraint is usually not the norm here. After all, who wouldn't want to have complete access to any piece of gear available? Here are Six Famous Pedalboard Setups. 
Brad Paisley
Paisley's pedalboard setup is quite modest for a superstar. And like in most superstars' cases, Brad Paisleys' pedals are controlled by his guitar tech. That means that Paisley is not stepping on them to activate or deactivate. As a result, he can move freely around the stage. Meanwhile, his tech will effectively switch effects on and off. His pedalboard features a Line 6 M13 (mostly for chorus and phaser), Roland RE-20 Space Echo, Boss DD-2 (for delay) and a Boss NS-2 Noise Suppressor. Paisley uses several overdrives pedals like the Wampler Plexi Drive, Hermida Audio Zen Drive, Wampler Paisley Drive and the legendary Ibanez TS9 Tube Screamer. 
David Gilmour
Not a modest pedalboard. Quite the opposite. David Gilmour's pedalboard may feature 23 effects at any given time. Certainly, we wouldn't expect anything else from Pink Floyd's master iconic guitarist. As a result, Gilmour also employs his guitar tech to do all the switching. And there is quite a bit to be done just on the overdrive and distortion department. Gilmour uses a Dunlop FFM1 Silicon Fuzz Face, an Electro-Harmonix Nano Big Muff and a ProCo RAT2. For modulation effects, Gilmour used a pair of rotating Leslie speakers, a Univibe pedal, and a Boss CE-2 Chorus. 
John Mayer
John Mayer is known for being meticulous with his guitar tone. As a result, his choice of pedalboard and effects has been influenced by the use of Kempers recently. These relatively new amplifier systems give guitarists a plethora of choices in sound and effects. As a result, this can severely decrease the need for guitar pedals. In some cases, it may even eliminate it. However, in Mayer's case, pedalboards are still employed. They are set up with a few versions of the Tube Screamer, Boss DB-2 Blues Driver, Marshall Bluesbreaker, and Klon Centaur. Mayer also uses a Real McCoy Custom RMC8 for wah and a Line 6 DL4  for delays.
James Valentine 
Maroon 5's guitarist brings quite a pedalboard setup on tour. About 18 pedals are included in his pedalboard setups. Many of them are used only for one song. Therefore, there are many pedals. Just in overdrive Valentine has three pedals: a Menatone Blue Collar, a Fulltone OCD, and a Fulltone Full- Drive. Valentine likes to experiment and switch pedals from his setup often. For the chorus, he uses a Dunlop Rotovibe, and for wah, he uses a Zakk Wylde wah.
In conclusion, guitarists are notorious for having gear acquisition syndrome (GAS). This is especially true if they have the means to have endless gear. And this is why famous pedalboard setups typically go beyond the essential pedals for guitarists. Moreover, it is still fun to know what the pros use on stage and in the studio. Most importantly, it is a great way to learn and find out about new products and ways to use it. Feel free to leave a comment with your must-have pedal for your setup. 
Get our free Alternate Tunings Guide!