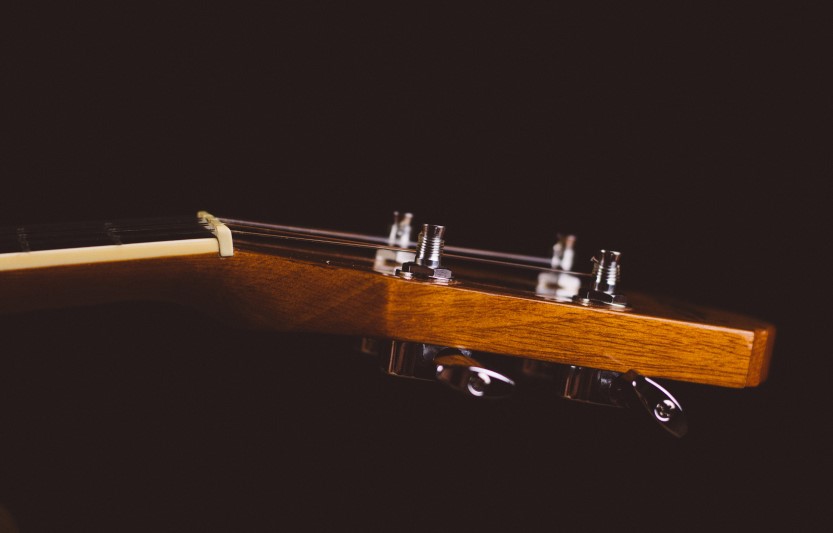 The term guitar tunings may refer to pitch sets other than standard tuning, also called nonstandard, alternative, or alternate.
Some tunings are used for particular songs, and are named by the song's title. There are hundreds of such tunings, often minor variants of established tunings. Communities of guitarists who share a musical tradition often use the same or similar tunings. We've picked out 7 Awesome Songs in Alternate Tuning:
"Black Hole Sun" 
After mishearing a news anchor, Soundgarden frontman Chris Cornell wrote "Black Hole Sun" in about 15 minutes as "just sort of a surreal dreamscape, a weird, play-with-the-title kind of song." Despite thinking the band wouldn't like it, "Black Hole Sun" is now one of Soundgarden's most distinctive songs. It features the drop D tuning and open power chords that Soundgarden helped popularize among grunge, alternative, and metal bands during the 1990s.
Looking to tune to alternate tunings FAST?
If your set list includes songs in alternate tunings, check out our flagship automatic tuner, Roadie 3. It is quicker than ever, easy to use, and will get your instrument accurately tuned in no time. It comes with over 150 built-in tunings and works on all string instruments with a guitar machine head including electric, classical, acoustic, and steel guitars, 7 & 12-string guitars, ukuleles, mandolins, banjos & more!
"Kashmir"
Robert Plant began writing the lyrics to Led Zeppelin's quintessential "Kashmir" while traveling across the Moroccan desert. Meanwhile, back in the studio, Jimmy Page began experimenting with the modal guitar tuning of D-A-D-G-A-D.
"The structure of it was strange, weird enough to continue exploring," he recollects. Along with John Bonham, Page went on to develop the driving, hypnotic chord progression and Arabic-sounding patterns that define the super group's signature stadium-rock anthem.
"Daughter"
This hit song from Pearl Jam's 1993 studio album Vs. features lyrics by Eddie Vedder. Rhythm guitarist Stone Gossard wrote the music, hence using the open G tuning D-G-D-G-B-D on a Guild wide-body acoustic guitar. About his melodic country-rock lead guitar playing on the song, Mike McCready has said, "That's one of the few solos I really had to sit down and work out."
ARVE Error: src mismatch
provider: youtube
url: https://www.youtube.com/watch?v=EgVo1a2Cj4k&list=PLFJn5QfTxjni6aYaafkRCMCoWPXhVV-gB&index=11&t=0s
src in org: https://www.youtube-nocookie.com/embed/EgVo1a2Cj4k?list=PLFJn5QfTxjni6aYaafkRCMCoWPXhVV-gB
src gen org: https://www.youtube-nocookie.com/embed/EgVo1a2Cj4k


"Iris"
Originally created by the Goo Goo Dolls for the 1998 romantic fantasy film City of Angels, "Iris" has become one of the staples of '90s alternative rock. It's the guitar tuning of D-D-D-D-D-B that produces the evocative song's broad, chorus-like sound.
"I was thinking about the situation of the Nicholas Cage character in the movie," says guitarist John Rzeznik. "This guy is completely willing to give up his own immortality, just to be able to feel something very human."
"Seven Nation Army"
The White Stripes' defiant "Seven Nation Army" is driven by a prowling guitar riff that's played on the "slide open A tuning" of E-A-E-A-C♯-E. The bass sound was achieved by running Jack White's vintage Kay hollow-body guitar through a whammy pedal set one octave lower. White has reportedly said that he'd intended to save the riff for a James Bond theme. Instead, the quirky duo's signature song has become an anthem at sporting events and political protests the world over.
"Yellow"
Having just finished recording the song "Shiver" at a studio in the Welch countryside, the members of Coldplay were inspired by the starry sky, recalls drummer Will Champion. Frontman Chris Martin came up with the chord pattern for "Yellow," which uses the unique guitar tuning of E-A-B-G-B-D#. It started off sounding like a Neil Young type song; "but when Jonny [Buckland, lead guitarist] started playing on it and started throwing ideas in, he had that riff, and it sort of got a bit heavier."
"Open Your Eyes"
Metal thrasher Mark Tremonti chose a guitar tuning that he's used frequently: the alternative open D tuning D-A-D-A-D-D. As Tremonti tells it, when the band turned the song in as their first single, it included a long guitar solo. Then the producers edited it out. But he insisted on keeping it, telling them, "Kurt Cobain may have killed the guitar solo, but we're going to do our best to bring it back."
We hope you enjoyed going through these 7 Awesome Songs in Alternate Tuning! If you're looking for more on alternate tuning, check out our guide.
Did we miss anything? if you have any favorite songs in alternate tuning please share them in the comment box below!