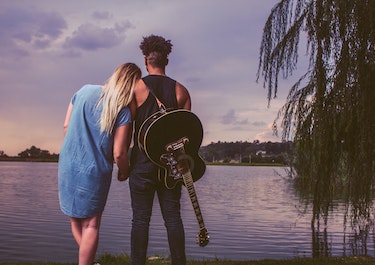 We have 8 songs to learn for Valentine's Day for you in this article. These songs will spice up your day
and make for a special romantic moment to remember. Moreover, these songs will also help you get better at your instrument, whether you play guitar or ukulele. They are relatively easy and will pave the way for more complicated and challenging material. 
All of the songs below offer you a chance to get better at different aspects of your playing, from chords, all the way to strumming. Naturally, they are all of a romantic nature, so you can dedicate it to your romantic partner while getting better at the instrument. A win-win for everyone! Without further ado, here are 8 songs to learn for Valentine's Day.
This classic song was made famous by Olivia Newton-John and John Travolta in the movie Grease. It features easy chords with a simple chord progression, ideal for beginners. The chors in question are Am, F, Em, E, G and G7.
All of these are basic chords that you can learn in one day with a bit of effort. To keep it really simple, you can play this song by strumming each downbeat, before moving on to more complex strumming patterns.
You Are My Sunshine is an iconic song by the legendary Johnny Cash. The harmony of this classic is made up of the chords A, D, E, all very simple and easy to learn.
With deeply romantic lyrics, this song is an ideal choice for Valentine's Day. If you're having trouble playing it, try practicing the chords on the Ukulele and Guitar Coach app.
Tear in my Heart is arguably one of the most beloved Twenty One Pilots songs. It features a straightforward harmony that employs basic chords that are easy to play on both the ukulele and guitar.
The progression is made of A7, A, Bm, D, F#m, and G. Although Tear in my Heart is a relatively simple song, it adds the challenge of a bar chord. Both the Bm and F#m use bars, and are quite common.
Lady Antebellum created one of the most enduring love songs of the past 15 years with Need You Now. With beautiful lyrics and melody, this song can be played with a variety of strumming patterns. For beginners, strumming downward on the downbeat for each chord is a great place to start.
The chords featured on Need You Now are F, Am, C, Em, Gsus, G, and G/B. All of these chords have simple shapes. With this song, you also get a chance to get started with chord inversions with the G/B chord. This is what is known as the first inversion chord. You simply take the third note of the chord and put it in your bass. If that sounds complicated, don't worry. Keep at it and it will soon make sense if you put in the work and practice. One of the best 8 songs to learn for Valentine's Day.
Save Your Tears is among The Weekend's most popular songs, and for good reason. With a heartfelt melody and simple lyrics, this is a great tune to learn for Valentine's day. C, Am, Em, G, Dm, F, F/G.
This has a fantastic pop-rock strum pattern and a simple chord. It has the added challenge of a polychord with F/G. This is a unique sound that is used in harmony as a special spice. Save Your Tears is not only a great Valentine's day song, but also one to listen for that new sound.
In case you need further help with that song, check out the Ukulele and Guitar Coach app for advice on how to play this and many other songs.
Photograph is a massive global hit by superstar Ed Sheeran. This song is particularly popular in weddings and other romantic endeavors. Part of the greatness of this song is based on how simple it is. It features only four simple chords which are D Bm A and G.
Photograph was written with a typical verse-chorus structure, which makes it even easier to learn and play. For strumming, you can try to strum downwards at each beat. In case that is too easy for you, try to go for that pop-rock type strumming that Ed Sheeran employs for this song.
Thinking Bout You is one of the most tender songs by global superstar Ariana Grande. This is a perfect song to learn for Valentine's Day. Check out some useful tips on this song at the Ukulele and Guitar Coach app.
Thinking Bout You features only three chords E, B, C#m. All of them are simple. The only one that may be challenging is the C#m. However, you can think of it as a Bm up two frets. In any case, this is a great song to practice playing above the third fret.
With a simple structure and form, Thinking Bout You is a simple enough song for you to learn in one day. 
Love me Tender is a true classic by Elvis Presley. This song has stood the test of time and is still popular for weddings, and a great choice to learn for Valentine's Day. Out of all the songs on this list, this features the more complex harmony.
The chords involved are D, D/A, E7, E7/B, A7, A7/E, D, and D/A. Although these are simple shapes, several of them are inversions. Check out the Ukulele and Guitar Coach app for extra help with this song.
These 8 songs to learn for Valentine's Day are as romantic as they are useful. Each of them presents a unique opportunity to keep getting better at your instrument. Naturally, they are also likely to impress your sweetheart on that special day. Please remember to be patient and kind to yourself when learning guitar, and try to have as much fun as possible. Happy Valentine's Day!