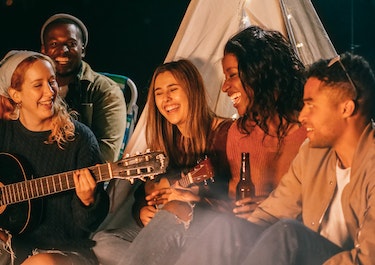 Today we're going to give you 10 fun party songs you can learn on guitar.
These songs are not only great fun but will also help you become better. With each of these, you will learn new techniques. Whether it's a new chord or developing your sense of form, learning these songs will serve you well. 
To help you get better fast, check out Roadie Coach. This wonderful tool effortlessly attaches to your guitar and works in pair with the Coach app (Available on IOS & Android). With personalized feedback and a vast library of songs to learn from, Coach can truly help you. Without further ado, here are the 10 fun party songs you can learn on guitar.
Written and recorded by Jason Mraz, this is a fun song with a groovy feel and a catchy melody. It was a big hit back in 2008, and it's still a popular party song that many can sing along to.
Its simplified version involves only four chords which are G, D, Em, and C. You can either play the original strumming pattern or go for a simpler one that involves only four down strums per chord.
This is a Southern Rock classic by the band Lynyrd Skynyrd that many love to sing along to. It features chords that are quite easy to learn, as well as fun. The progression is D, G, F, C, and Cadd9. Whether you're a beginner or a seasoned guitarist, this is a great song to spice up a party.
Back in Black was written by guitar legend Angus Young and recorded by his band AC/DC. It features a few easy chords (E, D and A) with two separate licks.
This is one of rock's timeless riffs, and a great song to get the party started.
This is a decade-defining song that remains popular today.
It is a standard song for acoustic players to learn and can certainly fit in a party. With simple chords and an easy structure, this song is relatively easy to learn.
The main chords are Em7, G, Dsus4, A7sus4, lasting two beats each. The bonus is that people love to sing along to Wonderwall, and it will be a welcome number at a party.
Hotel California is a classic song that many love and sing. With common chords and singable lyrics, this is a great song for partys. The chords featured are Am, E7, G, D, F, C, and Dm.
You can either strum each chord in a simple downward motion or attempt a more involved strum pattern. Hotel California has long been one of the most fun songs for guitar.
Shape of You is a worldwide smash hit written by superstar Ed Sheeran. It features the same four chords throughout the entire progression. The chords on this song are Am, Dm, F, and G. This is a relatively easy song to learn. With its uptempo feel and fast lyrics, Shape of You is a great party song.
With a rapid rhythm, this song is a great chance to work on how to change chords quickly. Overall, a great song for any party and ideal for beginners to learn.
This song first made inroads as a jazz standard. It then became well known again thanks to Israel Kamakawiwo'ole's version. It is a great song to get a party warmed up and likely one that is known by different generations.
This is Guns N Roses' biggest song ever and an absolute classic. With its powerful rock feel and simple chords, Sweet Child O' Mine is a fan favorite across the globe.
The main chords on this classic are G, D, C, and Am. This makes it a good song not only to play at parties but also for beginners. Sweet Child O' Mine is undoubtedly one of the 10 fun party songs you can learn on guitar.
This song is considered a masterpiece by many. It features a fingerpicking part that is sure to impress partygoers.
This song is appropriate for intermediate to advanced players, at it takes a bit more coordination.
Like most things that are guitar related, if you keep practicing it is just a matter of time until you can play it right.
This is a great classic song to add a bit of Latin flavor to your party. This is one of guitar legend Carlos Santana's biggest songs, and popular all over the globe.
It is remarkably easy, featuring two chords the whole way through. Oye Como Va is also very easy to sing, even if you have never spoken a word of Spanish. With its hot Latin beat, this song is sure to spice up your party quite a bit.
These 10 fun party songs you can learn on guitar are bonified classics. There is great variety in the songs mentioned above, from all eras. There is a bit of classic rock, all the way to Latin classics, and even some modern hits by today's top artists. Make sure you spend time with these songs. Remember to stay the course and don't let frustration get to you. Patience and perseverance are key. Please remember to have fun while at it! Are there any other great party songs that you can think of? Let us know in the comment section below.