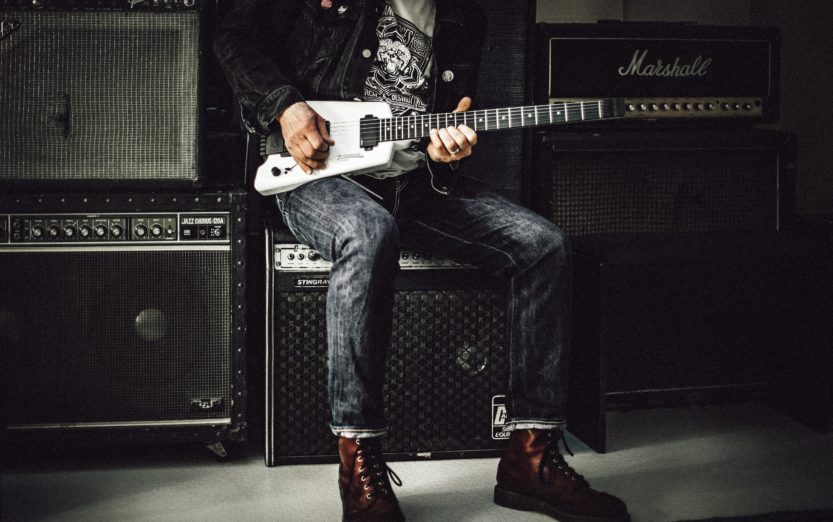 Ever wondered what equipment some of the greatest guitarists of all time used?
Then look no further.
We have compiled a list of some of the best to have done it and their rigs.
Over the years these guys have used massive amounts of kit so here we have just named some of the more notable.
1. B.B. King
The king of the blues was one of the most influential guitarists of all time. A genuine soloist with a sophisticated style. You'll be surprised how simple his rig is.
Guitars
Gibson Lucille Guitar
Fender Esquire Tele
Amplifiers
Lab Series L5 2×12" Combo Amp
Fender Twin Reverb
2. Stevie Ray Vaughan
Stevie Ray Vaughan, another great blues guitarist. Following in the wake of B.B. King's success Vaughan went on to be one of the most influential guitarists.
Guitars
Fender Stratocaster 1963 (With a 1962 Fender Neck).
Various Stratocasters 1960, 1964, 1957
Gibson ES-335 1958
Custom Hamilton Lurktamer
Amplifiers
Fender Super Reverb Combo
Fender Bassman amplifier
Marshall Major 200-watt heads
Marshall JCM800 half-stack
Pedals and Effects
Vox V847 Wah-wah pedal
Ibanez Tube Screamer
UniVox UniVibe (Dunlop)
Dallas Arbiter Fuzz Face
3. Keith Richards
The legendary Keith Richards is an English Guitarist famous for co-founding the Rolling Stones. Keith has a huge collection of guitars. And we mean huge. There's over 1000 in his collection.
Guitars
Fender '52 Telecaster – Butterscotch Blonde
Natural finish 50's Fender Telecaster
Fender Telecaster sunburst
Music Man Silhouette guitar
Amplifiers
Fender Twin amplifier
Marshall head
Fender Bassman 4×10
Mesa Boogie 4x 12″ cabinets
Pedals and Effects
Zinky Master Blaster clean boost pedal
Ibanez UE-400 multi-effects
Fulltone Tube Tape Echo
MXR Phase 100
4. Jimmy Page
Page was integral to the famous sounds of Led Zeppelin. Page wrote, played and produced the songs. And boasts an even bigger collection than Richards, with over 1500 guitars.
Guitars
1959 Fender Telecaster
1958 Gibson Les Paul Standard
1959 Gibson Les Paul Standard
1960 Danelectro 3021
Amplifiers
Fender Super Reverbs
Fender Tonemaster Heads and 4×12 cabinets
Hiwatt 50
Marshall 1959-SLP: 100-watt head rewired to 200 watts modded with KT-88 tubes
Pedals and Effects
Boss CE-2 Chorus
Boss SD-1 Super Overdrive Distortion
Digitech WH-1 Whammy Pedal
Dunlop Crybaby Wah (535Q)
5. Eric Clapton
Clapton is a blues and rock guitarist that truly needs no introduction. Clapton personified the basics, just a man and his guitar.
Guitars
Fender Eric Clapton Signature Stratocaster (aka Blackie)
Martin 000-28EC Eric Clapton signature model
Gibson 1960 Les Paul Standard Sunburst
Gibson SG Standard
Amplifiers
Eric Clapton Signature Fender EC Tremolux
Fender tweed Champ amp (used on Layla).
Fender Clapton Vibro-Champ amp
Vox AC-30
Fender Clapton Twinolux
Pedals and Effects
Boss Chorus CE-3
Leslie pedal
Jim Dunlop 535 Crybaby wah-wah pedal
Dunlop Jimi Hendrix Wah Pedal
6. Jimi Hendrix
Hendrix is probably the most recognizable guitarist of all time. Even those living under a rock can tell you who he is. Hendrix's wild playing on stage and effortless presentation made him one of the most entertaining guitarists of all time.
Guitars
Fender Stratocasters including 1968
Fender Jaguar
Gibson Flying V
Fender Jazzmaster
Amplifiers
Marshall 1959SLP 100Watt Super Lead Plexi Head
Marshall 1960A Slant Cabinet / 4×12
Silvertone with a 2 x 12 cabinet
Marshall 1960AC Vintage Cabinet / 4×12
Pedals and Effects
Dallas Arbiter Fuzz Face
Roger Mayer Octavia Fuzz/Octave
UniVox UniVibe
Vox 847 Wah pedal
What's Your Rig?
Now that you've seen what the famous axemen use. It's time to share your weapon of choice with us. Leave your rigs in the comments section below!
Meet The Roadie Coach, The Personal Music Tutor
If you want to have the perfect aid for your guitar learning journey, check out Roadie Coach. This fantastic tool can track your progress in several ways and help you get better on the guitar. It features a high-quality recorder where you can record yourself for immediate feedback. Additionally, Coach also comes with a library of songs that you can add to your repertoire later.