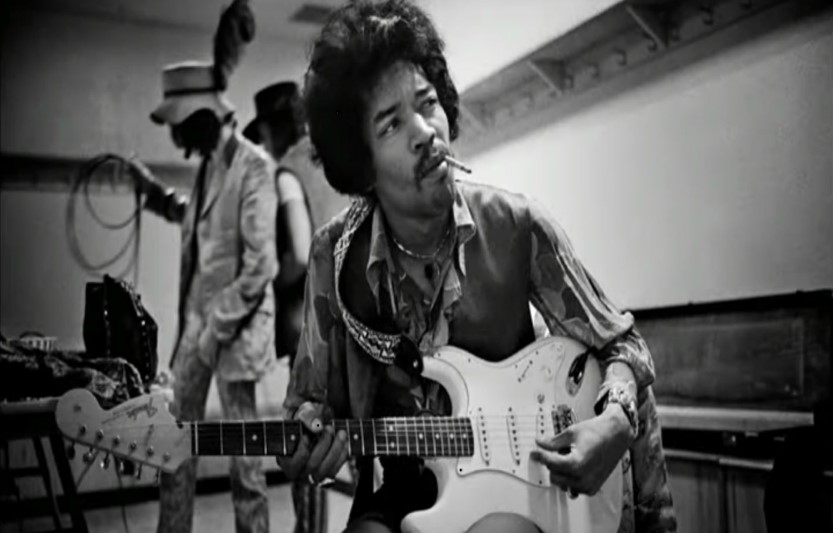 These 7 facts about Jimi Hendrix partially show why he is such a massive influence on guitar players. They also reveal a very unique career that is impossible to be duplicated.
First, Jimi Hendrix died tragically at the very young age of 27. Secondly, he was just what music needed in the tumultuous sixties decade, becoming a force of change. Third, he had an uncanny way to tap into his soul and connect with an audience.
Simply said, Hendrix's career was a perfect storm that changed the world and made him the biggest influence ever on the electric guitar. Without further ado, here are 7 facts about Jimi Hendrix.
He is considered the greatest electric guitarist ever
Jimi Hendrix is considered the greatest electric guitar player of all time. This honor is bestowed upon him not only by fans and musicians everywhere but also by scholars and most guitar legends. Contrary to what one might think, technique was not his forte. Sure, Hendrix had great facility on the instrument, but his greatest strengths were his otherworldly creativity and unmatched ability to connect with an audience. 
Those two elements alone could make any entertainer a world-class performer, but with Hendrix, there was even more. He could use his guitar to incite protest and feelings of unrest, as well as express deep sexual desires. Jimi Hendrix was named the best guitarist ever by Rolling Stone magazine. 
He played his guitar upside down
Jimi Hendrix was left-handed. When he got his first guitar, he simply flipped the guitar and rearranged the strings in the proper order. However, the bottom cutaway was now at the top and vice versa. In Hendrix's Fender Stratocaster (and most guitars), this is not ergonomically correct, as your hand loses space to reach the upper frets. 
Think about it for a second. Most guitarists spend hours just pondering which guitar is the most comfortable for them and how to make the playing experience as smooth as possible. Using the body of a left-handed guitar for a right-handed person (or vice versa) is considered borderline insanity. However, that is exactly what the greatest guitar ever did and it did not stop him from becoming such an icon. 
He did not get his big break in the USA
Jimi Hendrix was born in Seattle and lived in the U.S. most of his short life. However, he did not become a known musician in the U.S until after he visited Britain. In the UK, Hendrix did small tours of clubs and that was enough to put the local scene on notice. The British took to Hendrix immediately, including Eric Clapton. 
One particular performance stands out. In late 1966 Hendrix performed in a club with Eric Clapton, John Lennon, Paul McCartney, Jeff Beck, Pete Townshend, and Mick Jagger in attendance. They all were stunned by Hendrix's incredible display of musicianship and guitar fireworks. His fame grew exponentially in Britain and he became a very well-known guitarist in a very short period of time.
He only released three records
Jimi Hendrix only released three studio records. The first one was Are You Experienced in 1967. This was followed by Axis: Gold as Love in the same year, and Electric Ladyland in 1968. Three records is a low number for such an influential musician. However, Hendrix only lived until he was 27 so he did not have much time for a prodigious output. 
All of the records above are considered classics with a massive influence. Electric guitarists still transcribe the solos and learn the songs from Hendrix's three incredible releases. 
Shortly before his death, Jimi Hendrix released Band Of Gypsys, a live album recorded in January of 9170. Many records have been released posthumously and they feature previously unreleased tracks, rarities and live cuts. Some of these releases are unauthorized. 
He joined the Army
Jimi Hendrix was caught twice riding in stolen cars before he reached 19 years of age. He was given the choice of prison time or joining the Army. Hendrix chose the latter and was shipped to Fort Campbell in Kentucky.
In letters to his father, Hendrix expressed continued dread at the situation and begged for his guitar to be sent to him. His father obliged and the guitar became his escape from the Army world and even an obsession. He continued to experience abuse and taunting from his peers, who took the guitar away from him. Hendrix eventually got his guitar back and started performing in clubs at the Army base. He received a discharge from the Army after an official deemed him unfit to serve. 
The Monterey Pop Festival show changed his fate in the U.S.
The Jimi Hendrix Experience was not a popular act in the U.S in 1967. Things started to change for Hendrix in his home country after Paul McCartney recommended him to the organizers of the Monterey Pop Festival. McCartney insisted that the festival would be incomplete without Hendrix, and even agreed to join the board of organizers of the festival. He did set one condition for this task: the Jimi Hendrix Experience would have to be included. 
Hendrix's performance was transcendental, from the songs he chose to play to his choice of clothes. At the end of his set, he burned his guitar in a sort of sacrifice. The photo taken of Hendrix's burning his guitar and trying to command the flames has become one the of most enduring images of rock n roll. After this performance, Hendrix started to become known in the U.S.
His performance at Woodstock was riddled with problems
By 1969 Jimi Hendrix was the best-paid rock musician in the world. He was invited to perform at the Woodstock Music and Art Fair alongside many of the most popular acts of the time. Jimi Hendrix was scheduled to play on Sunday at midnight. By that time, the crowd had surpassed the 400 k mark, and Hendrix did not want to play for such a large audience. He decided to change his slot to 8 am on Monday.
By the time he hit the stage, Jimi Hendrix had not slept in three days and the band, who had only rehearsed for two weeks, was not connecting. However, Hendrix created the ultimate iconic moment for music in the sixties. He played the national anthem with an extreme use of distortion, feedback and sustain, shaping the melody as a way to evoke bombs and explosions. This performance was understood by all as a protest against the Vietnam war, and was immortalized in the documentary film Woodstock.  
These 7 facts about Jimi Hendrix shed some light on the phenomenal persona of the greatest guitarist of all time. It is baffling to think about how a musician can have such a massive impact at such a young age. In any case, the music Jimi Hendrix left us still sounds as fresh today as it did 50 years ago. Take the time to get to know these recordings and go even deeper. Hendrix was one of the greatest artists the world has ever seen and we are lucky to be able to enjoy his music today.