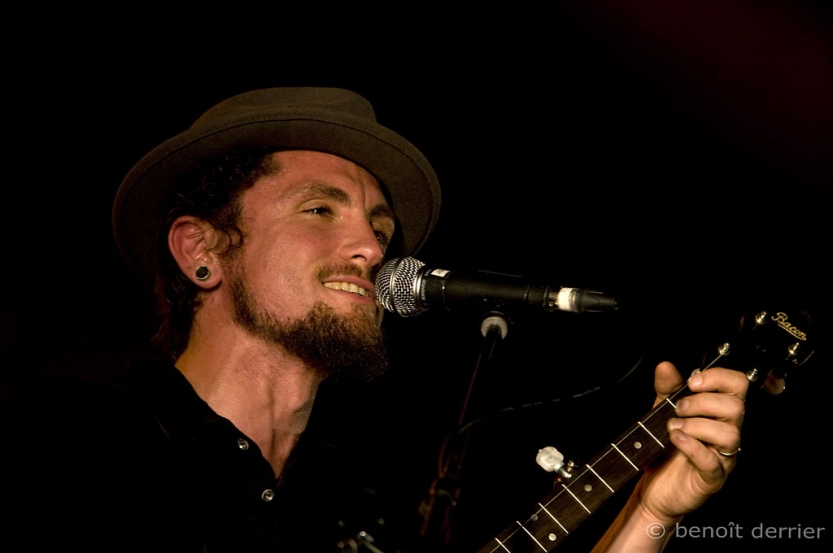 Alternate tunings make life as a guitarist a bit more interesting, as it's easy to get tired of just being famous all the time. That's why we cover alternate tuning
extensively on our blog. Today, we're going to have a look at some well-known songs using alternate tunings, to give you a bit of inspiration for when you play around with your Roadie. Before we get started, it is probably a good idea to go through how to program your Roadie tuner.
For this, we'll need the accompanying Roadie app which you already have on your phone – right? Open it up, click on Tunings, and then select your instrument. Assuming you have a six-stringer, select Guitar and then six strings. Tap on Create New Tuning, and add the new notes. For example, if you're adding an Open G, then set your new tuning to DGDGBD. With that out of the way, you can press Sync to save your new tuning.
 Led Zeppelin – Kashmir
Led Zeppelin is, despite liberally 'borrowing' the songs of less famous blues musicians, one of the great legendary rock bands. When writing original tunes, however, they were not afraid of trying out some alternate tunings. Check out the song "Kashmir", which uses the well-known DADGAD tuning:
Tool – Parabola
Every rock musician (that I know of) places Tool at the top of their list. Personally, I love it when bands don't try to fit into the three-minute cookie-cutter formula of radio hits. Tool's song "Parabola" runs for no less than ten minutes, and makes use of the alternate tuning B-E-D-G-B-E.
Famous Songs Using Alternate Tuning #3: Opeth – Ghost of Perdition
Not to be outdone by Tool's ten minute long songs, slightly more angry Opeth have also made use of alternate tunings. Opeth's Ghost of Perdition fluctuates between monstrous pig-growls and beautiful singing over riffs using the alternate tuning of D-A-D-F-A-E:
Famous Songs Using Alternate Tuning #4: Goo Goo Dolls – Iris
At the other end of the spectrum of hardness, but equally epic, we've got "Iris" by the Goo Goo Dolls. I can't be friends with anyone who doesn't like this song. Amazing riffs, amazing lyrics, amazing everything. "Iris" uses the interesting alternate tuning D-D-D-D-D-B. Check it out here:
Famous Songs Using Alternate Tuning #5: Alter Bridge – Open Your Eyes
While we're on the topic of vision, let's have a look at "Open Your Eyes" by Alter Bridge. The chords and lead riff used in this song also sounds quite simple, but if we listen closely, it turns out to be the alternate tuning of D-A-D-A-D-D:
Soundgarden – The Day I Tried to Live
Chris Cornell will be sorely missed. Soundgarden has been known to churn out some tunes using alternate tunings, and "The Day I Tried to Live" is particularly interesting. Tuned to E-E-B-B-B-B, this one is from their mid-90's album "Superunknown":
Pink Floyd – Hey You
Pink Floyd uses the Nashville tuning in their awesome song "Hey You". Just listen to that guitar solo. The Nashville tuning is a more frequently used alternate tuning, and works a bit differently than the others. In order to achieve the Nashville tuning you have to replace the E, A, D, and G strings with lighter gauge strings, so you can tune them an octave higher than normal.
John Butler Trio – Ocean
If you ever need some smooth relaxation, this song is a good bet. John Butler Trio performs "Ocean" on a twelve-string guitar using the alternate tuning open C. To be precise, the tuning is C3C2-G3G2-C4C3-G4G3-C4C4-E4E4.
Alice in Chains – Over Now
Recorded versions are cool and all, but sometimes the unplugged version of a song just brings out the essence of it. That's the case with "Over Now". Alice in Chains use the open D tuning, and then go a further half step down from that. Check it out here:
Queens of the Stone Age – Mosquito Song
"The summer is hot, mosquitos come and suck your blood." So sinister lyrics, such smooth riffs. The Queens of the Stone Age make use of the alternate tuning C-F-Eb-Bb-G-C in their "Mosquito Song":
For a deeper dive into tuning, check out our new & improved Complete Guide to Guitar Tuning.