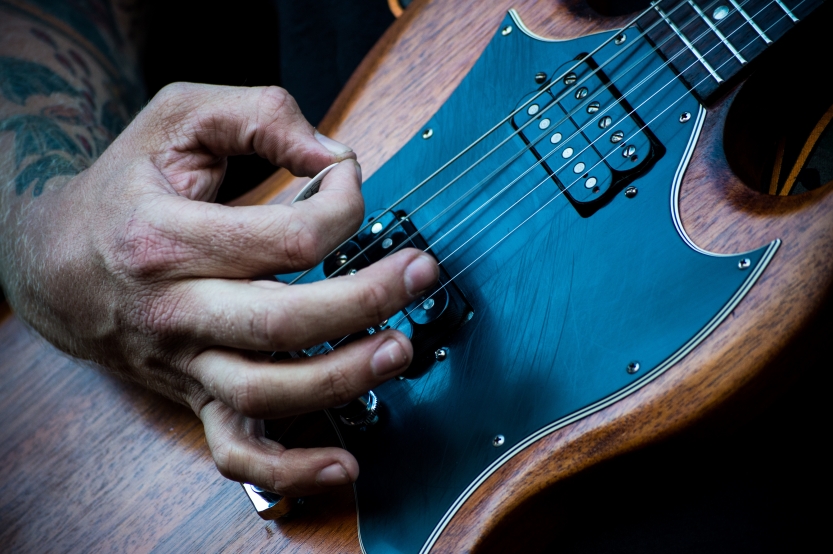 Last week, we covered gauge, and talked about the different uses for lighter and heavier gauge plectrums (if you've haven't read last week's article, check it out here. In this edition, we're looking at the kinds of materials used in plectrum production and what they mean for your playing.
And why should you care so much about plectrums, you might ask? Well, as we established last week, they're just as important to your playing as having the right guitar, amp, and tuner.
Just like you wouldn't settle for a cheap acoustic guitar from the mall or bad quality; used electric guitar from a yard sale as your first instrument, you shouldn't skimp on Guitar Plectrums. Buy an old bag of cheap guitar picks off the guitar store counter and your playing will suffer for it; it's a surefire spanner in the works when it comes to learning the guitar.
Right, with that out of the way, let's dive into it, discussing the material most widely associated with guitar plectrums, and the controversy surrounding it…
Tortoiseshell
Popular amongs guitarists since the 1920's, Tortoiseshell picks are regarded for their natural feel, warm tone and durability. They last for years, can easily be re-shaped by filing and, are considered the perfect pick by many as a result.
So what's the controversy?
Well, the problem with Tortoiseshell, as the name suggests, is that it's made from real animal shell. Tortoiseshell doesn't actually come from a tortoise. It's derived from the shell of the Atlantic Hawksbill Turtle, a reptile that has long been on the endangered species list.  As a result "tortoiseshell" has been banned from sale since 1973.
In short, making Tortoiseshell picks today is very illegal, and there are plenty of ethical implications to using them.
Tortex
Following the banning of Tortoiseshell, pick manufacturers sought to emulate the material's style without getting themselves in legal hot water. DuPont Derlin was discovered in the process, and was the material Jim Dunlop used for their legendary Tortex picks.
Powdery in texture, Tortex picks apply friction to the strings and grip really well. They give good tone, have a nice attack an agreeable feel. No wonder they became the pick of choice for everyone from James Hetfield and Dimebag Darrel to Kurt Cobain and Chris Cornell; upon their popularization in the late '80's-early '90's.
Ultem
A relatively new innovation, Picks made from Ultem (otherwise known as polyetherimide) boast an impressive combination of flexibility and huge attack. By many accounts they're virtually indestructible and provide a huge dynamic range compared to other picks on the market; – great for adding light and shade into your playing.
When it comes to Ultem picks, you've got Dunlop's Ultex range, including their legendary Jazz III. Pleny of guitarists also sing the praises of Steve Clayton's Ultem offerings.
Nylon
You might have heard of the legendary Herco Flex plectrum. Back in the 1970s, they were the choice of every self-respecting classic rocker, from Led Zeppelin's Jimmy Page to Pink Floyd's Dave Gilmour, by way of KISS's Gene Simmons.
Nylon picks have textured grips, which act against sweaty fingers and keep that Guitar Plectrums in your hand. They're famous for producing very bright sounds; as well as their incredible flexibility, which is great if you want some spring in your guitar playing.
If you're in the market for tight rhythm sounds and compressed lead tone that characterize modern rock, nylon picks are not your friend. But, if old-school classic rock is your vintage, then these might be up your street.
Heck, if they're good enough for Jimmy Page, they're certainly worth a try!