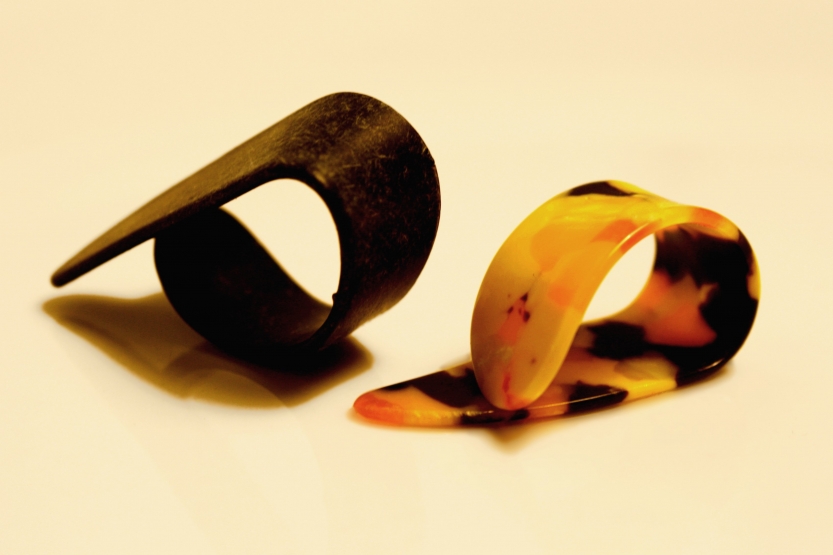 When you learn to play guitar, there's a considerable amount of guitar equipment you need to get started. You've got the instrument itself, your practice amp, your lead, your tuner, your gig bag and any other music equipment that you've bought.
With so much stuff to remember, it's easy to overlook the humble guitar plectrum. To that we say, overlook at your peril! It might look like a small bit of triangular plastic, but what you have in your hands can make all the difference if you're trying to learn and master guitar. Pick up the right plectrum, and it's an aid to your playing. Pick up the wrong one, however, and it can work to your detriment.
How do you know which plectrum is right for you? Well that's what we wrote this series for. And, in this final edition, we're delving into the weird and wonderful world of alternative plectrums.
These are the strange looking picks you might have seen on the counter of your local guitar store. If you ever wondered what they were for, then wonder no more!
Oh, and if you've not yet checked out the first three parts to this guide, or need a refresher, here they are:
Part One, Part Two, Part Three
Thumb picks:
As the name suggests, these are guitar plectrums that wrap around the thumb. Primarily designed for finger-pickers, the advantage to using a thumb pick is that it gives you the use of your finger picking digits, while allowing the clarity and attack of a plectrum on your bass notes.
Thumb picks have long been the choice of famous country stars like Chet Atkins, Tommy Emmanuel and Merle Travis. In no small part, this is because they retain the clarity of the bottom end that comes from the E and A strings (which can very easily be muddied when played with a thumb) and allows for players to move easily between fingerpicking and lead playing or strumming.
Famous examples include the Dunlop Medium (Tommy Emmanuel's pick of choice), the Zookies L-20 and the Herco Flat.
Jellifish Plectrum Effect:
So-called because it looks like a Jellyfish, it's debatable whether the Jellifish Plectrum effect is really a pick at all. Rather than a traditional plectrum tip, the Jellifish incorporates 18 small pieces of guitar string like wire arranged on a grade, held together by what looks like the body of a plectrum.
What's the point of this? Well, the by grazing over the strings with it, you create a sound not unlike a chorus effect pedal, and can simulate the sounds of a 12-string on a 6 string guitar. This comes in handy if:
You're playing completely unplugged and want a chorus effect.
Don't have the budget for both six and 12 string instruments.
There's fun to be had for sonic experimenters as well. Arc the Jellifish back and forth over the strings, and you'll get a sound out of your guitar that approximates a cello or viola.
One thing to note – it doesn't look like these are currently in production at the moment. However, there are still some third party retailers out there stocking them. You can find them, but you might have to do a bit of searching.
The Wirething Guitar Pick:
"Wirething, you make my heart sing."
Ahem. Terrible puns aside, the Wirething is fun oddity of a pick, featuring a body made of either injection molded plastic, nylon or acrylic but with a tip that is a small metal wire made of steel copper alloy.
Why?
Well, according to Wirething's website, it offers: "the clean precise tone of a metal pick… but with the light weight and sure grip of a plastic pick. It defines a whole new category of guitar picks."
Offering a cleaner attack than heavy gauge plastic picks and easier on the strings than flat metal picks, this one is an interesting hybrid that might be worth trying out.
The SnakePick:
According to Guitar World, The SnakePick was created to "shift guitarists' focus from the pick to their playing." You hold it like a standard guitar plectrum, but it grips you as well, coiling around your finger like a snake (hence the name).
Supposedly, this allows you more playing possibilities – picking with multiple fingers for example, and to play with more precise articulation.
So that's it for the Guide to Guitar Plectrums series. We hope you got a kick out of choosing your pick.
Got another suggestion of a series of articles you want Roadie to write? No problem!
Sound off in the comments, or hit us up on Twitter with your ideas.