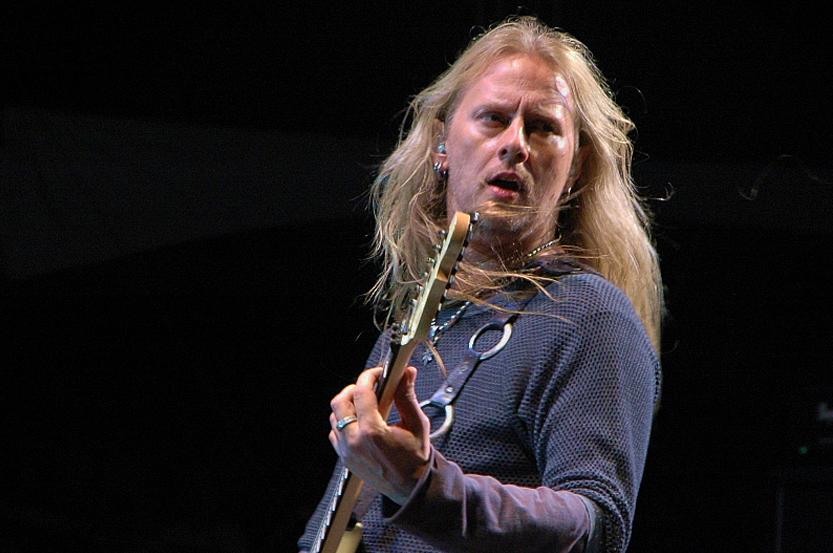 We're back! Choosing the best album of 2018 is no mean feat. As the previous entry in this list showed, last year offered up some pretty awesome albums.
With Halestorm, Myles Kennedy and A Perfect Circle already out of the way, you might be wondering who's next. Well, hold on to your butts, 'cause there's still plenty of the best rock music of 2018 for us to cover.
Let's jump in!
 Alice in Chains – "Rainier Fog"
"It's got our identity all over it… but at the same time, it's a completely unique record. And we're really proud of the material we wrote and the performances we captured. There's some really great s–t on it, you know?" – Jerry Cantrell on Rainier Fog (via Guitar World)
It's one thing to successfully stage a comeback after the death of a lead singer. It's another thing entirely to ride that wave to new creative heights. Three albums into their post Layne Staley career, though, and Alice in Chains show no signs of stopping. Dark and moody, this record leans more on atmospherics than the band's signature monolithic riffing (though there's still a fair chunk of that), pushing their sound into uncharted, yet rewarding territories.
Mike Shinoda – "Post Traumatic"
"In the beginning, a little less than a year ago, I was making music and painting as a form of almost like meditation. There was something therapeutic in doing it. It was more about just kind of coping with things and reflecting on things as I was doing it. The act of just sitting down and making things helped me process. It got me back in touch, I think, with why I started making music in the first place." – Mike Shinoda on "Post Traumatic" (via Billboard)
Following the tragic death of frontman Chester Bennington, Linkin Park's future is very much uncertain. But, with his debut album "Post Traumatic," Mike Shinoda shows that he's perfectly capable of going it alone if he must. Vulnerable, moving and raw at times, "Post Traumatic" is an album very much about grief, and is appropriately cathartic for all those affected by Bennington's passing.
Tremonti – "A Dying Machine"
"I was on tour in Hungary and about to go onstage — I had about 20 minutes until stage time — and I sat down with my guitar. I started playing a chord progression and singing over it, and the words "you're a dying machine" came out. Within that 20 minutes, I wrote three of the parts for that song. A story developed in my head about a conversation between a man and this being that was created to love him, and doesn't know anything else but to love him. As the years go by she obsesses; she's stronger than him and going to live longer than him. In the end, it turns out…it's not a good ending for him." – Mark Tremonti on "A Dying Machine" (via Consequence of Sound)
"A Dying Machine" is Mark Tremonti's first foray into concept album territory. Does it work? As a concept album, not entirely. The core idea is an interesting one, but the conceptual shifts are sometimes jarring. As a collection of songs, though, it's probably the guitarist's finest offering to date in his solo incarnation.
All killer, no filler, the material ranges from all out thrashers like "The Day When Legions Burned" to more sombre offerings like "Desolation." And, of course, radio anthems like "Take You With Me" and "The First The Last" are in abundance. Whether or not you dig the conceptual stuff, the songs are more than strong enough to carry this one through.
Three more great albums for ya, but we're not done yet. Join us next time for the final entry in this series, where we round out our favourite albums of 2018. As always, share your thoughts in the comments!
Main Photo Credit: Jeff White