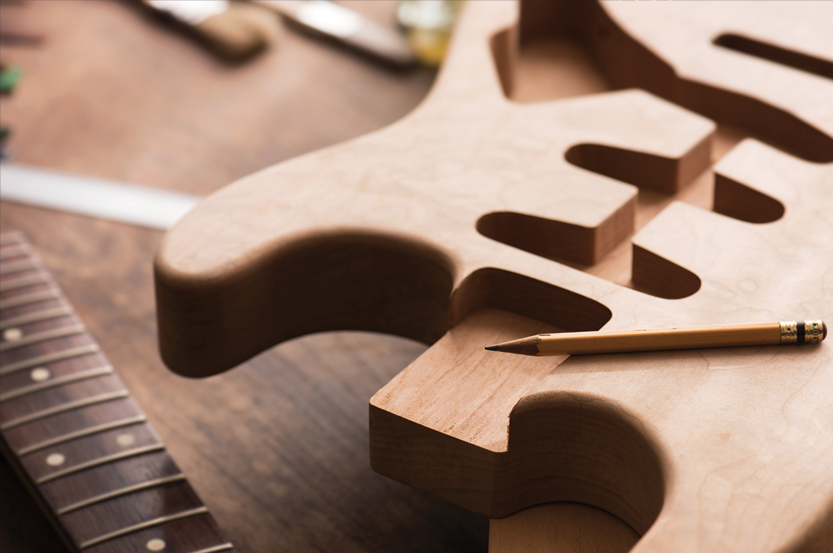 Up until recently, for thousands of years, guitars have been skillfully handmade by Luthiers for us to enjoy. The artistry was clear as each and every guitar was subtly unique from the next. Not only does the sound of the guitar change depending on the sheet of wood used; but every luthier has their own style.
Now having a luthier handcraft your guitar from start to finish is an expensive exception. Their years of experience and attention to detail fetch a high price in today's industrial world. The cost-effective norm today is for big-name guitar companies to churn out guitars by the thousands each year. Is the art of guitar making lost for those of us who can't afford the price tag of a custom model? As it turns out, all hope is not lost!
Factory Made
Although you can certainly make an argument that some lower-end factory-made models are less than a dream to play; I was surprised by just how much artistry goes into the whole process by big names; even with so many units being produced.
As an example; take a look at what Gibson states as one of their policies in using technology to aid their craftspeople rather than replace them:
"Buy or invent machines for dangerous or repetitive operations requiring great accuracy and employ a highly skilled worker when the human touch or the musician's ear is required."
It sounds like they're using machines to take out the boring bits and allow the focus to be placed on musicality instead. All of a sudden, making guitars in a factory doesn't sound so cold and heartless.
In the same way, the Roadie 2 automatic tuner takes advantage of cutting edge technology so we can skip the boring parts of staying perfectly in tune, and keep the focus on the emotion of playing.
Here's a photo of some of the machines used in the guitar making process. Yep, I'm glad there are people who know what those buttons do because for all I know they could be baking pizzas.
Axes of Every Kind
So perhaps these are the luthiers of the future; machinists and craftspeople working side by side to feed the demand for millions of guitars around the world.
Whether a dreadnought acoustic guitar, Tele, Strat, or a Flying V are on your wishlist; chances are they all come from the same place – one of these highly efficient factories where the art and magic of making guitars is still alive and well.
We hope you enjoyed this piece about the Art of making guitars. Feel free to leave us a comment!