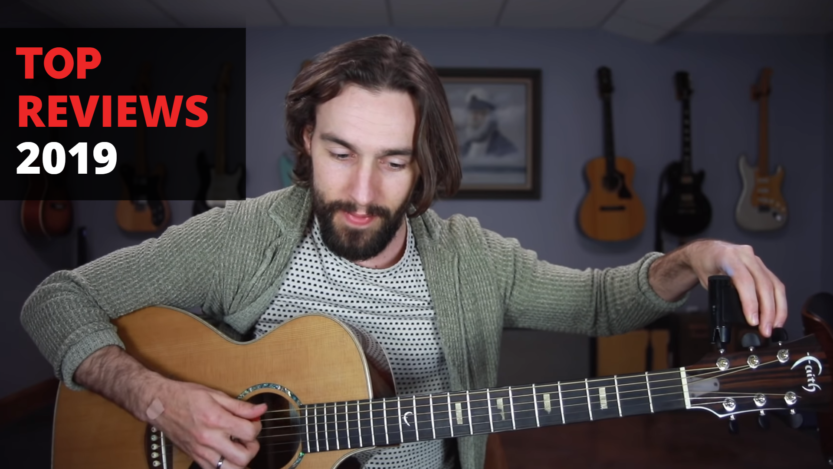 New year, New reviews? But wait, before we officially welcome 2020, let's look back at some of our favorite reviews of 2019.
Rob Swift, Swiftlessons – 454K subscribers
Swiftlessons' Rob Swift kicked off his Youtube video by using the Roadie 2. With an impressive following of 454k subscribers, we held our breath waiting for his opinion. When Rob said "it's a pretty cool little gadget and works very quickly and very well" we could breathe easy again. We found comfort knowing that this world-class, professional guitarist loved the Roadie too.  
Jamie Slays – 78.5k subscribers 
We were so glad to hear that Jamie Slays thinks the Roadie slays at tuning his guitar! Saying that it "tunes it for you like magic" and loves the way it "works really well with custom tunings".  Jamie is super engaged with his 78.5k subscribers, sharing new videos every Sunday. His content includes reviews, product demos, as well as music and guitar information. 
PMTVUK (Professional Music Technology) – 145k subscribers 
PMTVUK has reviewed some of the industry's most renowned brands such as Fender, Gibson, Gretsch, Roland, Focusrite, Novation and more. When it was our turn, we were thrilled with their opinion on Roadie 2 as being "an essential tool to have in your gig bag". 
Stealth Diggers – 19.6k subscribers 
Although best known for their relic hunting, Stealth Diggers love their music too so we sent them a Roadie to try. In one of their Jam sessions they gave us their first impressions of the product and it sounded a little something like this "this is badass, man this is so cool" and "it's pretty remarkable and I'm glad we have one". 
Sonic State YT – 159K subscribers
We think Sonic State are pretty cool. And it's pretty cool when someone you think is cool, thinks you're cool! Sonic State share gear reviews, interviews and features for musicians and in their video coverage from NAMM 2019, they said that Roadie 2 was "the coolest guitar tuner you've ever seen". 
Ryan Lendt – 27.2k subscribers 
Ryan Lendt is a passionate guitarist who uses his Youtube channel to provide guitar tutorials to his 27k+ subscribers. He was lost for words at one point when trying the Roadie out for the first time. When he found his words, he went on to say "I can't believe how in tune that is, I am completely flabbergasted right now". 
Thom Helwig, Guitar Pilgrim – 147k subscribers 
We were quite proud of ourselves for impressing Thom Helwig who has 147k people subscribed to his weekly tutorials. He let his followers know that the Roadie "works wonders" and even expressed how cool he thinks "the times we live in" are after using Roadie 2. 
Ok, we've taken our moment to reminisce. We are ready to tackle 2020 now! Who would you like to see review our product next? Let us know in the comments section below.