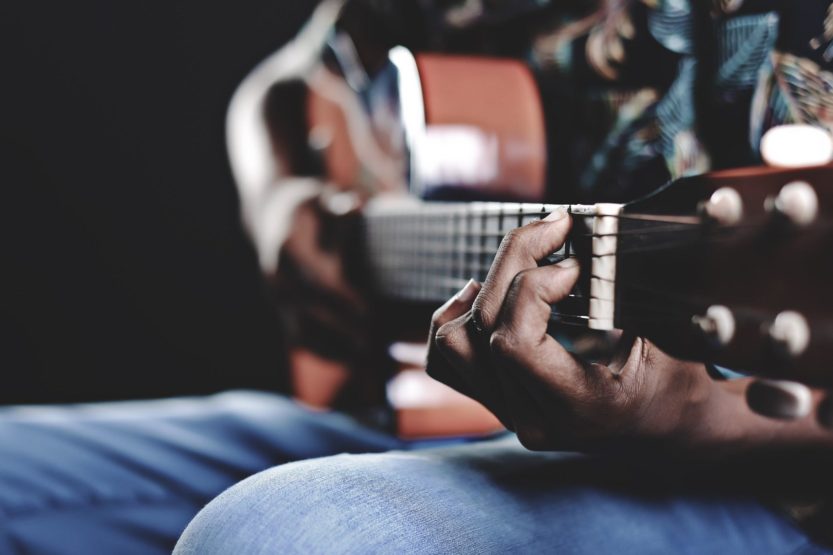 Hello fellow Roadie fans, and welcome to the ultimate guide to guitar tuning! It doesn't matter if you're a pro or have never seen a guitar before — this guide covers it all.
Here's what you'll learn:
We promise that you'll never need another tuning guide after this —  especially not after you've read the last part!
The Basics of Guitar Tuning
Before you can benefit from the rest of this guide, you need to understand the very basics of guitar tuning. Let's briefly go through them so we're all caught up.
1. Understanding the tuning pegs
The first step to tuning your guitar is, of course, to know how the tuning pegs work. They're the little screws located right at the top of your guitar's neck.
There are two kinds of tuning pegs: friction and geared pegs. Both kinds work the same way. Tightening them makes them heightens the pitch, and loosening them lowers it.
Friction pegs are mostly found on orchestral stringed instruments and some ukuleles. The ones on your guitar will most likely be geared pegs.
Further reading: Beginner's Guide: Tuning Pegs will teach you all the basics of the pegs.
2. How to tune a guitar
The most common way to tune a guitar is to find a reference tone and use that to tune the sixth string. That's the Fat E string closest to your face when you hold the guitar.
Once the first string is in tune, you work your way down. Tune the next string so it's in tune with the last one until you've tuned all six of them.
It doesn't matter if all strings are in perfect tune, as long as they're all in tune with each other.
Further reading: How To Tune A Guitar will walk you through the basics of getting in tune.
3. When to tune your guitar
Many factors can cause your guitar to go out of tune. You haven't played for a while, the temperature's changed, or you've dropped it on the floor.
Further reading: When Should You Tune Your Guitar? outlines each of these scenarios.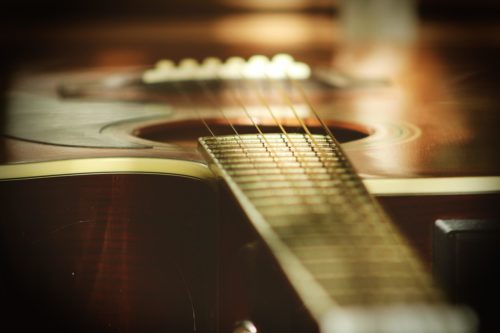 How to Improve Your Guitar Tuning Skills
Once you've mastered the basics of tuning your guitar, you can move on to some more advanced tuning techniques. We're about to go over some of them right now.
1. General tips for guitar tuning
There are some general rules of thumb when it comes to guitar tuning. You should, for example, tune the guitar every time you play, and it's always better to tune up by starting at a lower pitch.
Further reading: 7 Tips for Better Guitar Tuning will flesh out these tuning tips and many more.
2. Advanced guitar tuning
You may have noticed that the tone of your guitar strings sound differently depending on how hard you play them. That's not your ears playing tricks on you — it's a real phenomenon.
Further reading: Wrong All Along? A New Approach to Guitar Tuning will teach you how to account for this phenomenon to make sure you're 100% in tune.
3. How to fix guitar tuning problems
Are you experiencing issues with your guitar tuning? Strings that won't stay in tune or just produce a dull and dead sound? Chances are there's a quick fix for each of these problems.
Further reading: Guitar Tuning Problems and How to Fix Them has all said quick fixes for you.
4. Tuning stability and how to improve it
Your guitar going out of tune during a live show is a nightmare scenario. Fortunately, there are a few ways you can improve its tuning stability to ensure that doesn't happen.
Further reading: Want to Improve Your Guitar's Tuning Stability? explains how to avoid embarrassing moments when you play live.
5. Guitar tuning during a live show
But what if it still goes out of tune at the worst possible time? There's a solution to that too. It's not an easy one, but it is possible to re-tune your guitar in the middle of a song!
Further reading: Can You Re-Tune During A Song? gives you examples on how to do just that.
Alternate Guitar Tunings
By now you know everything there is to know about standard guitar tuning. You know how to tune your guitar, fix any problems, and improve overall tuning stability.
Time to look at some alternate guitar tunings — you know, the stuff of legends. That's not hyperbole, by the way. Several guitar legends are well-known for their alternate tunings.
1. Songs that use alternate tunings
What's wrong with standard tuning? Nothing at all, but you might want to spice up your playing with some different ways of tuning your guitar.
Listen to some well-known songs that use them to discover the wonders of alternate guitar tuning. They just might inspire you to try out some of them out.
Further reading: Famous Songs Using Alternate Tuning and 7 Awesome Songs in Alternate Tuning will give you some classic examples you can jam out to.
2. Artists that use alternate tunings
You might even have a guitar hero that have used alternate tunings without you knowing about it. We've covered several famous artists who've made their name using unorthodox tunings.
Further reading: Joni Mitchell's Alternative Tunings, John Fahey and the Open C, and The Nick Drake Tuning will show you how each of these three icons used alternate tunings.
3. Alternate tunings to try out
If you've been mesmerized by the sounds of guitar legends using alternate tunings, you might want to try some of them out yourself.
We've got enough material to pack out your next many practice sessions. Have a look at this guide below to help you expand your repertoire.
Further reading: Alternate Tuning: Everything You Need To Know
4. Where to find alternate tunings
At this point, you might want some good resources for more alternate tunings. Fortunately, guitarists are both geeky and caring, which means there are loads of these on the world wide web.
Further reading: Looking for New Alternate Tunings? has all the resources you could ever wish for — and more.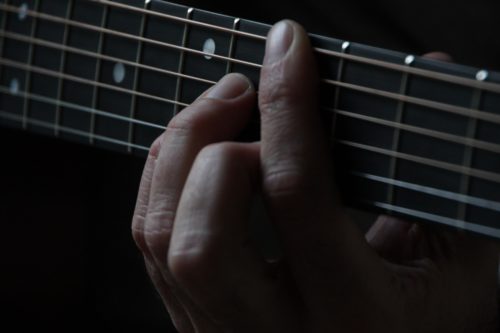 Guitar Tuning Tools
It's not the ear, it's the gear. Or is it the other way around? Doesn't matter. Why would you make life more difficult than necessary when there are apps and gadgets to help you tune your guitar?
1. Guitar tuning apps
There's an app for everything, and guitar tuning is no exception to that rule. But with so many apps to choose from, how do you find the best one for you and your guitar?
Further reading: Top 10 Guitar Tuning Apps lists all the most popular tunings apps on the market and outlines their bells and whistles.
2. Automatic tuners
Guitar tuning apps will go a long way, but sometimes you just need a bit of extra help — especially if time is of the essence or you're in a noisy environment.
That's where automatic tuners come in. Harness the power of robots and have them do your bidding. You'll be like a Guitar Hero Transformer — but better looking.
Further reading: Roadie 2 and Roadie Bass are our flagship automatic tuners that'll take care of your guitar and bass tuning, respectively.
How does that sound?
At this point, there should be no doubt in your mind as to how you tune a guitar, the different way you can do it, and the kind of songs you can produce.
However, if you have any questions about tuning, then we'd love to hear from you — so leave your comments, questions, and contributions in the comments section below!
Happy tuning!