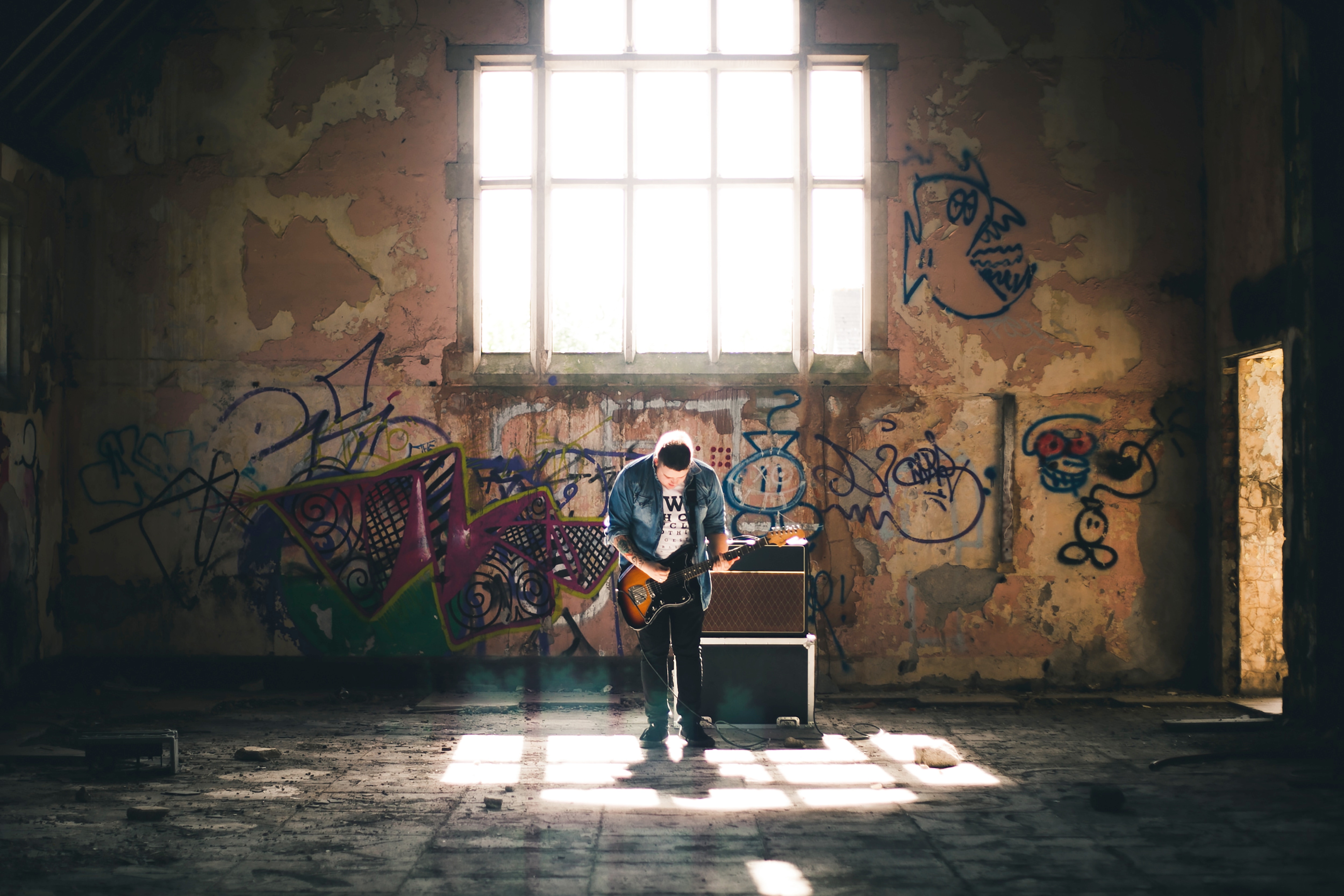 Practice makes perfect, and clichés will forever be used in blog posts like these. But just because it's a cliché doesn't mean it's not true!
Read on to learn how to…
Find the right acoustic guitar

Practice rhythm guitar

Practice lead guitar

Plan your practice sessions

Practice pentatonic scales

Practice downpicking

Stay motivated

Expand your practice repertoire
1. How to find the right acoustic guitar
Experienced musicians will tell you that it's not about the gear, but about the ear. While that's true to an extent, you also need an instrument of a decent quality to get a good sound.
Here are some of your best options when it comes to affordable guitars:
Each of these three options looks great and will definitely give you bang for your buck in terms of the sound they produce.
Further reading – Read 3 Great Acoustic Guitars for Beginners to learn more about each of these guitars.
2. How to plan your practice sessions
Now that you've got an axe, it's time to put it to work. But how do you get the most out of your practice sessions? Every minute counts when you're a busy musician.
Here are the three founding pillars of good guitar practice:
Create a routine by setting aside a set amount of time (whether 10 or 60 minutes) per day to practice your instrument.
Set yourself goals by being very specific about what you want out of a given practice session, as well as what you want to accomplish in the long term.
Track your progress by having a notebook handy every time you practice, write down what you did, as well as what you found easy and/or challenging.
Further reading – Read 3 Tips to Improve Your Guitar Playing Routine to learn how to practice more efficiently.
3. How to stay motivated
All new things are fun in the beginning until they become routine. Although routines are important, they can also be the cause of boredom and the death of motivation.
Here's what you need to do in order to stay motivated:
Remind yourself

why you're playing the guitar in the first place by looking at your long-term goals.

Re-evaluate your physical approach

by looking at how you sit or stand, as well as how you hold the guitar.

Think outside the box

by putting the repetitive exercises to one side and spend some time experimenting.

Form a band. Playing with others will get you motivated and will help you improve at a much faster speed.
Further reading – Read Bored of Guitar Playing? Here's How You Stay Motivated 
4. How to practice rhythm guitar
Rhythm guitar is the backbone of many a genre, from rock'n'roll to funk. And while it can seem easier than shredding, it takes a while to get really good at hitting the grooves.
Here's how to practice rhythm guitar like a pro:
Don't just pound on the 8th notes, but experiment with arpeggiating and palm muting.

Play with a drummer

, an instrumental beat, or at least a metronome to stay in time.

Experiment with alternate tunings

to broaden your horizon and spice things up.
Further reading – Read Get Into the Groove: 3 Steps to Playing Better Rhythm Guitar to get in the groove.
5. How to practice lead guitar
Rhythmic grooves are easy to learn but hard to master. Lead solos are often an entirely different beast. You're the center of attention and every little mistake will stick out like a sore thumb.
Here's how to practice lead guitar and kick ass:
Focus on note duration

to create variety and make your guitar "sing".

Skip certain notes

so you create a bit of suspense and don't overload the listener.

Work on dynamics

to make your solo sound more human and, well, dynamic.
Further reading – Read 3 Top Tips for Great Lead Guitar Phrasing to make your guitar sing like a rock star.
6. How to practice pentatonic scales
Major scales, natural minor scales, chromatic scales, diminished scales, and boy, are there a lot of scales. Pentatonic scales are a bit different, however, and can be a bit more exciting.
Here's how to practice pentatonic scales and write some amazing folk songs:
Practice the scales

on their own to get a feel for how they sound like.

Learn how to tap

on the guitar while you're playing to create funky rhythms.

Combine the two

to instantly become a guitar sensei in the eyes of your band.
Further reading – Read Tapping Into Pentatonic Scales to learn more about this technique in-depth.
7. How to practice downpicking
Downpicking, also known as down-stroke picking, is simply the practice of ditching the up-strokes when you play. You guessed it — that makes playing the guitar twice as hard.
Here's how to master downpicking and rock out with the hardest:
Start off slowly

to build your endurance, then slowly increase the speed.

Reduce resistance

to save yourself from becoming fatigued when you play.

Reduce distance

by keeping your pick a few millimeters from the strings.
Further reading – Read How to Master Downpicking for a more in-depth tutorial on each of these techniques.
8. How to expand your practice repertoire
Practice is important, but how do you keep things fresh and exciting. By expanding your repertoire and trying out some songs and solos from the pros.
You could, for example, delve into 25 Best Guitar Songs From TakeLessons to build a solid repertoire out of these hand-picked guitar classics.
Once mastered, you can move on to practicing these 3 Simple Guitar Solos You Need to Learn before you go on to compose your own solos.
If you're feeling cocky, then try your luck with these 2 Notoriously Difficult Songs to Learn on Guitar and see if you can succeed where others have failed.
Finally, you can broaden your cultural horizons by Learning a Song in a Foreign Language and follow the step-by-step guide we've laid out for you.
Ready to practice?
You should now be ready for your first (or next) guitar practice session. We'll expand this guide as we go along, so be sure to check back in regularly.
If you're in the mood for some more, check out our Tips & Tutorials section of the blog.