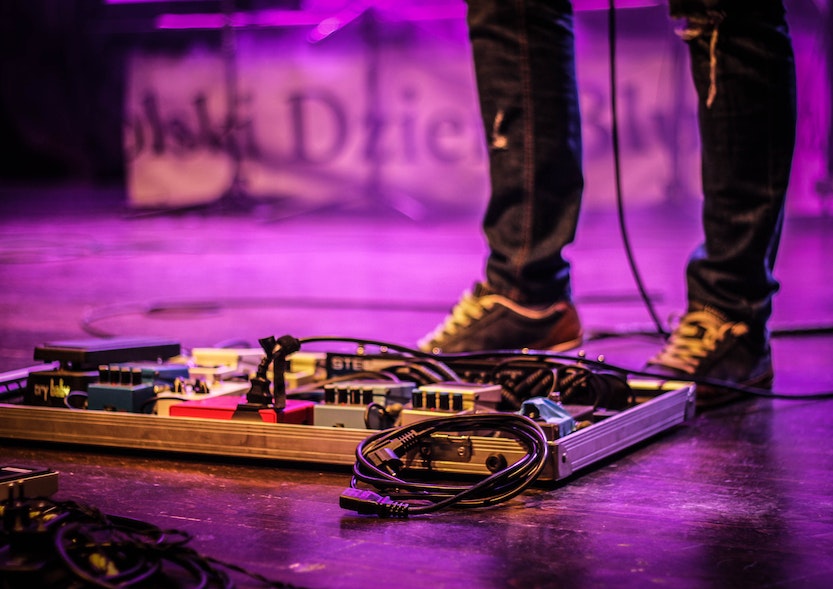 A lot of people stargaze, others "shoegaze".
In this article, we're going to explain what Shoegaze is and showcase the Top 7 Shoegaze albums. Shoegaze, a genre of alternative rock music, boomed in the United Kingdom in the late 1980s and early 1990s. The term "shoegaze" refers to the tendency of musicians in this genre to stare at their shoes, effects pedals, or the floor while performing, creating a wall of sound characterized by distorted guitars, ethereal vocals, and heavy use of effects such as reverb, delay, and chorus.
I personally discovered this genre at a young age with my bandmates while searching on Google for "unusual" genres since we were never satisfied with "common" stuff. We basically shifted from mainstream Bon Jovi to underground Shoegaze artists… And believe me, it was love at first listen!
So, let's discover some Shoegaze albums!
1- Souvlaki by Slowdive
Souvlaki is often cited as Slowdive's most popular and critically acclaimed album, featuring standout tracks such as "Alison," "When the Sun Hits," and "Dagger." The album's attractive production and lyrics have made it a pillar of the shoegaze genre, influencing many other artists in the years since its release.
Fun fact: Souvlaki is a Greek fast food made of meat! After enjoying a trip to Greece full of delicious food, the band named the album after this dish.
Listen here:
2- Loveless by My Bloody Valentine
This album's production was complicated and time-consuming, with many of the tracks featuring hundreds of individual guitar and vocal tracks. Yes, HUNDREDS!
Moreover, Loveless has been influential for countless other artists in the years since its release. It features standout tracks such as "Only Shallow," "Soon," and "To Here Knows When."
Listen here:
3- Cocteau Twins – Heaven or Las Vegas
Heaven or Las Vegas is the sixth studio album by the Scottish band Cocteau Twins, released in 1990. Many consider the album to be the band's most commercially successful and critically acclaimed work.
Heaven or Las Vegas features the band's signature dreamy soundscapes, with Elizabeth Fraser's distinctive vocals floating above Robin Guthrie's heavily modulated guitars and Simon Raymonde's bass lines.
Listen here:
4- M83 – Dead Cities, Red Seas, and Lost Ghosts
The French band led by Anthony Gonzalez released this album on April 14, 2023. This record features a mix of electronic music and shoegaze, a combination that was never seen before. Also, the apocalypse and the idea of a world after the end of civilization mostly inspired the writing and production of the album. It features atmospheric and cinematic tracks like "Birds", "Run into Flowers" and "Lower Your Eyelids to Die with the Sun". Music critics consider "Dead Cities, Red Seas, and Lost Ghosts" a classic of the early 2000s electronic and shoegaze music.
Listen here:
5- Lush – Spooky
"Lush" is a British shoegaze and dream pop band formed in 1987. Ethereal vocals and dreamy atmospheric sounds characterize their distinctive music.
As for "spooky," Lush's music can sometimes have melancholic elements. For example, their song "Sweetness and Light" features lyrics about ghosts and a sense of longing, while their song "De-Luxe" is dark and eerie.
Listen here:
6- Slowdive – Pygmalion
"Pygmalion" is the third studio album by the British shoegaze band Slowdive, released on February 6, 1995. The album has a greater emphasis on experimental and ambient textures with dreamy and spacious guitars
Listen here:
7- Ride – Nowhere
"Nowhere" is the debut studio album by British shoegaze band Ride, released on October 15, 1990. The underground music scene regards this album as a classic of the shoegaze genre and one of the most important albums of the early 1990s.
"Nowhere" features a mix of distorted guitars, dreamy vocals, and atmospheric textures, creating a wall of sound that is both powerful and light. Also, the album includes some of Ride's most iconic songs, including "Vapour Trail," "Dreams Burn Down," and "Seagull."
Listen here:
Despite the fact that Shoegaze is not really common or well-known, it influenced a lot of artists and contributed to shaping contemporary indie and underground music. Shoegaze guitarists are the pioneers of guitar effects that create a particular rich wall of sound. The listeners of this genre are mostly music connoisseurs who always want to discover more and more about unusual genres.
What about you? Any favorite Shoegaze albums?
As an Amazon Associate we earn from qualifying purchases. However, this list is curated by our team and we only recommend products we truly believe are the best and might use ourselves.