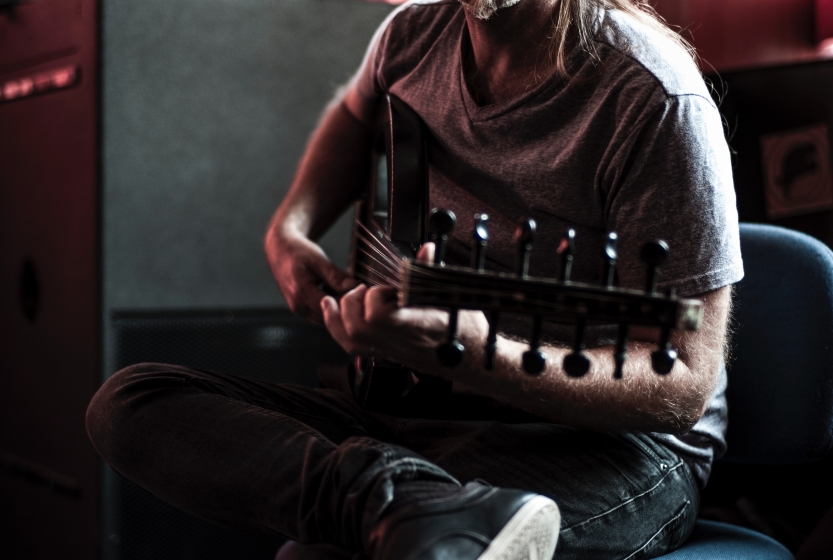 You know the feeling. You're in the middle of your world domination tour, and your tour bus breaks down. You immediately look for a limousine rental company, but your manager interrupts you and says something about a 'budget'.
(What are you even paying him for?)
Now you have to take the regular bus full of regular people who couldn't tell a Epiphone Les Paul from a Gibson Les Paul — let alone tell you who Les Paul was. Yuck!
What if it's crowded, and one of them accidentally bumps into you because they don't know who you are? Your guitar might go out of tune!
When should you tune your guitar?
Guitars, like the egos of their owners, are fragile things. Tiny changes in the atmosphere happen all the time, and you wouldn't even notice.
But you guitar notices — and then it goes out of tune. Perhaps in protest, perhaps not, but out of tune it goes nonetheless.
I thought I'd cover a few scenarios where your guitar will go out of tune when you don't think about it — and how you can quickly remedy it with the Roadie 2.
When Should You Tune Your Guitar #1: It's been dropped like it's hot
Maybe the scenario described earlier is not all that relatable, but dropping your guitar happens to the best of us. It might not even be you who drops it or knocks it over.
If you own a pet (like a cat or a baby, for example) and leave it alone with your guitar it could spell disaster. Ditto for leaving it in the same room as your band's bassist.
Solution: Put baby (or bassist) in the corner, and grab your Roadie 2 to re-tune your guitar.
When Should You Tune Your Guitar #2: Climate change
Donald Trump pulled out of the Paris Agreement, which means that your guitar will almost certainly go out of tune should you ever venture outside.
It's too hot and too cold at the same time. Heat will make your strings expand, cold will make them contract, and both will make your guitar go out of tune.
Humidity will also affect your strings, which means that playing in tune during a sauna session is near-impossible. Air-conditioning will also make the tuning flat.
Solution: Don't play gigs in saunas, and always bring your Roadie 2 with you when travelling.
When Should You Tune Your Guitar #3: You're playing with a capo
Capos are cool and all, but they mess with your strings. Obviously, messing with your strings is the number one reason you're using a capo in the first place. But it can also detune your guitar.
Solution: Pack your Roadie 2 next to your capo, and use it to re-tune before, during, and after using the capo.
When Should You Tune Your Guitar #4: You play like Eric Clapton
String-bending is awesome, and incorporating it into a guitar solo can make even the hardest metal-head shed a tear. An angry tear, of course, but a tear nonetheless.
The problem with string-bending is that it does the same as using a capo – it pulls the strings out of whack. Not all the extra tension you create when string-bending will return when you release the string.
Solution: You guessed it, bring your Roadie 2.
When Should You Tune Your Guitar #5: You've been slacking
Being ignored and forgotten about is one of the most excruciating feelings humans can experience. But what about guitars? They have feelings too.
You might tune your guitar during a jam or practice session, and then put it back in the case thinking it's all good. But while the guitar lies alone in the dark, the tension of the strings will ever so slowly turn the tuning pegs.
The longer you wait between sessions, the more out of tune your guitar will get. It's your guitar's way of getting back at you.
Solution: Play your guitar often, and show it some TLC with the Roadie 2.
When Should You Tune Your Guitar #6: Russians have hacked it
Just kidding.
… or am I?
Solution: Don't watch the news. Use the Roadie 2 to tune your guitar instead.
In any case, we think you'd love checking out our new and improved complete guide to guitar tuning!