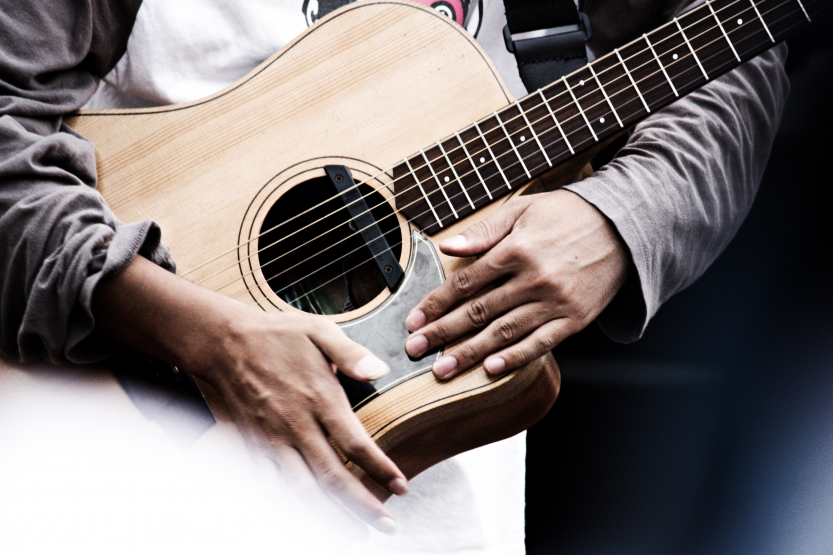 What's the best acoustic guitar for a beginner? If you've ever worked in a guitar store, you've probably been asked that question. A LOT.
Choosing your first guitar is a minefield. You don't want to break the bank buying it, but neither do you want to be suffering buyer's remorse three weeks after your purchase?
Fortunately, this list is here to help. These are three readily available, cheap guitars from the some of best guitar brands out there. They'll see you through your beginner years and beyond and they're reliable, very playable, and budget-friendly to boot.
Tanglewood TWCRD Crossroads Series Dreadnought
Taking its name from the classic Robert Johnson song, Tanglewood's Crossroads Series Dreadnought is a tribute – in both aesthetics and sound – to the 1930s pioneers of delta blues.
Entry-level instruments don't come looking much nicer than this. With a vintage style Whiskey Barrel Burst finish and played-in look, it looks much more expensive than it actually is.
It's not just the aesthetics of this guitar that stand out though. With a spruce top and mahogany back and sides, it offers a tonally lush and dynamic sound to boot. The rosewood fingerboard and bridge, as well as the high-quality hardware, make this one playable and reliable.
The Crossroad Series Dreadnought isn't just a great beginner guitar. It's a well-built, reliable and lovely looking instrument that'll last you for years. And, routinely coming in at around the $100 mark, it won't break the bank either.
Yamaha F310 Acoustic Guitar, Natural Gloss
The Yamaha F310 has been a staple of the beginner's acoustic guitar market for a long time now, and with good reason.
For a low price – around the $100 mark – you get bang for your buck with this one. There's the spruce/meranti body, which Yamaha also uses on their higher-range FG series, and the real rosewood fretboard, which is warm and resonant.
This one really shines for beginner players because of one key feature; a slightly reduced scale size. It's more comfortable for younger players as a result (a shorter distance to stretch your fingers!) and makes the guitar more travel-friendly – very useful if you're commuting to and from guitar lessons, especially on public transport.
Meet The Roadie Coach, The Personal Music Tutor
If you want to have the perfect aid for your guitar learning journey, check out Roadie Coach. This fantastic tool can track your progress in several ways and help you get better on the guitar. It features a high-quality recorder where you can record yourself for immediate feedback. Additionally, Coach also comes with a library of songs that you can add to your repertoire later.
Fender CD-60S Acoustic Guitar, Natural
Like the Yamaha F310, the Fender CD-60S (https://shop.fender.com/en-GB/acoustic-guitars/dreadnought/cd-60s/0961701021.html?rl=en_US) is a well-established, tried and tested beginner's favorite.
Rosewood fingerboard, pearloid dot inlays, and chrome die-cast tuning machines are key features on this instrument, surprising given its budget price point. The same goes for the solid spruce top and mahogany body. In short, it delivers the quality that you'd expect from an industry giant like Fender.
The thing that makes this a real beginner's staple though? The 'easy-to-play' neck. Rolled fretboard edges are designed to significantly reduce player fatigue – great when you're putting hours into scale and chord shape practice, and instrument's Quartersawn Scalloped "X" bracing is great for sonic projection.
Once again, this is an instrument that beginners and intermediates alike will love, and get plenty of mileage out of.
What was your first acoustic guitar? And do you have any other beginner's instruments to recommend?
Sign off in the comments.