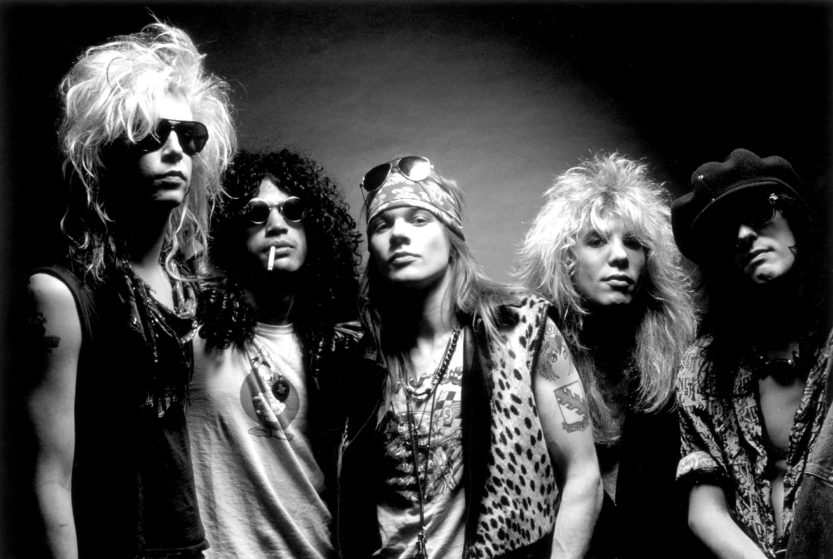 Today we feel like running down some of our favorite Guns N' Roses live performances! There's some awesome stuff here: from "Appetite for Destruction" guitar classics to modern day GN'R highlights.
So grab your Slash Les Paul and your Guns N' Roses t-shirt. Roadie's taking you down to Paradise City!
Music Machine, Los Angeles, 1986
Kicking off our list is a young and hungry Guns N' Roses, tearing it up in their original Sunset Strip stomping ground. Axl, in particular, is on top form here. Even though it's early days, the band clearly have it together, and you can hear that embryonic, classic Guns N' Roses sound in full force.
The Ritz, New York, 1988
If you're a Guns N' Roses fan, then this show is the stuff of legend. Filmed for MTV in 1988, this is GN'R live, dangerous and in their prime. "Appetite for Destruction" had just come out, the band was the biggest thing in rock and this performance shows why. It's simply ferocious from start to finish – real on the edge of your seat stuff. The year later, the band would morph into arena rock gods, and things would never be the same again…
Rock in Rio II, Brazil, 1991
What a difference three years makes! The Guns that took to the stage at Brazil's Rock in Rio in 1991 was a very different beast from the band we saw at the Ritz. Quite literally, in that they had several new members. Steven Adler was replaced by drummer Matt Sorum, and the band was augmented by keyboardists and backing singers. Stepping up to the bigger stage, though, the band still packs one hell of a punch!
ARVE Error: src mismatch
provider: youtube
url: https://www.youtube.com/watch?v=nDCQtqNg1vY&t=21s
src in org: https://www.youtube-nocookie.com/embed/nDCQtqNg1vY?start=21&feature=oembed
src in mod: https://www.youtube-nocookie.com/embed/nDCQtqNg1vY?start=21
src gen org: https://www.youtube-nocookie.com/embed/nDCQtqNg1vY


Argentina, 1993
Two years later, Guns N' Roses rolled into Argentina for the final leg of possibly the most ambitious rock tour ever undertaken. It was the tour that ultimately broke the band, and the last time that Axl, Slash and Duff McKagan would share the stage for well over a decade. But, even though the band was falling to pieces, they could still put on a show when they had to, as this video shows.
London, 2012 
Is Guns N' Roses without Slash and Duff really Guns N' Roses? That's still up for debate. But, as this live footage from 2012 shows, the Axl + hired Guns (see what we did there) still had some chops in the live arena. Some will sneer at the very concept, sure. For those with an open mind, though, there's still plenty to like here.
Rock in Rio, Brazil, 2017
We thought hell would freeze over before we saw the original GN'R back in action. Technically, we're not quite there yet – we're still down a Steven and Izzy, But, Axl, Slash and Duff is better than nothing, and the shows on the aptly named "Not in this Lifetime" reunion tour have been pretty great. Case in point, this video of the band at Rock in Rio, some 26 years after they first appeared there!
What is your favorite live Guns N' Roses moment? Did you catch them on the "Not in this Lifetime" tour? Share your stories in the comments.
Main blog photo from Rolling Stone Magazine