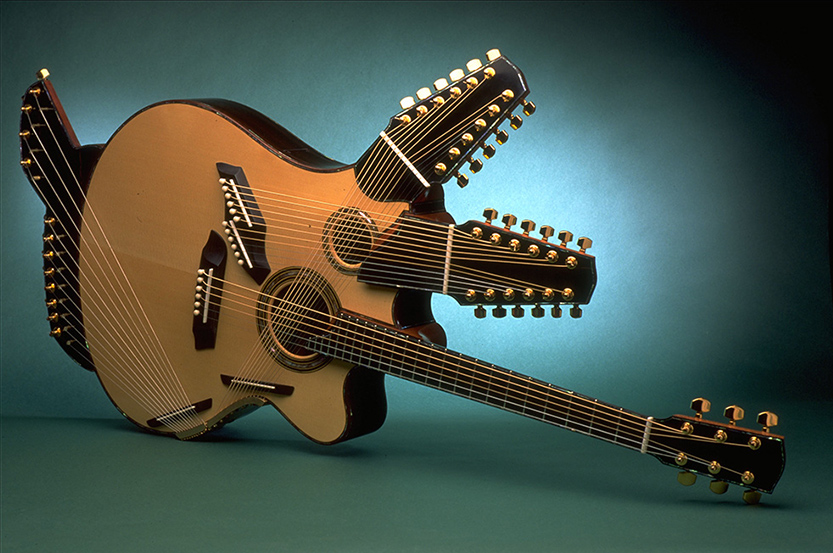 When you start thinking outside the box about the way you make music, you can come up with some strange ideas that only work on paper.
Here are 5 creative musical instruments that people not only dreamed up but built in real life!
5. Bandura
I was recently in Kyiv and walked past a busker playing a Bandura, the traditional Ukrainian instrument with too many strings to count. I had to stop for a few minutes to listen, the long corridor of the metro station made it sound like we were in a concert hall.
The Ukrainian group "B&B" in this video features a Bandura and a full band covering Smells Like Teen Spirit.
One of Germany's most creative musical instruments has ancient roots leading back to China. It's like a big flat cutting board laid on a table or the player's lap. It has 30 or 40 strings which can be plucked with your fingers or a pick.
If you've never seen a Zither before, why not start with 3 at the same time?
3. Igil

The Igil is a frightening idea for an instrument. Coming from Mongolia, it's often made from a horse's skull. This stringed instrument is played upright and bowed across like a cello. An entire genre exists consisting of music written to be played on the Igil.
The video below is of an Igil player serenading us with both his instrument and traditional Mongolian throat singing. It really picks up after the one minute mark.
 2. The 8 Necked Rock Ock
With 51 Strings and weighing in at a lofty 40 lbs, the Rock Ock isn't for the faint of heart. Trying to clear this through airport security isn't something I'd recommend, but you could make quite the impression at a local gig.
Rock band Biohazard took it for its maiden voyage!
1. Pikasso
A jazz artist commissioned a Canadian Luthier to build a guitar with "as many strings as possible". Well I have to say, mission accomplished. This creative beast is aptly named as it really does look like something out of one of Picasso's famous paintings.
It sounds like a bass, acoustic guitar, and harp all at the same time. Watch as Pat Methany captivates an audience with his improvisation.
You won't be finding any of these instruments at your local guitar shop or on Amazon, but they exist, and they're proof of what's possible when we follow our creative instincts.
Do you think a Roadie 2 can tune one or all of those instruments?