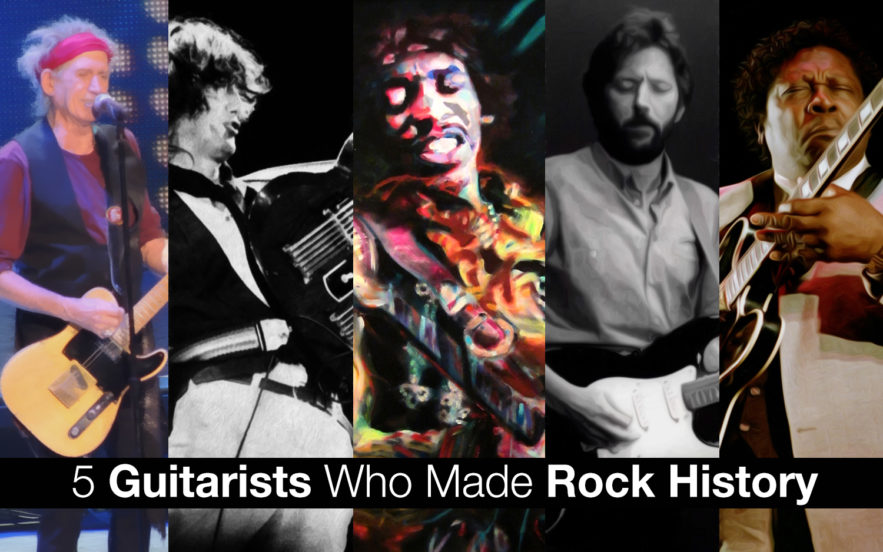 The history of rock music is filled with influential guitarists. Their distinctive techniques and styles have contributed to the development of the ever-expanding body of music we identify as rock and roll. The list of rock guitarists who have revolutionized the genre since its dawn in the late 1940s is impressive.
Here, we take a look at 5 guitarists who made rock history.
1. Jimi Hendrix
During his short career (he died at age 27), Jimi Hendrix invented a new vocabulary of electric guitar techniques and sounds. He combined the innovative use of feedback, distortion, and chord voicings with intuitive soulfulness while pushing the envelope of live performance with his flamboyant stage presence.
He made history with hits like "Hey Joe", "Purple Haze" and "Foxy Lady," along with his psychedelic version of "The Star-Spangled Banner."
"Jimi Hendrix exploded our idea of what rock music could be. He manipulated the guitar, the whammy bar, the studio, and the stage." – Tom Morello, Rage Against the Machine
2. Eric Clapton
Eric Clapton was a groundbreaking blues stylist playing with the Yardbirds and then John Mayall & the Bluesbreakers. That was before establishing himself as a guitar superhero playing with Cream and Derek and the Dominos. His signature vibrato technique, wah-wah pedal artistry, and melodic solos have made him one of the most influential guitarists in history.
He burns it up in riffs in "Crossroads", "White Room" and "Have Your Heard" while baring his soul in "Bell Bottom Blues."
According to Guitar World magazine, Eric Clapton is "one of the most lauded guitarists in the universe."
3. Jimmy Page
Jimmy Page pioneered power riffing before heavy metal was ever a thing. Wanting to explore his ideas for improvisation and acoustic texturing, in 1968, he formed a new guitar-focused band called Led Zeppelin. It was "a marriage of blues, hard rock and acoustic music topped with heavy choruses."
Guitarists today hold up "Dazed and Confused", "Heartbreaker" and "Kashmir" as prime examples of Page's genius.
"Listening to what Jimmy Page does on guitar can transport you… He had this vision of how to transcend the stereotypes of what the guitar can do." – Joe Perry, Aerosmith
4. Keith Richards
As the stoic alter ego to Mick Jagger's loose-hipped strut on stage, Keith Richards developed his iconic sound by laying his lean, muscular riffs on top of powerful themes and using open-chord tunings borrowed from the Delta blues.
Classics like "(I Can't Get No) Satisfaction" and "Gimme Shelter" showcase what famed sessions guitarist Chris Spedding calls "direct, incisive and unpretentious" playing.
"Keith finds the tuning that allows the work – the fretting, muting strings – to get out of the way of what he's feeling." – Nils Lofgren, E Street Band
5. B.B. King
Legendary blues guitarist B.B. King is thought by many to be the most influential guitarist of all time. He introduced solo techniques such as string bending and the "butterfly" vibrato that would help define the rock and roll guitar sound.
Listen to his solos in "Three O'Clock Blues", "The Thrill Is Gone" and "Sweet Little Angel" for the epitome of blues perfection.
"He plays in shortened bursts, with a richness and robust delivery. And there is a technical dexterity, a cleanly delivered phrasing." – Billy Gibbons, ZZ Top
Well, it was nearly impossible to pick only 5 guitarists who made rock history. We're sure that you've got many more names to add to our list! Let us know who else you think made rock history.