6 Musicians Who Play More Than One Instrument
by Frederik Nielsen, Feb 25, 2020 . 4 min read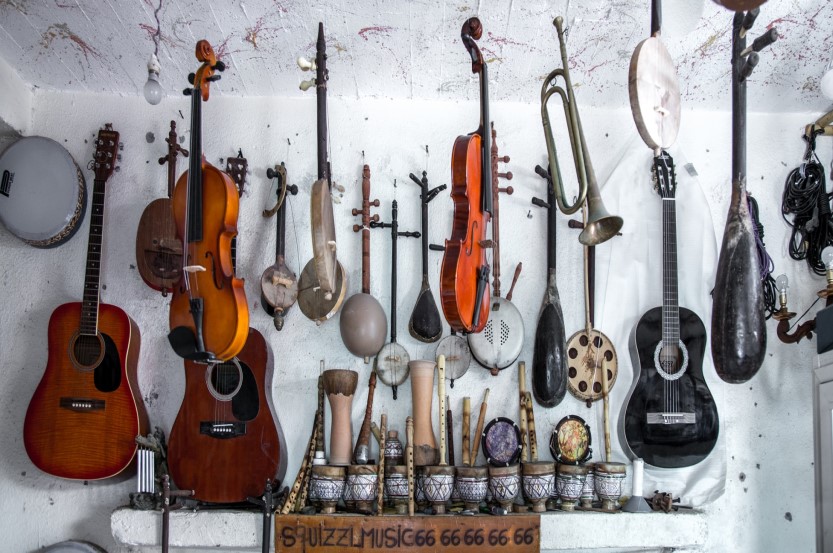 People who speak more than one language are impressive to all of us. And musicians that play more than one instrument are even more impressive.
While some people spend decades trying to master only one instrument, these people managed to master a dozen in the same amount of time.
Today, we are counting down 6 musicians who play multiple instruments. Some you already know about and others may surprise you.
1. Trent Reznor
What Instruments Does He Play?
More than 25 instruments, including cello, pan flute, vibraphone, synthesizer, and double bass.
Best Known For?
Trent Reznor is known as the brain of Nine Inch Nails, one of the most critically acclaimed bands in recent music history. He's broken new grounds in many areas and he's the only famous musician we know that plays a swarmatron, a synth that can play 8 different oscillators at the same time.
2. Flea
What Instruments Does He Play?
Plays more than 10 instruments, including keyboards, guitar, trumpet, and of course, bass guitar.
Best Known For?
Even though many people seem to be unaware of it – possibly because of his distinct look and on-stage antics – Red Hot Chili Peppers' Flea is an extremely talented musician. He started his music career in middle school, playing trumpet in a jazz band. He picked up bass later in high school.
3. Beck
What Instruments Does He Play?
Beck plays 12 instruments, including guitar, banjo, sitar, and drums, to name a few.
Best Known For?
Beck is considered to be one of the most influential indie artists in the last three decades. Beck's work encompasses everything from country and folk to hip hop and alternative rock. His seminal album Odelay helped shape a generation of out-of-left-field pop artists.
4. Sufjan Stevens
What Instruments Does He Play?
More than 20 instruments, including flute, saxophone, guitar, accordion, and oboe.
Best Known For?
Stevens is a singer-songwriter that has been dominating the indie scene with his genre-bending albums for two decades at this point. His most famous albums are based around the states of Illinois and Michigan. The liner notes for the latter credit him for 27 instruments (some of them jokingly).
5. Brian Jones
What Instruments Does He Play?
More than 15 instruments including piano, harmonica, sitar, guitar, drums, and saxophone.
Best Known For?
These days, more people know about Brian Jones' mysterious death than about his talent. The original leader of the Rolling Stones played multiple instruments both live in concert and on studio recordings. He was also possibly the first musician to bring folk instruments into rock and roll.
6. Prince
What Instruments Does He Play?
As far as we know for sure, 27 instruments, including synthesizer, guitar, harmonica, and percussion.
Best Known For?
All of the artists on the list are impressive in their own right but Prince was something else. He's the single most talented musician of the 20th century. On his debut album, he played 27 instruments. He's also credited for all the vocals, writing, and production on the album. And that was just his debut album, over the next four decades, we can safely assume that he learned another instrument or two.
Impressed Yet?
What do you think about our top picks? Do you feel we got it right or did we miss out on someone important? Who's your favorite multi-instrumentalist? Share your thoughts with the rest of us in the comment section below.
Get our free Alternate Tunings Guide!