6 Underrated Guitar Solos You Should Know
by Rodrigo Sanchez, Aug 13, 2021 . 6 min read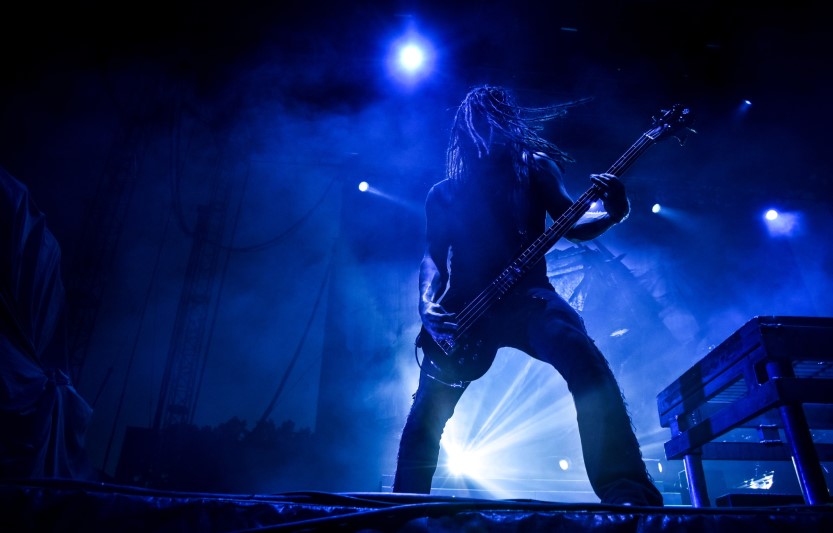 These 6 underrated guitar solos you should know are all statements of great musicality and taste. Naturally, not everything an artist releases becomes widely popular even when it deserves it, and the examples below prove it. 
Some of the guitarists below are known the world over, others are icons in their genres, but one thing remains true: they all played solos that are underrated. All of the solos below defy analysis and display the beauty that only true artists can achieve. Here are the 6 underrated guitar solos you should know. 
Nita Strauss delivers guitar heaven from the very beginning of this gorgeous track. "Here With You" is included in Strauss' album Controlled Chaos and features a fantastic ripping solo with high emotional impact. 
In her solo, Strauss combines beautiful melodies with blazing fast overdriven lines for a complete statement that soars. Besides displaying stellar technique and full control of the instrument, Strauss also shows a deep emotional curve on this solo. 
She is one of the most exciting guitarists to emerge in the last decade and displays an incredible touch, musicality, and overall expression with the instrument. The solo of "Here With You" is just another example of Strauss' greatness on the guitar. 
Jazz guitarist Kurt Rosenwinkel was quite young when he got invited by legendary vibraphonist Gary Burton to record together. In a star-studded record, Gary Burton & Friends released the album Six Pack in 1991. 
It included the jazz standard "Invitation", where many got to hear Kurt Rosenwinkell for the first time. The young guitarist showed why he was among music giants like B.B. King and Jim Hall on the same recording date. Rosenwinkell's solo has just the right amount of shredding and space, all packed into one gorgeous improvisation. 
Perhaps the most impressive part is that Rosenkinkell's signature sound and exquisite expressiveness were already present at a relatively young age. The solo he delivered in "Invitation" put him on the map, so to speak. Kurt Rosenwinkel went on to become one of the best-known jazz guitarists on the planet, as well as an on-demand session musician for work on other styles. 
Freddie King belongs to the triumvirate of blues kings, along with B.B. King and Albert King. His unique way of bending, his picking, and deep bluesy emotional connection are present in this solo. "My Credit Didn't Go Through" features King in full form from the beginning to the end. 
This solo fits perfectly with the track's funky rhythmic feel and blends perfectly with King's deep and powerful voice. 
Despite being considered a blues guitar god, the solo of "My Credit Didn't Go Through" is not among King's most celebrated ones. It is not a long solo, but it fits perfectly with the mood of the song. It is hard to think of a better solo for this song, as it delivers blues emotion that hits our core. An underrated track and solo featuring Freddie King's stellar playing.  
The Edge might be one of the most underrated guitarists of all time. Interestingly, he is the solo guitarist of one of the most popular bands ever: U2. His solo on "New Year's Day" blends simplicity and feel to deliver quite a statement. 
It is a relatively short solo and not a particularly hard one to play. However, it elevates the song and gives it that extra push to make it a classic. It uses the entire fretboard and has the right amount of grit and musicality in typical The Edge fashion. As a matter of fact, most of The Edge's solos are an example of musicality and great taste, with a great dose of simplicity. Easier said than done. 
Wayne Krantz delivers a masterpiece of a solo on Donald Fagen's "The Great Pagoda of Funn". The way Krantz solos over several key changes and takes the song into fadeout is nothing short of impressive. 
Although Wayne Krantz is well known among jazz fusion aficionados and musicians in general, he remains an unheralded guitar player. His work with Steely Dan's frontman (Donald Fagen) is further proof of Krantz unrivaled musicality and good taste.
His solo on "The Great Pagoda of Funn" features Krantz' characteristic clean Stratocaster tone and gorgeous developments of ideas as well as superior rhythmic feel. To state it simply, Krantz' solo on this track takes you on a beautiful journey in the most musical of ways.  
Joe Satriani can do absolutely anything he wants on the guitar, as his technique knows no limitations. He is a consummate guitar player that literally plays everything better than anybody else. It is quite impressive that he is such a musical guitarist, considering not only his level of technique but his genre.
"Unstoppable Momentum" features yet another gorgeous solo by one of the greatest guitar players of all time. In this solo, Satriani employs a vast variety of electric guitar techniques, from pinch harmonics and sweep picking on distorted lines, all the way to natural harmonics.
The solo on "Unstoppable Momentum" is relatively unknown, despite being in the title track of the album of the same name. 
There is no question that this incredibly well played and emotional solo deserves more recognition. Then again, you can say the same about the entirety of Joe Satriani's incredible body of work. 
These 6 underrated guitar solos that you should know are true works of art. They were played by musicians that have clearly put in the hours and developed a solid practice regimen. Despite these solos not being very famous, they are worth listening to repeatedly and studying as well. 
Feel free to go beyond this list and explore other works by these guitarists as well as other musicians. Besides learning a lot from them, you can also get some inspiration and even ideas to incorporate to your playing, composing, etc. Have fun!
Get our free Alternate Tunings Guide!