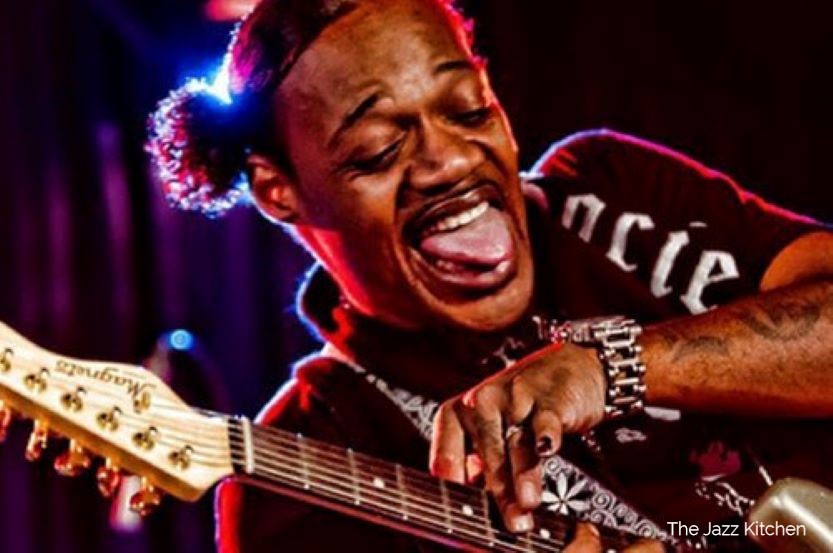 The beauty of being a musician is that the only musician you can be…is you. Jimi Hendrix left-handedly pioneered blues and rock guitar styles of playing with a head full of lucy. Some folks decide to play the guitar by laying it on their lap and tapping the audience into a "musical submission."
Then you have one and only guitarists like Eric Gales. Eric is notoriously reknown in the guitar community for playing the guitar left-handed, backward, and upside-down – all the while playing mainly in E flat. This is Backward and Upside-Down in E-Flat feat. Eric Gales.
Eric Gales
Child prodigy Eric Gales, AKA Raw Dawg was born in Memphis, TN and started playing the guitar at the age of 4. Highly influenced by guitarists such as Jimi Hendrix, B.B. King, and Alber King, Eric started playing gigs with his bassist older brother, Eugene Gales.
Eugene being left-handed, taught Eric how to play guitar although Eric was naturally right-handed. Without question, Eric learned how to play a right-handed guitar, left-handed. Thus, the guitar was upside-down meaning that the lower E string was on the bottom.
First signed a record deal in 1991 with Elektra records, rose the up and coming blues/rock success of the Gales brothers. Eric Gales has collaborated and toured with many amazing musicians such as Doug Pinnick from Kings X, Mitch Mitchell, Billy Cox, Eric Johnson, Brad Whitford from Aerosmith, and much more.
Similar – Playing the Fretless Guitar feat. Bumblefoot
Tuning to E flat
Eric Gales is very particular about his guitar set up and loves tuning his guitar a half-step down to E flat. As we all know, the guitar is commonly tuned to E A D G B E.

To tune your guitar to E flat, you must lower each string down a half-step. Therefore your new tuning will be Eb Ab Db Gb Bb Eb.

So set that Roadie Tuner to Eric Gales mode…or just E-flat. Here's how to select tunings on the Roadie. 

There are a couple of reasons Gales prefers this tuning. For instance, slightly looser strings combined with his lower preferred action means he can bend those strings easier for the emotional effect we like blues/rock music to have. Also, lower strings mean a more bassy feel we dig from bass players.
Further Reading – The Complete Guide to Guitar Tuning
Be You
Eric Gales is one of those musicians that never seizes to inspire those around him to be the best they can be. He has broken the stereotypical standards of guitar playing and has succeeded tremendously at being unique as well as relatable which is no easy feat.
Make sure to check out that E-flat tuning with your Roadie Tuner and bend those notes! For more information on the Roadie Tuners, check out the link here.
We hope you enjoyed this article Backward and Upside-Down in E-Flat feat. Eric Gales.