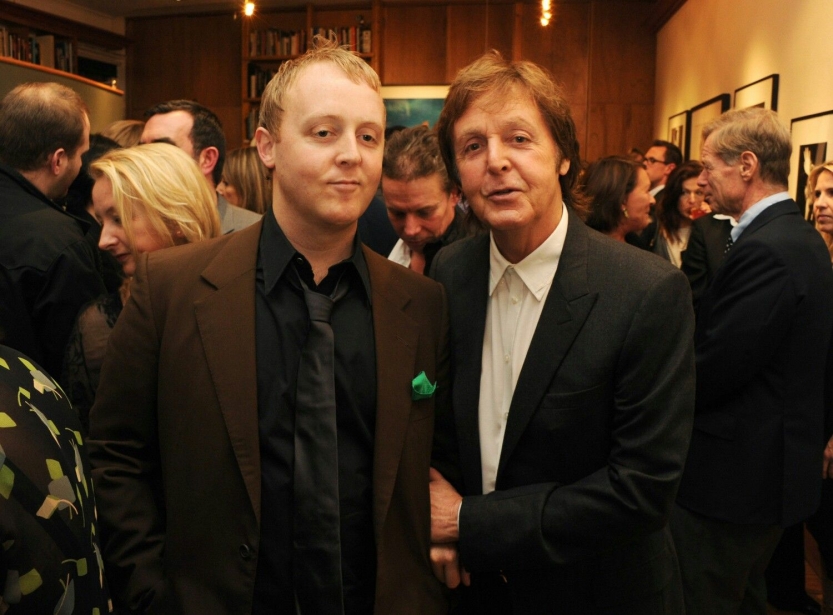 Happy Father's Day! Hopefully you've got a really cool present (like a Roadie 2) from your kids, and are ready to celebrate the day in style. And by style I mean the inappropriately decorated BBQ apron you were given last year as well, and will be wearing all day as you're put to work by the grill. When you get a break from flipping burgers, have a look at these father and son(s) combos in the music scene.
Bob and Jakob Dylan
Bob Dylan is about to release album number 37. Let that one sink in. That's almost one album every other year he's been alive. His achievements are too long to list here, so his son Jakob has had enough to live up to. Fronting The Wallflowers, he has gone in a different direction than his father — let's see if he also manages to sell over 125 million records!
Leonard and Adam Cohen
Leonard Cohen was another of the musical greats who just kept on putting out new records like there's no tomorrow. Perhaps at 81 he wanted to prove to his son Adam that he will not be outdone. Adam himself has released music, with his album We Go Home being his biggest success story so far. Even more impressive, he has released music in both English and French!
Billy Ray and Miley Cyrus
Father Billy Ray is, and always will be famous for his "Achy Breaky Heart". So catchy is that song that we're willing to forgive and forget the atrocious remix he featured on a few years ago. Daughter Miley is… great, when she's not twerking or sticking her tongue out. If you're not into her own music, check out her beautiful rendition of Jolene here.
Tim and Jeff Buckley
A perhaps less rosy story is that of the two Mr. Buckleys. Jeff Buckley only got to see his father once, when he was eight, and was not in touch with him since. This was due to a negative relationship between his parents, and the fact that Tim Buckley overdosed on drugs and died at 28. Jeff also died at the young age of 30, but both Buckleys managed to release some beautiful music before they left us.
Paul and James McCartney
Sir Paul McCartney needs no introduction, as he has continued to produce great music long after The Beatles became a thing of the past. Although also nearing retirement age, Paul has managed to stay hip by collaborating with Kanye West and Rihanna. His son James has appeared on several of his productions, and is now releasing his own project.
John and Jason Bonham
Another virtuoso who left us early was John 'The Beast' Bonham, who formed the rhythmic backbone of Led Zeppelin. His son Jason took the reigns after his death, and has hinted at a possible reunion sometime in the future.
Max and Jay Weinberg
Max Weinberg has been Bruce Springsteen's drummer for over four decades, and has passed his affinity for beats on to his son Jay. When Jay was just ten years old, Max introduced him to Slipknot. Other ten-year-olds might have had relentless nightmares after being introduced to grown men wearing death masks, but not Jay. Jay went on to play drums for them.
Billie Joe, Joey, and Jakob Armstrong
Billie Joe Armstrong of Green Day has definitely earned his stripes as a musician, and was a few years ago inducted into the Rock N' Roll Hall of Fame. His son Joey is the drummer for SWMRS — which I'm assuming is pronounced 'Swarms' (revealing my age here). Billie Joe's other son Jakob just released a music project which combines the sounds of The Strokes and Surfer Blood.
Bob, Ziggy, Stephen, and Damian Marley
Bob Marley was not only a prolific musician, but also a prolific (?) father. Eleven kids he managed to put in the world, and quite a few of them followed in his footsteps. Musically, at least. Ziggy has netted himself no less than seven Grammys for his six albums, Stephen has six Grammys and four albums under his belt, and Damian (being the youngest) won four Grammys and released four albums.
Olu Dara and Nas
Nas grew up with a jazz musician as a father, but did not follow in his footsteps — not exactly. Nas has released a string of successful albums, of which his debut Illmatic is so iconic that orchestral renditions have now been put together. The odd thing about this pair is that is was the son who convinced his father to release his music — not the other way around.