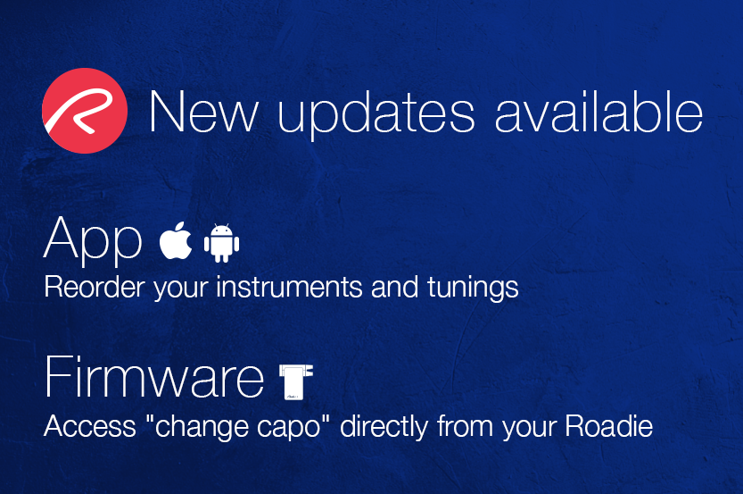 Band Industries is excited to announce a mobile app update for both iOS and Android, as well as a firmware update which introduces a whole new feature for your Roadie.
New Roadie Tuner app update (v2.1): Reorder your instruments and tunings
Many users have requested to add the ability to reorder their instruments and tunings on their Roadie 2. Put the most commonly used instruments on top, and hide your least favorite instrument on the bottom. You requested, and we listened!
This new update will allow users to change and reorder the instruments via the Roadie App itself. It will also allow you to change and reorder the tunings directly via the app to be synced with your Roadie 2.  All you have to do is long press the instrument or tuning you want to change and then drag it wherever you want it to be.
After you sync, your order of instruments and tunings will be the same on both the app & your Roadie.
Note: This feature will not work unless you update to the latest Roadie firmware (v1.2), so if you haven't already, go ahead and update the firmware now.
New firmware update (v1.2): Access "change capo" directly through your Roadie
Let's face it, you only change capo for that specific song, and if you are jamming or gigging it is really annoying to take out your phone every time you need to modify your capo and sync it with your Roadie 2. This is why we added a feature to allow you to change capo on the Roadie itself. No need for the phone! Basically, you are now able to modify the capo on both the Roadie app and Roadie
To update the firmware all you have to do is launch the app and connect your Roadie, and you will automatically be notified of a new firmware update. In case this doesn't happen, go to Settings > select your Roadie > Update Firmware
Our tech team will continue to release the best updates for your Roadie and the Roadie Tuner app. Comment below and let us know if there's a feature you'd like us to work on.