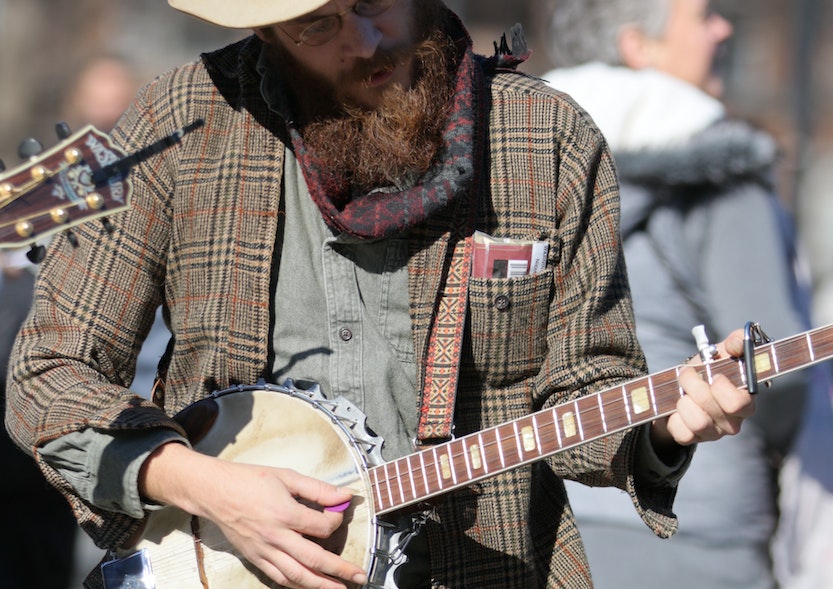 These easy banjo songs are a great place to start for beginners. The banjo is a very expressive instrument…
that is beloved the world over for its unique sound. With practice and dedication, you can master these easy banjo songs and move on to more difficult pieces. Naturally, you may experience a bit of frustration at some point. Please know that this is a normal part of the process of progressing in any instrument or musical endeavor. 
This is a definitive banjo song that was composed by Ralph Stanley and released in the early seventies. It features an active melody on the first string and adds some note bends to make it more fun.
This song is fairly simple and features an extra beat or half measure commonly, which makes it "crooked", in bluegrass jargon. Try to keep your time as steady as possible and don't shy away from using a metronome.
Cripple Creek is an iconic song that many banjo players learned at their early stages of development.
The melody uses a slide on the first string, making not only an easy banjo song, but also a really fun one to learn. Although this is a simple song, focus on getting it right by concentrating on the beat and melody line.
This is one of the best-known and most beloved folk songs of all time. There are plenty of versions by various artists, and it is totally acceptable for you to imprint your own personality on it when you play it.
This song offers a great opportunity to develop your right and left hand coordination. Although it is an easy song, make sure you are patient and kind to yourself while learning it.
The Ballad Of Jed Clampett is one of the best easy banjo songs you can learn, as it is immensely popular. This song is a staple of bluegrass music and gained mainstream popularity as the theme song to the beloved sitcom The Beverly Hillbillies.
When learning it, try to keep an eye on your strumming hand. Use this song as a great chance to work on your picking, and start slowly and speed up gradually.
Ground speed is a super fun song and one that gets requested often from banjo players. Make sure you start slow until you have mastered the picking pattern, then speed up incrementally.
Ground Speed is a great tune to work on your fingers' independence as well as your concentration.
"Hot Corn, Cold Corn" is a popular song that has been played by many artists over the years. It is one of the best easy banjo songs you can learn. This tune comes with a simple structure and easy chords. As a matter of fact, this may be one of the best songs to learn at first if you're starting on banjo.
Make sure you spend quality time learning these easy banjo songs. Before you start, make sure you use a good tuner to tune up your banjo well. Have fun!