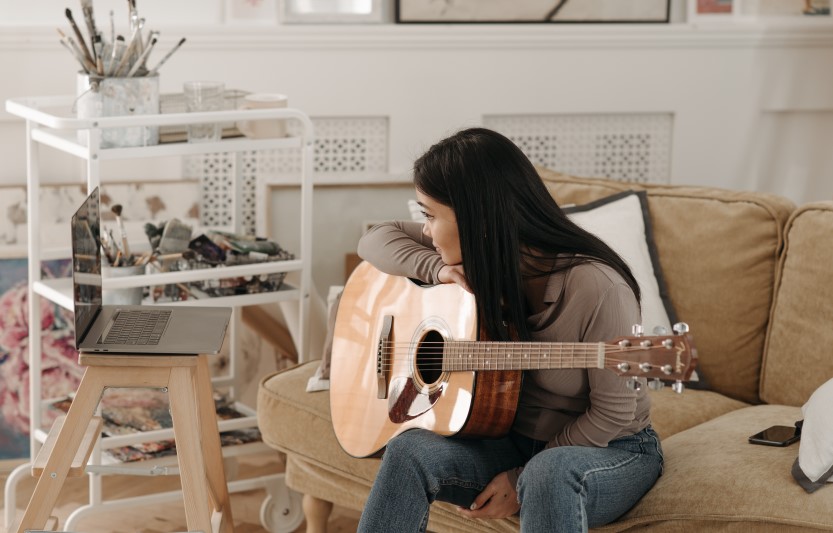 Today we give you 7 easy guitar songs you can learn in one day.
The songs on this list are not only simple but also very famous and beloved. Each features a different aspect of guitar technique that you can work on. 
In other words, learning these songs will make you a better musician as you will incorporate and develop more skills. 
Speaking of becoming a better musician, check out Roadie Coach. Coach can be an incredible tool that helps you develop faster. With features like a high-quality microphone and a vast library of songs, it allows you to record your performances, document your progress, and can give you personalized feedback on your practice sessions.
Without further ado here are the 7 easy guitar songs you can learn in one day.
Come As You Are features one of the most famous riffs of the 90s. Along with other Nirvana classics, this tune sparked a new style called grunge. This song is easy to learn thanks to its singable riff and clear structure based around an F#m chord.
Composed by Kurt Cobain, Come As You Are is a among the greatest easy guitar songs that also transcended generations and remains popular today. 
A classic Beatles song that is also very easy to learn. It features a simple riff and just a few chords. And I Love Her is a great tune to practice your right-left hand coordination as well as accuracy when changing chords. 
This song is very easy to learn, singable and remains one of the best-known songs written by Paul McCartney and John Lennon. 
This is arguably the most popular song for many beginner guitarists. As a matter of fact, Smoke on the Water is a classic that all guitar teachers know and are ready to teach and for good reason.
This classic is the most famous Deep Purple song. This riff was written with a series of easy double stops and is easy to learn and to play. 
Originally recorded by the legendary guitarist Ritchie Blackmore, Smok on the Water was released in 1973 and is one of the most long-lasting rock classics ever. 
One of the most heartfelt Guns N' Roses songs, Don't Cry is also an easy one. It features just a few chords and offers a great opportunity to work on your arpeggio chops.
This song features the very common chord progression of C, Am, D and G, which happens in many songs from all eras.
Don't Cry also features a simple and common verse-chorus structure, so you will be able to learn this song fast. 
 Back in Black is among the most famous rock songs ever, and is also one of the most requested easy guitar songs you can learn. Composed and recorded by guitar legend Angus Young, it combines a few easy chords (E, D and A) with two separate phrases.
This riff comes from AC/DC's biggest song and biggest album, also called Back In Black. This album is one of the best-selling records ever and features timeless riffs, none bigger than this one.  
This riff is generally thought to novice guitarists, as it is very practical and tons of fun as well.
Shape of You was written featuring the same four chords throughout the progression. This fact makes it a very easy song as there is only one batch of chords from start to finish. 
The chords in this worldwide smash hit are Am, Dm, F, and G.
One of the great attributes of this Shape of You is that besides being easy, it is a great song for beginners to practice how to change chords quickly. 
The chord progression used in this song will also serve you for many other songs, making it a great one for beginners to learn. 
Creep is the song that put Radiohead on the map and kickstarted their incredible career. This modern classic is also quite easy to play as it features only four chords for its entirety. Those chords involved are G, B, C, and Cm. Besides making up a common progression, these chords are also easy to learn and you will use them in a plethora of other songs. 
Because this progression repeats nonstop from beginning to end, Creep is also a great easy song to practice consistency on your strum pattern. 
These 7 easy guitar songs you can learn in one day will help you get better at the instrument. Moreover, they will provide tons of fun as well as become an integral part of your repertoire.
Learn them well, and remember to practice and have fun!