5 Cheap Acoustic Guitars That Do the Job
by Rodrigo Sanchez, Oct 5, 2020 . 4 min read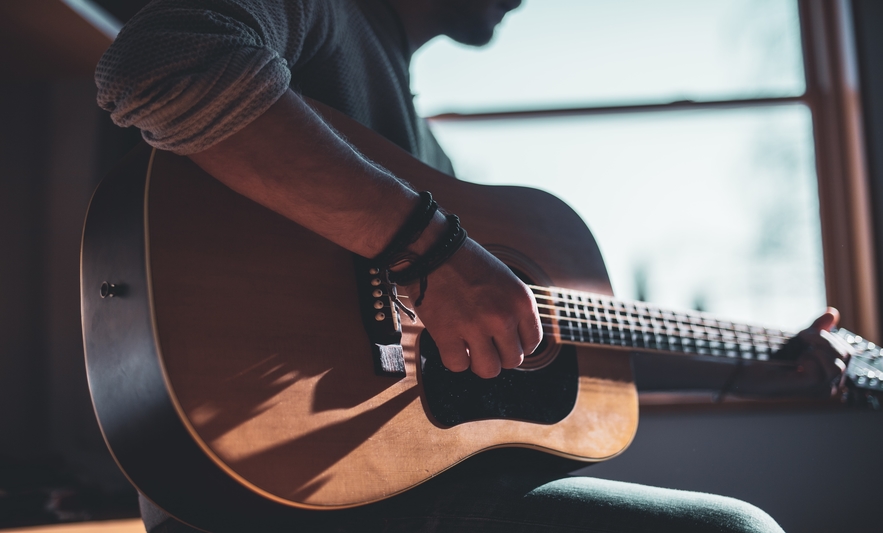 Cheap acoustic guitars are a double-edged sword. On one hand, they are inexpensive and you will save money.
On the other hand, inexperienced buyers might pick a low-quality instrument, all in the name of saving. The good news is that the quality of many cheap acoustic guitars has gotten better over the years. Better materials and better construction practices now allow for a great value for cheap guitars. If you pick well (pun intended) you will go home with an inexpensive instrument that also provides a good level of quality for the money. After all, you want to have a good enough instrument without breaking the bank. Here are five cheap acoustic guitars that do the job.   
Taylor GS Mini
Few manufacturers have as solid a reputation in guitar-making as Taylor does. The Taylor GS Mini features West African Ebony wood on the fretboard, sapele on the neck, and laminated sapele on the sides. In addition, it also has die-cast chrome tuners. These are above-average tuners for a guitar of this price. It is a travel-size instrument with beautiful tone and playability. However, it does not come with electronics. So you won't be able to plug it in.  
Yamaha CSF1M
Yamaha is also a highly respected name in guitar-making. The CSF1M is a travel size guitar that can produce a rich and loud sound. This is highly appealing to many guitarists. Additionally, it has a SRT passive piezo electronic system that produces a nice sound when amplified. The fretboard is made of rosewood and the top of solid sitka spruce. The CSF1M is a great deal for the money. 
Epiphone EJ-200CE
This is a jumbo-size guitar with good sound for cheap. That alone is impressive. This Epiphone features Grover tuners, pau ferro fretboard, and a maple neck. The strongest selling point with the EJ-200CE is the sound it produces, both plugged and unplugged. It features a Shadow eSonic-II Stereo Pickup System that does the job quite well. A fantastic buy for the money.
PRS SE Parlor
PRS has quickly elevated into one of the most respected guitar makers in the last three decades. The PRS SE is a parlor-style guitar that features good sound for the money. In addition, it features a Fishman GT-1 pickup system and an all-mahogany construction. Overall, a good option for a cheap acoustic guitar. 
Martin LX1E Little Martin
Isn't it interesting that the biggest artist in the world uses a cheap guitar? You read that right. While many spent hours worrying about their guitar being good enough, Ed Sheeran became a superstar with the use of one cheap guitar: The Martin LX1E Little Martin. And that is not hyperbole. Sheeran built a career and broke the concert attendance record with the use of his trusty Little Martin. Who would have thought that a strong work ethic, perseverance and honing of one's talent is more important than the type of wood used on your fretboard? Mind-blowing. 
And there you have it. We've listed five cheap acoustic guitars that are a good buy for the money. For you to make the most out of your guitar, please remember to change the string periodically and get a good tuner. Don't fall into the trap of thinking that having more gear is a must. After all, the most important part of great music-making is you, not the gear. Of course, it is nice to have fine guitars and gear. And there is nothing wrong with that. But a bad song will not become good just because it is played on an expensive guitar. The same applies to mediocre playing. Leave us a comment and then go practice. 
Get our free Alternate Tunings Guide!