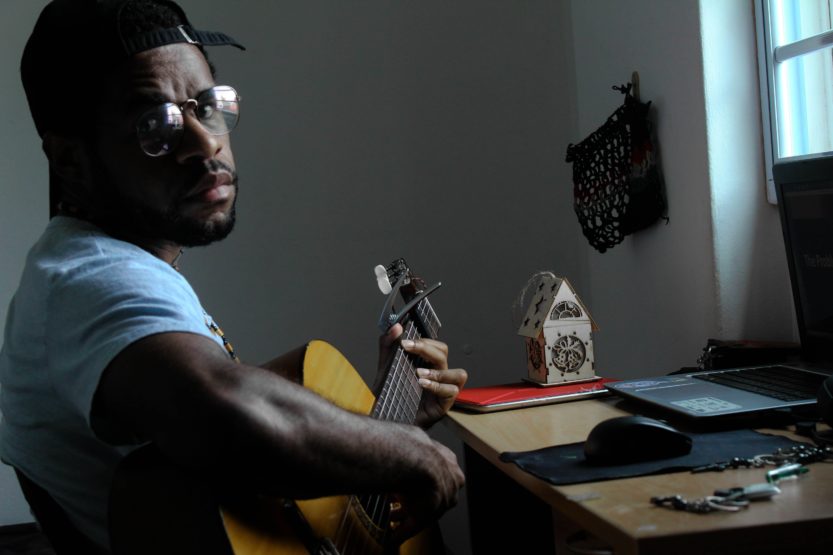 Practice makes perfect, but there's always room for improvement. If you want to become a master, then you need some effective habits to improve your guitar skills.
It's easy to get stuck in your own little bubble at home. So in this short guide, we'll cover three guitar playing habits you might not have thought about.
1. Play Air Guitar (Yes, Really)
It might sound silly, but visualizing yourself playing guitar can actually improve your real guitar playing. It's also incredibly practical because you don't need your guitar at hand to do it.
Whether you're in the park or on your daily commute to work, allow yourself to daydream a bit. Imagine how it would feel to play like a virtuoso guitarist.
However, you need to be specific while you daydream.
Use your mind's eye to see how your fingers form chords on the fretboard and pluck the strings. Hear the sounds you produce when you play the chord progressions and melodies.
When you finally do have a chance to practice with a real guitar, you'll find that you're in a better place than before — without having touched the guitar earlier.
Hear how JustinGutiar explains it in more detail here:
2. Jam with Other Musicians
Even if you're not in a band, it can pay off to find some local musicians to jam out with. You can find them on websites such as Jamseek and Hendrix.
If you don't want to commit to regular jam sessions, then seek out some local jam nights in your town. That way, you can simply drop in when you have a spare evening.
Finally, there is always the option of ditching real-life musicians completely in favor of electronic ones. Apps like EZ Drummer and GarageBand makes it easy to conjure up a virtual band.
Check out Sean Daniel's three tips for a good jam session here:
3. Record Your Practice Sessions
We often think we're doing better (or worse!) than we actually are because we don't see and hear ourselves from another point of view.
There's a really easy life hack to circumvent that issue: record yourself playing.
Set up your phone or tablet and record a video of your next practice session. Don't stop in the middle of it to check yourself out — leave that for afterward so you don't lose focus.
Make sure to take notes as you watch your practice session. That way, you can easily identify your strengths and weaknesses for next time.
Rachel shows you how to record your session the right way here:
Time to Improve
Use these three habits to improve your guitar skills and get outside of your comfort zone. They might feel odd at first, but you'll learn to enjoy it once you regularly practice.
For another read on some guitar tricks to master, check out this article.