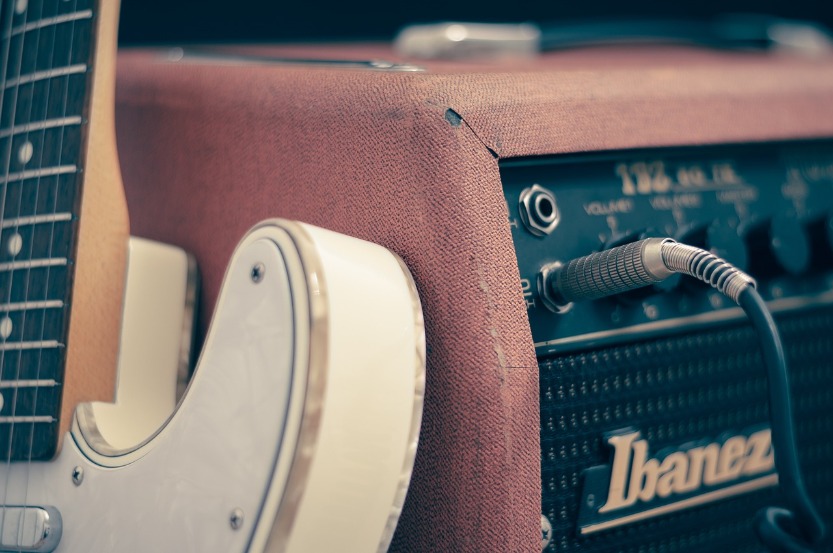 You've probably recorded a song or two — or a hundred. You might even have built your own home studio. But if you're just starting out, you should know how to record electric guitar at home.
In this short guide, we'll go over how to handle…
Guitar tuning

Recording signal

Choosing an amp

Mic'ing up the amp

Gain structure

Avoid post-recording fixes
1. Tune your instrument
Step one is, of course, to tune your instrument. You should also make sure there aren't any rattling strings or any other noises that can interfere with your recording.
Tip: Use your DAW's tuner plugin, a tuner app, or an automatic guitar tuner to get the job accurately done.
2. Get the signal right
Check that all the cables are working so there are no surprises. Limit the number effect pedals you use to keep the distance between your guitar and the interface as short as possible.
Tip: This guide explains how to use a DI box during a recording session at home.
3. Choose the right amp
Unless you're using your DAW's plugin amps, you'll need a proper guitar amp to record at home. Make sure that the recording latency is no more than 10ms to avoid falling out of time.
Tip: Here are the best guitar amps for recording at home you can also add to your wish list.
4. Mic up the amp
Once you've chosen the right amp, it's time to mic it up. A Shure SM57 will do the job just fine, but you might want to supplement it with a condenser mic placed a few inches behind it.
Tip: Read this guide on how to place the mic when recording in a studio or at home.
5. Structure the gain
Gain structure is simply the practice of making sure that your input signal doesn't clip when you record. Play the loudest part of your song to gauge how much gain you should add.
Tip: Learn more about how gain structure works to understand how you can reduce noise.
6. (Don't) fix it in the mix
Some things you can fix in the mix, but it's honestly better to avoid having to do it in the first place. Use a 'top and tail' approach to EQing your guitar recording or use a high-pass filter.
Tip: Here are seven tips for EQing guitar recordings that you can use for your next session.
Ready to hit 'record'?
These are the basics of how to record electric guitar at home. There is a lot more to it, and we hope to cover all of it eventually.
In the meantime, why don't you drop us a comment and let us know what you'd like to learn next? Then we'll put that at the top of our list!
Since you're here…
If you're getting ready to record and constantly feel like your instrument is out of tune, check out our flagship automatic tuner Roadie 3. Roadie 3 is fast, accurate and really easy to use. You can set its accuracy to "High" and select the "Tune up" feature to ensure you get the best sound out of your instrument when recording.