Playing the Fretless Guitar feat. Bumblefoot
by Randall Nashleanas, May 17, 2019 . 5 min read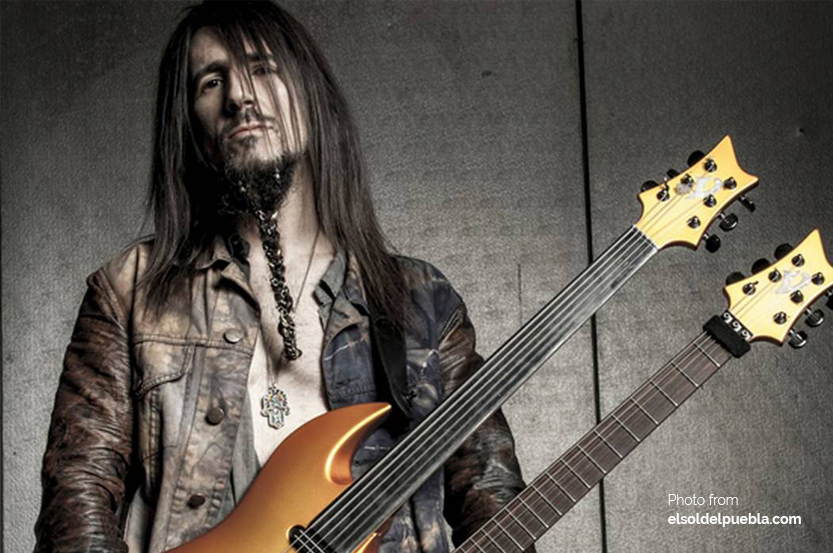 In the history of the world, thousands of different Gods have been and are still worshipped today impacting millions all over the globe. Yngwie Malmsteen, Greg Howe, and Jason Becker are just to name a few to have been worshipped in our time. But there is one God that must be recognized today. His mighty name is Ron 'Bumblefoot' Thal.
Not only has Bumblefoot taken the guitar world by storm with his incredible guitar techniques using thimbles and insane hyper-picking, but his use of the fretless guitar is, dare said, unmatched by most. Today, we are playing the Fretless Guitar feat. Bumblefoot.
Ron 'Bumblefoot' Thal
Ron 'Bumblefoot' Thal found his name while helping his wife study for her veterinary exams on the bacterial disease known as "Bumblefoot." Thus, the solo guitarist Bumblefoot was born.
More recently, Bumblefoot is more well-known to have been one of the leading guitarists for a little band known as Guns-n-Roses. Previously, he has released over 10 albums since the early '90s featuring his insane original music and operatic voice.
Many of the recordings include techniques, designed by Bumblefoot himself, that require the use of a thimble, yes, a thimble, and extraordinary rhythmic hyper-picking. All the while using these techniques on a fretless guitar, also designed through the mind of Bumblefoot and Vigier Guitars.
Click here for Bumblefoot's Thimble Lesson.
Further Reading – 20 Types of Guitars and the Legends that Played Them
Understanding the Fretless Guitar
Even if someone has 10 years of experience playing the guitar, switching to a fretless guitar is no walk in the park. There are many factors to playing a fretless that one must take note before committing to this experience.
Tuning
Tuning your fretless guitar is still the same. Although, many professional fretless guitar players are known to go from the standard E Tuning – E A D G B E – to tuning their guitars to a D Tuning – D G C F A D – which is a whole step lower and allows for more control on single notes and sustain.
Related Post – The Complete Guide for Guitar Tuning
Intonation and Muscle-Memory
Since there are no frets, you must be aware of two things that are absolutely crucial: Intonation and muscle memory.
When it comes to training your intonation and muscle memory, play scales very slowly over a drone note. For example, listen to Cello Drone – A on Youtube. Now practice your A scales, major, minor, pentatonic, what have you, over this A drone.
With time and practice, it will most certainly aid in securing your intonation on a fretless instrument as well as helping build your muscle memory!
Different Necks for Different Specs
Some fretless guitars are known to have metal fingerboards. For instance, if someone were to buy the Excalibur Surfreter Special guitar from Vigier, they would notice that the fingerboard is metal.
Most commonly in the guitar world, people tend to build their own fretless guitars from their own guitars by taking out the frets. This process is quite tedious and requires careful step-by-step instructions. Here's a solid guide on how to do so:
Fretless Vibrato and Playing Chords
Vibrato would be slid up and down the neck instead of bent within the fret markers, sort of like a violin or cello. This is due to the string tension because of the lack of frets.
You can play more simple chords in tune such as G, C, D, etc but playing bar chords is another beast in itself. This is due to us being used to having frets and fret markers as guides. But with enough time and persistence, playing any chords you want on a fretless isn't completely impossible.
How Bumblefoot Plays on the Fretless
For a more in-depth look on Fretless Guitar playing from Bumblefoot himself, here's a Guitar Player Magazine lesson footage from 2008:
In this video, Bumblefoot mentions the difficulties of playing chords, training your muscles, developing intonation with your fingers, becoming the fret, and sliding your vibrato, not bending it.
Here's another amazing excerpt from a fretless guitar solo featured in Bumblefoot's song, 'R2' off his 9/11 dedicated album, 9/11:
Check out this clip from Bumblefoot's fretless guitar solo in the song, 'God of the Sun,' by his band SONS OF APOLLO:
Encore
Ron 'Bumblefoot' Thal has, to say the least, elegantly mastered the art of fretless guitar playing. His talents without a doubt solidify him as being one of the most insane guitar Gods to ever walk the earth.
We here at Roadie hope you enjoyed this article about Playing the Fretless Guitar feat. Bumblefoot! Keep practicing and remember, practice doesn't make perfect – practice makes progress.
Subscribe to Gain Access to our Alternate Tuning Library & Accompanying E-Book Guide
Discover the origin of the most popular tunings, some less-known facts, AND most importantly, learn how to play songs in your desired tunings.