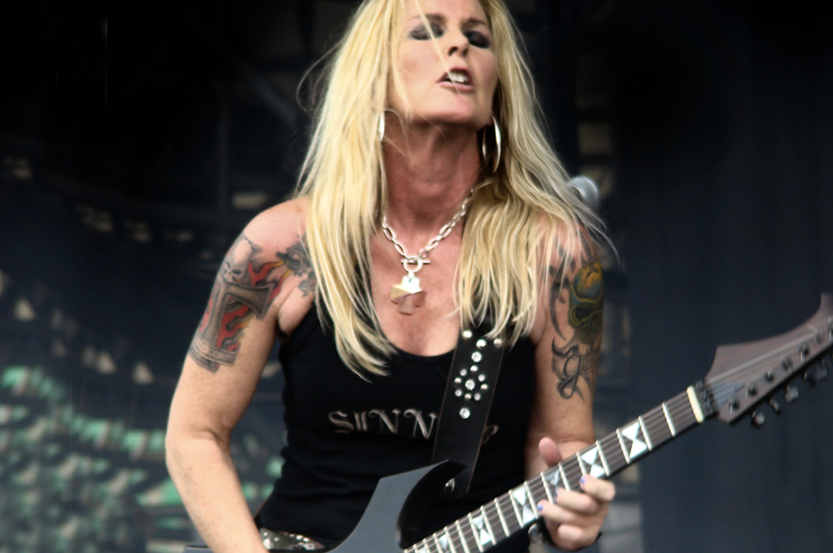 Although women by no means are under-represented in the music industry, female instrumentalists are not quite as common as we'd like them to be – particularly when it comes to rock and metal.
We can only speculate on the reasons for this lack of women who shred; but my money is on the shadowy cabal commonly referred to as The Patriarchy.
However, real talent always shines. No one can deny that some of the best guitarists in the world are female.
Since it's Women's History Month, what better opportunity is there to highlight some rock'n'rolling femme Fatales?
Jennifer Batten
There are many reasons to love Jennifer Batten, and one of the reasons I like her is our shared interest in Steampunk art. Oh yeah, and she's been Michael Jackson's lead guitarist for ten years and toured the world with him three times. In addition, her impressive CV, which includes playing with Jeff Beck, is too long to list here, but it includes three solo albums, two books, and three DVDs. Check her out live in the video below, and if you like what you hear – let her teach you the tricks:
Orianthi
Like Jennifer Batten, Orianthi was supposed to tour with Michael Jackson as the lead guitarist for "the greatest tour that never happened". The unfortunate events that put a stop to the tour did not stop Orianthi: she went on to tour with Alice Cooper. Notable achievements include performing at Eric Clapton's Crossroads Music Festival, releasing three solo albums and garnering a string of awards for her musicianship. Check her outperforming here with Steve Vai:
Nita Strauss
When it became time for Orianthi to part ways with Alice Cooper, The Iron Maidens' Nita Strauss was ready to fill the void left behind by her – a position she's maintained until the time of this writing. Ms. Strauss has music running through her veins, being the descendant of the great Johann Strauss II. Guitar World has labeled her one of the best guitarists you should know, and it would seem like she is still just at the beginning of her stardom.
Joan Jett
My neighbours are no strangers to "I Love Rock 'n Roll" and "Bad Reputation" – whether they like it or not. Credits for those two hits go to Joan Jett, previous frontwoman for all-female glam-rock band The Runaways and subsequently Joan Jett and the Blackhearts. Her career has earned her a well-deserved spot in the Rock and Roll Hall of Fame, and she has not slowed down on rocking out since her early beginnings. Check her out live in the video below:
Lita Ford
Joan Jett wasn't the only one wielding an axe in The Runaways. Lita Ford's powerful licks became part of the band's signature sound. After their breakup, Lita spent fifteen years as a solo artist, recorded five studio albums and collaborated with none other than Ozzy Osbourne. After a hiatus taken to raise her family, she re-emerged with new material in 2008. This quote says it all: "I just wanted to kick ass! I don't know what's popular, or the flavor of the day. I just wanted the music to rock! The lyrics are very personal and that's it. I wasn't going to come out in sandals with hairy armpits!"
Know any women who shred? Think we missed anyone? Let us know in the comments below.