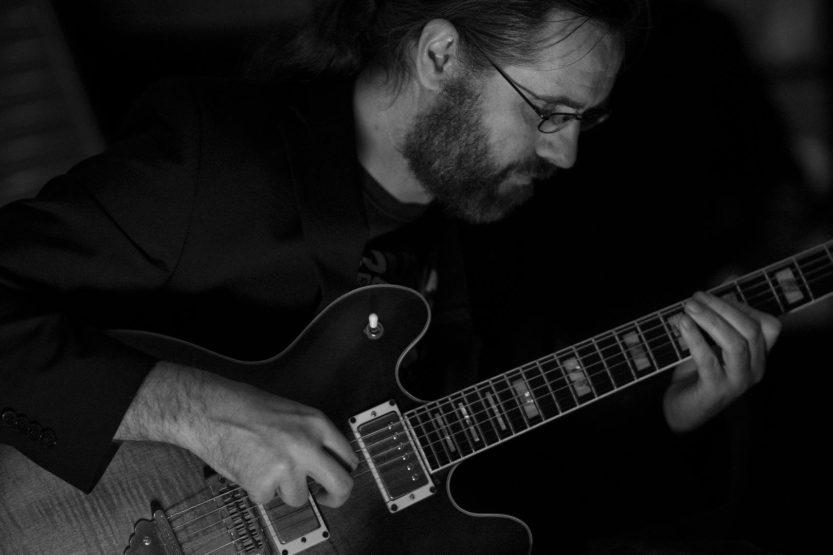 We're almost at the end of 2019 and thought we'd round off the year with more spotlights on great guitarists that we come across online.
This edition of Roadie Spotlight will look at the jazz guitarist Jens Larsen from the Netherlands. He's been involved in quite a few interesting projects and is also a prolific guitar teacher.
Who is Jens Larsen?
Jens Larsen's main gig is being a virtuoso jazz guitarist. But he's also cut his teeth as a composer and arranger in several groups and bands.
Here are some of the most popular projects Jens Larsen has been involved in:
Jazz4kids: jazz concerts for kids at schools, theaters, and festivals throughout the country.
Træben, the band: the Dutch band members have been working together for over 15 years. Their new album Looking At The Storm blends raw elements of rock into their music.
Wijnen, Winter & Larsen: their repertoire is a mix of original compositions and arrangements of standards and jazz classics with an emphasis on hardbop and groove.
Yvonne Smeets Group: "Yvonne Smeets' music is always pure, warm and never obvious. The remarkable debut of a singer who makes choices both attractive and daring and already deserves her very own place in jazz." – Bert Jansma.
When he's working as part of a group, Jens teaches guitar lessons on social media and sells courses on his website. He's also a teacher at the Royal Conservatory in The Hague and regularly writes for jazz magazines and websites. In other words, he's very prolific.
Træben is perhaps Jens Larsen's most notable group effort. The band has released three critically acclaimed albums, won a prize at the International Songwriting Contest, performed at the North Sea Jazz Festival, and toured in Canada, Scandinavia, and the Benelux countries.
What Does Træben Sound Like?
As a master musician, Larsen can effortlessly switch up his style. But listening to Træben, reminds you of classical jazz quartets. Similar artists on Spotify include Doug Raney, Pat Martino, Jonathan Kreisberg, and Jimmy Raney.
Listen to the prize-winning single "Top Dog" from Træben here below:
Watch Jens Larsen in Action
There is perhaps no better way to understand the breadth of Jens Larsen's work than watching one of his many guitar playing tutorials on YouTube.
Here is a video of him showing the most important scale exercise in jazz:
Follow Jens Larsen Online
You can easily find Jens Larsen and the projects he's worked on by Googling them. But we've collected the most important links so you can discover his amazing skils.
Find out more about him here: