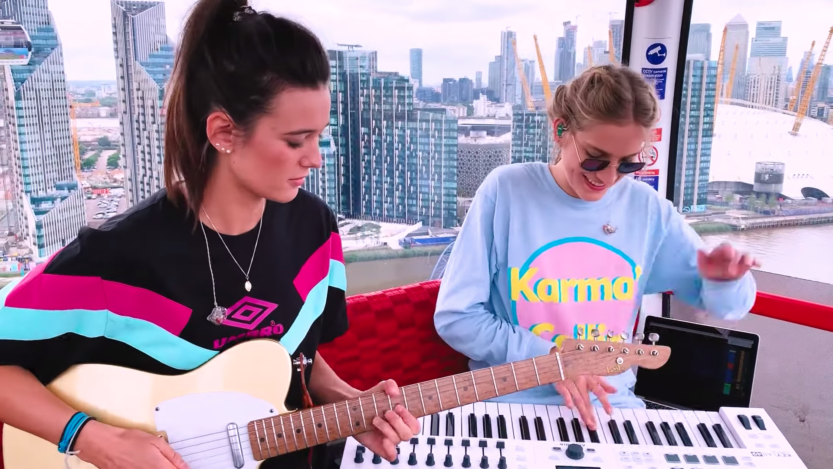 Annie Plays Guitar is a name that has popped up on social media for the past few years. We've had a listen to Annie Wagstaff's music and also looked at her new project HANNIE in this edition of Roadie Spotlight.
Who is Annie Wagstaff and HANNIE?
Annie Wagstaff, commonly known as Annie Plays Guitar is a guitarist from Surrey in England. She has been playing the guitar and drums since the age of 7 and later on studied music in London. She's inspired by the likes of Julian Lage, George Benson, John Scofield, and Joe Pass.
After causing a stir online with her guitar playing, Annie teamed up with German pianist Hannah Koppenburg (known as Hannah Plays Keys) to create HANNIE in 2017. The duo both studied music in London together and both later went to Berklee College of Music.
Since they began posting videos of them playing together, they've racked up an impressive 300,000 followers on Instagram and released six singles that have over a million plays on Spotify.
Each single features a different singer who the duo provides a musical backdrop for with their respective instruments. They've now signed with Warner Music and are looking for other vocalists to collaborate with.
What Does HANNIE Sound Like?
Although HANNIE does have a signature sound, each song they've released has been heavily influenced by the vocalist featured on it.
That said, it's hard to get around the pop-influenced thread that runs through all their songs. There are definitely tracks with a lot of chart-topping hit potential in their current catalog.
Similar artists on Spotify include BOBBi, Fickle Friends, Ralph, and L Devine.
Watch HANNIE in Action
The duo's music is very accessible when you listen to the studio version of it online. But the true joy is watching HANNIE doing what they do best, which is creating tunes on the fly.
Here they are traveling around London while producing amazing beats:
Follow HANNIE Online
HANNIE is all over Instagram, but they've got their online presence covered so you can find them even if you don't regularly look for musicians on IG.
Here are some links to help you on your journey into HANNIE's universe:
Who should we listen to next? Leave your suggestions for future editions of Roadie Spotlight in the comments section below.