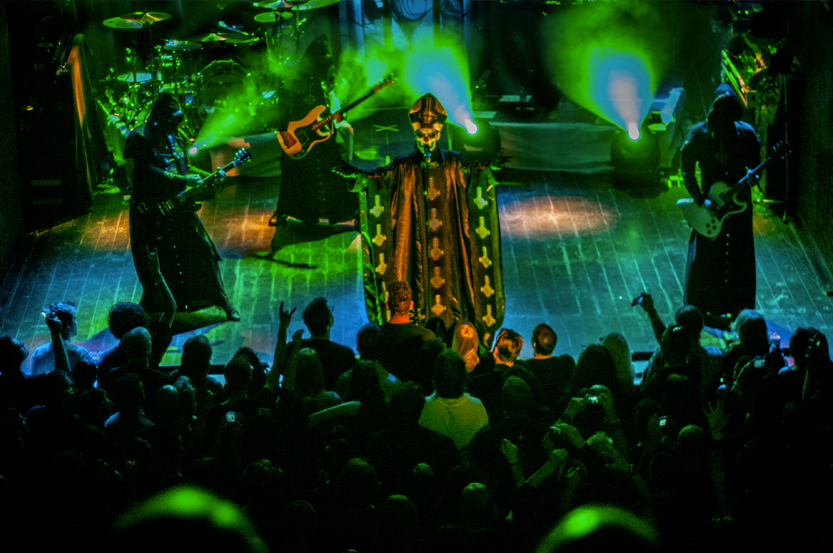 One more time then! We've already outlined six of the best albums of 2018 in the previous entries to this series. But, the party ain't over yet!
How do you follow up Alice in Chains, Mark Tremonti and Mike Shinoda? Read on and find out!
More of the best rock music of 2018 awaits!
Here are the Best Albums of 2018:
Judas Priest – "Firepower"
"Only until recently, I have had this naive perception that Priest were in a place generation-wise where rock radio was playing age bias. Whenever we've been in the studio in recent years, we've always gone, 'Oh, maybe this will get on the radio. And we're told, 'They don't play Priest on the radio.' It's apparently this thing where you've got to be young and beautiful. I'm just so grateful radio has picked up on this… It's an affirmation."
– Rob Halford on "Firepower" (via Rolling Stone)
Let's be honest. "Firepower" was an album that precisely no-one expected from Judas Priest at this stage in their career. And yet, as some members of the band hurtle towards their seventies, they puts out their most consistent set of headbangers since 1990's seminal "Painkiller." Chock full of balls to the wall anthems, polished to perfection by production duo Tom Allom and Andy Sneap, this is classic Priest with a modern sheen. Due to guitarist Glen Tipton's Parkinson's diagnosis, this could be Judas Priest's last hurrah. But if it is, they can hold their heads up high.
Turn up your stereo, grab your Epiphone Richie Faulkner Flying V and get those horns in the air. This one's an old-school metal blast!
Joe Satriani – "What Happens Next"
"I had so much fun playing with Chad [Smith] in Chickenfoot… I thought, 'This is rock and roll! How I can capitalize on how right this feels?'  I thought maybe Chad would do an album with me…if I found a bass player who was really exciting to him, a bassist he'd really love to do it with. Glenn was at the top of the list… So it was actually a very short text to Chad—and he responded right away, 'Yes! Here's Glenn's number! Call him right away!' It was almost like a little kid's dream: 'Wouldn't it be great if..?' And suddenly there we all were [laughs]!  Every day of it in the studio was crazy-great!"
– Joe Satriani on "What Happens Next" (via AXS)
When you think Joe Satriani, it's precision-based hard rock technical mastery that comes to mind. But, on "What Happens Next," Satch lets his (very much metaphorical hair down) for a more off-the-cuff instrumental album that leans on soul, blues and rock traditions. He's in great company too, with Deep Purple's Glenn Hughes and Red Hot Chili Peppers drummer Chad Smith filling out the power trio line-up.
It's easy to think of Satriani as Satch the shredder, but listening to this joyously infectious release reminds you of just how consummate a guitar player he is. Phenomenal musicianship, great jams; what's not to like on this one?
Ghost – "Prequelle"
"I think this record might be the first positive record ever written about the plague. Essentially, it's a record about survival, start to finish. The record takes you through the idea of mortality, before ending on the question, 'if you could circumvent death… would you?' I come from the metal underground, and the subject of The Black Death has been excavated many times. But those records are about the decimation of everything, and little light is shown to the survivors. There's an argument that mankind learned a lot of good from what happened…"
– Tobias Forge on "Prequelle" (via NME)
You might expect a lawsuit from four former band members would have derailed Ghost's progress in 2018 somewhat. But, undeterred, band mastermind Tobias Forge has produced what is possibly the band's strongest offering to date in the form of "Prequelle." Building on the framework of the band's sound, it's a record that embraces the hallmarks of classic metal, while searching for new motifs and pushing the genre forward. It's also damn catchy, and you can't fault them for that!
Those are our picks true believers, but what are your's? Share your thoughts in the comments and tell us what you think was the high point of 2018 album wise!
Main Photo Credit: Enric Martinez