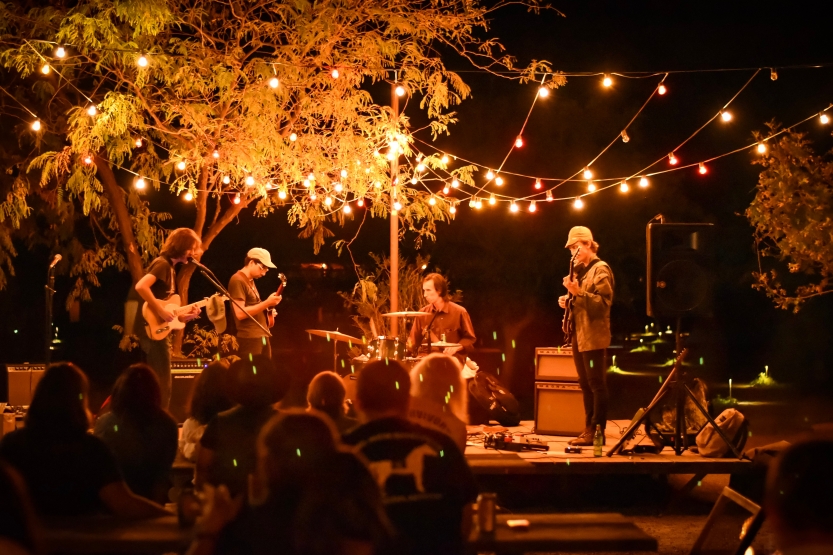 A few days ago, I went to a local show to watch a couple of up-and-coming bands I'd heard some good things about.
I love going to these hometown gigs. They're a great way to discover new talent, and you'd be amazed how the observations you make can aid you in your own playing. (On a side note, if you're serious about your guitar playing, post a musician wanted ad and join a band. In my experience, it's the best way to learn to play guitar). This week was no-exception, but not for the reason I expected.
Introduction
The first band on the bill was pretty green, but they had a lot of potential. They hadn't refined their stagecraft, but they had some killer hooks. Something about their set bothered me, though. At first I couldn't put my finger on it. While they were pretty tight, their sound wasn't gelling together. And I could see I wasn't the only one that thought so. By the second song, other members of the audience were visibly squirming.
By song three, I'd realized the issue. All three guitarists on stage were in tune. But, they weren't in tune with each other! After each song, they'd all been tuning by ear, and were all sharp or flat compared with the others. Now, this tuning difference wasn't massive. But, it was enough to have an impact on their set.
The sonic dissonance caused by those tuning discrepancies was what was making the audience squirm and, unfortunately, it put a dampener on what was an otherwise commendable performance.
By the half-hour mark, I was fighting myself not to throw my trusty Roadie 2 on stage and telling them to sort it out!
You've probably heard the term A440 bandied around in relation to tuning, but you might not know what it means. Well, A440, which has a frequency of 440 Hz is the musical note of A above middle C and, since the invention of the "tonometer" to measure pitch in 1834, it has served as the general tuning standard for musical pitch. It's the frequency reference used to calibrate acoustic equipment and to tune everything from pianos and violins, right down to your faithful guitar and bass.
Pretty much every electronic chromatic tuner out there – be it a clip on guitar tuner, digital guitar tuner, or guitar tuner app – will use A440 as standard. Standard is the key word here – tuning to A440 means everyone is in the same tuning. It sounds harmonious and gels your band together.
Conclusion
Moral of the story? If you're even remotely serious about going somewhere with your band, make sure that you and your bandmates invest in tuners. Because, an out-of-tune band will always sound like amateurs, regardless of how banging their hooks are.
Oh, and if you're looking for the best tuner, why not give Roadie a try? Lightning fast, super intuitive and with amazing preset and customization options, it's a musician's best friend on stage and in the studio.