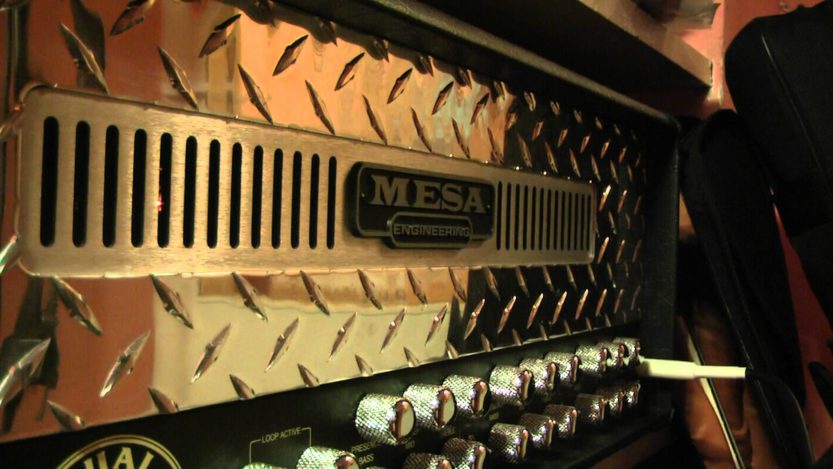 Somewhere in the early 70s, Randall Smith owned a small music store. He performed minimal modifications to Fender Amplifiers, thus producing a new breed of heavy and distorted guitar tone. He made a name for himself, producing reliable combo amps that were really loud. So loud, that it was enough to attract local legend Carlos Santana to give it a try. While playing in the store, the guitar hero said "Man, that thing really boogies!", and the rest is history.
What Makes it Boogie?
Every Mesa/Boogie is born with the same construction techniques and component combinations. Professionals that average 10 years of experience handcraft everything. Now, here are a few reasons why Mesa Boogie are so spotless when it comes to consistency and quality:
1. The chassis of Mesa combos use 16 gauge, cold-rolled steel with welded seams and a heavy powder-coat finish.
2. Hand-drawn printed circuit boards inside every single amplifier.
3. 1% Tolerance for resistors.
4. Relentlessly custom made Tubes, pots, transformers, capacitors, connectors, sockets and switches.
Similar – How to Buy the Best Bass Amp
Cabinets
In order to save weight and improve structural integrity, all cabinets are carved out. Hence, they form an extremely strong skeleton. High-tech innovation enhances the bass spectrum of the speakers. Also, internal air space pumps out the low end, keeping a mid-range that is punchy & crisp.

Tubes
As for the high-gain tubes, Mesa Engineering's signature low-noise 12AX7 is the real deal. This magical component is a result of hundreds of hours of professional work and revision. It's a major achievement, and simply one of the best.
Famous Albums Recorded on Mesa Amps:
Master of Puppets, 1986:
Metallica's Master of Puppets (1986) is the ultimate example of what a Mesa Boogie can do. For instance, Frontman James Hetfield used a Jackson King V played through a Mesa Boogie Mark IIC+ amplifier modified as a pre-amp; and bassist Cliff Burton also played an Aria Pro II SB1000 through Mesa Boogie amplifier heads and cabinets. Here's the iconic riff that tops off this album and the history of heavy metal.
Metropolis Pt. 2:  Scenes From a Memory, 1999:
For Dream Theater's first two albums (When Dream and Day Unite & Images and Words) and in their tours, they used a Triaxis/2:90 rack rig.  On Awake, they added a Dual Rectifier Solo head to the mix.  The following two albums (Falling Into Infinity & Metropolis Pt. 2:  Scenes From a Memory) were recorded almost entirely using Mk. IIC+ and Mk. IV heads.
Supernatural, 1999:
Carlos Santana's distinctive guitar tone is produced by PRS Santana signature guitars plugged into multiple amplifiers. The amps consist of a Mesa Boogie Mark I, Dumble Overdrive Reverb and more recently a Bludotone amplifier. Often the unique tones of each amplifier are blended together, complementing each other to produce a richer tone.
Similar – What Are The Best Acoustic Guitar Amps?
Have any favorite tracks/albums recorded with this iconic line of amplifiers? Let us know in the comments section below!