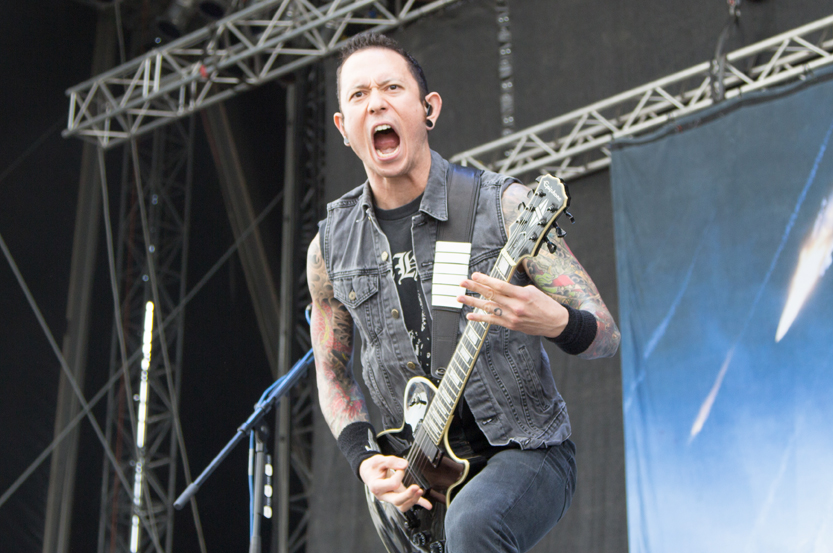 Have you checked out Trivium's Awesome New Video? If you're a fan of sick riffs played on seven string guitars, then this is one for you.
Trivium recently released the video to new single "The Wretchedness Inside." It's awesome, and watching it has us here at Roadie pining for a Matt Heafy signature guitar. (To be fair, we were pining for one anyway. His Epiphone Les Paul custom is one of the best metal guitars on the market at the moment).
Trivium's early albums were a masterclass in heavy metal guitar. "Ascendancy" and "Shogun" in particular, were classics. But, the band's softening of their approach on subsequent records has left some fans in the lurch.
Fortunately, their latest album, "The Sin and the Sentence" sees them back on top form. It's a diverse record, balancing melodic moments with sheer brutality. "The Wretchedness Inside" might be the most brutal statement on the whole album. It pummels from the first note, with those crushing seven string guitars hitting you like a tonne of bricks.
"Submerged in dirt but it was never enough, to quell the fire in the back of my lungs" – Heafy spits out the first line with a degree of malice and fury that we've not heard from Trivium in years, only adding to the musical gut punch. And, but for a brief break to melodicism in the chorus, that never really lets up. By the time the savagery of the breakdown hits – which vibes like a 'roided-up version of Pantera's "A New Level" – the sheer intensity is almost overwhelming.
We say "almost," – "The Wretchedness Inside" would be too much if it wasn't for the strong sense of songcraft throughout. That, in part, comes from the input of bassist Paulo Gregoletto. As Heafy noted in an interview with Metal Hammer:
"It was originally ghost-written for another band, a modern metal band, and they ended up not using it for some unknown reason. Paolo helped me revamp it. It shows off our modern metal and metalcore, hardcore roots. It's about being addicted to a bad situation, knowing it and not being willing to get out of it, but recognising it. Abusive relationships, abusive friendships, toxic addiction, something like that. When you pop out and have a moment of clarity and a moment of consciousness, and you're like, 'Why am I in this, this is terrible for me, I need to get out', and you just hop back in. It's the idea of Stockholm syndrome, something like that, in a song."
If you're looking for a savage, seven string heavy metal fix to start your day folks, then this is the soundtrack for you.
Remember, the first step to a beastly sounding seven string guitar is making sure it's in tune! Fortunately, Roadie 2's got a preset for that, so you can be riffing like beast within seconds.
Did you like Trivium's Awesome New Video? Let us know what you think!