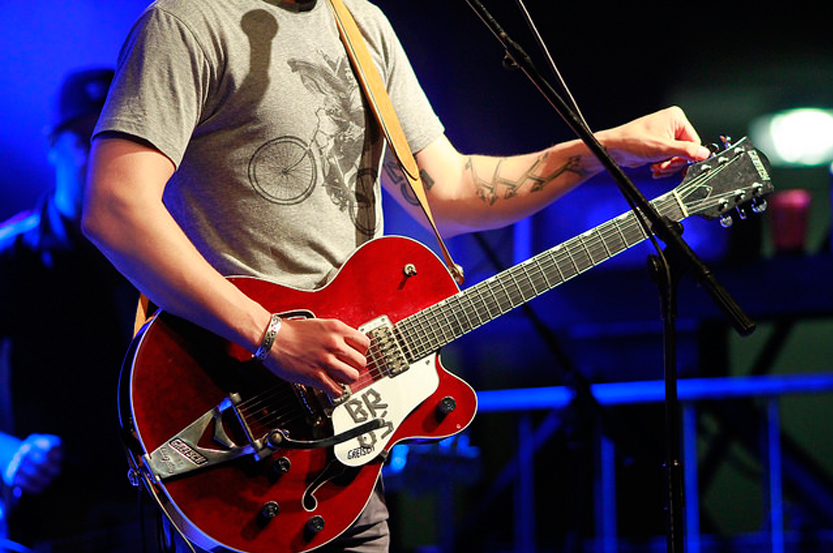 Beginner guitarists and tuning stability have a turbulent relationship. In this day and age, getting your guitar in tune is easier than ever. Between guitar tuner apps, digital guitar tuners and clip-on guitar tuners, there are plenty of options out there. (If you're looking for the best guitar tuner on the market, that's quick and easy to use, why not give our Roadie 2 a try?).
But getting those strings to stay in tune, that's another story entirely.
Tuning Stability
So, oh intrepid learner guitarist, why isn't your guitar holding pitch? Why, after a minute of play do you sound like a vinyl record that's been left out in the sun?
Probably because you don't know how to fit your strings properly.
Sounds obvious, no? But the amount of people that get is one wrong is frankly baffling.
I've encountered people that don't understand why their guitar keeps going out of tune, only to find that they've fitted said strings in a way that defies comprehension.
(The worst example I've seen is someone who tied the string around a tuner post in a double knot. I didn't even think that was physically possible, but boy was I proven wrong.)
So, it's time to make tuning mishaps a thing of the past.
When it comes to fitting your strings the correct way, there are three things to remember.
The Correct Way
Firstly, make sure your strings are properly seated on the guitar at the string's ball end. On a steel-strung acoustic, this means making sure the string is snug against the bottom of the bridge pin. On an electric guitar, it's the same principal but with your tail piece, wrap-around bridge, trem block or the back of the guitar body. If it isn't snug, that string will be too far inside your guitar and tuning horror will ensue.
Secondly, keep those string winds around the tuner post neat, and to a minimum. You're aiming to have each wrap stacked neatly and going downward from the tuning peg hole. You do this so the string returns to the same spot on the post when string tension changes.
On a related note, the process of actually fitting those strings to your guitar is made effortless with your Roadie tuner. Roadie's automatic winding feature, with a motor that rotates at 60RPM, means you can switch out strings quickly and easily.
Finally, stretch your strings… thoroughly. Once you've got those bad boys installed and in tune, gently tug on them around 10 times up and down the length of the string. Lightly push down on the string behind the nut or bridge to make sure it's properly seated, and then tune the string back to pitch. You'll need to repeat this process until the strings stay in tune.
This one sounds dull, and guess what? It is. That's why most newbie guitarists skip it.
But, the time you spend stretching those strings will pay off in dividends. Your strings will stay in tune better, meaning you don't turn into a St. Sanders Shreds video when you come to play that all-important guitar solo.
Conclusion
Put all of those things into practice, and you'll be amazed how much better your guitar holds its tune for gigs, recording and in the rehearsal room.
Oh, and one final word, if you remember these rules and are still struggling with tuning stability, you might need to change your strings. Guitarists do have to change their strings once in a while, y'know…
For a deeper dive into tuning, check out our new and improved Complete Guide to Guitar Tuning.