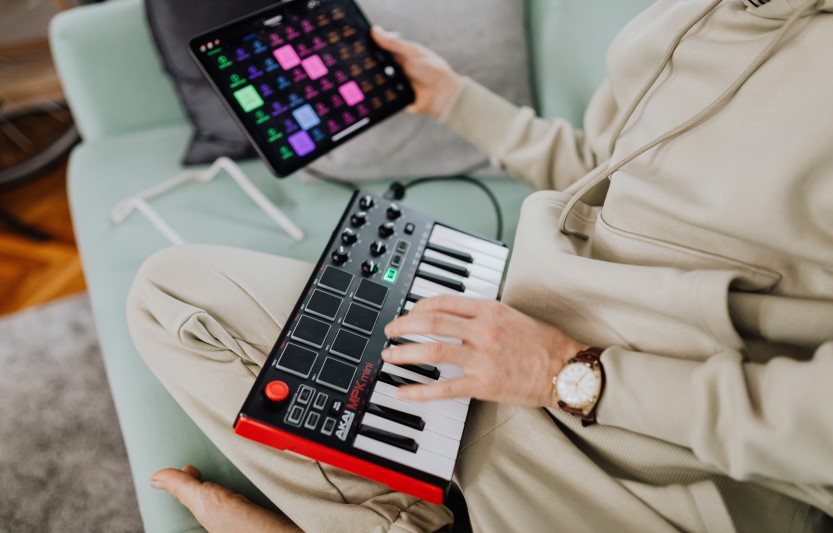 Today we're going to talk about the 5 best MIDI keyboards for beginners.
We live in a very exciting time, where you can get into music production with a few essential but inexpensive tools. One of these tools is the MIDI keyboard. 
A MIDI keyboard allows you to manipulate, and incorporate many sounds including those of instruments that are sampled. 
As a beginner, you probably want to be conservative with how much money you spend. However, there is no need to worry. There are plenty of affordable MIDI keyboards that work like a charm. The best way to really understand how a MIDI keyboard works is by using one. Without further ado, here are the 5 best MIDI keyboards for beginners.
The Novation Launchkey series offers some of the finest MIDI keyboards for Ableton users. The Launchkey Mini Mk3, just like all the other models in this series, was designed specifically for use with Ableton software. 
As such, this model even comes with a copy of Ableton Live Lite, so you can get started right away. All you have to do is plug in the keyboard and you're good to start.
With 16 drum pads, eight rotary dials, and DAW transport controls, you get tons of control over the production process. 
This MIDI Keyboard features drum pads that offer a great feel, as well as 25 synth-action mini keys. 
The tiny keys may not be for everyone, but they make this controller an excellent choice for beginners with little playing capacity. The 25 keys are good enough to play lines and chords, or basslines, and you also get octave up and down buttons for further range.
The MIDI keyboard ships with a nice software bundle that includes instrument plugins. Overall, a great choice for beginners looking to take control over their music productions.
The Alesis V25 is a portable keyboard with full-size keys and several other features that put it among the best for beginners. It features a streamlined and simple design that makes it one of the best MIDI keyboards for musicians or producers that are starting out but want full-size keys on a compact, portable board.
The unit ships with a lite version of Ableton Live. In other words, its a complete package that will allow you to start coming up with your own musical productions while giving you full control of parameters and more.
In short, the V25 is a great first MIDI keyboard.
The Arturia Minilab has been around for some years. This model will appeal to mobile musicians as well as beginners, as Arturia offers an affordable entry into the world of the MIDI keyboard.
It comes with bundled software and is small enough to make it convenient so you can make music on the move.
The Minilab can also be used to control virtual instrument apps over iOs, as well as standard recording software on your Mac or PC. 
It ships with Ableton Live Lite, a Grand Piano plugin, and Arturia's Analog Lab Intro. 
The Nektar Impact LX 25+ is a fully programmable MIDI keyboard where you can store your settings in one of the five onboard presets.
You get a vast amount of control options with this model, but it is still easy enough to use. In other words, it is ideal for getting deep into music production from the very beginning. 
This list of the 5 best MIDI keyboards for beginners features some great choices from top manufacturers. Besides being well built, flexible and easy to use, they are also affordable. Pick one of the choices above, and you will be ready to truly take control over your productions. Remember, this is one of the essential tools for the music beginner. Remember to have fun!