Beginner's Guide To Music Production
by Rodrigo Sanchez, May 9, 2022 . 5 min read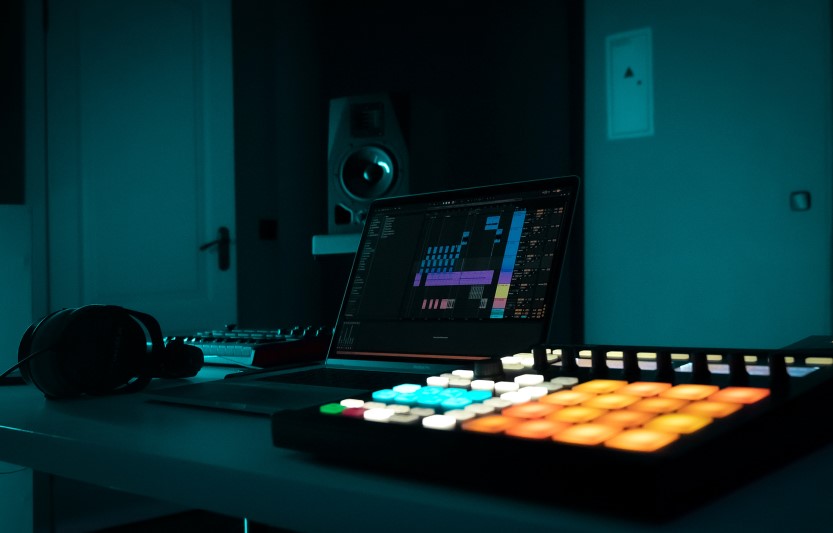 In this beginner's guide to music production, we're going to talk about everything you need to get started.
Truth be told, there has never been a better time to get into music production. The tools needed cost a fraction of what they used to before. Additionally, there are endless resources and informational material available today. 
On top of that, you no longer need a record label or expensive studio to produce music. You can produce and upload your music to a variety of online platforms for the chance to get heard. They say that the cream rises to the top, and if your music is good enough, you will find out. Without further ado here's our beginner's guide to music production.
What is music production?
Before we embark into music production, we need to know what it actually is. 
Music production is the process of making music, from start to finish, so someone can consume it. This involves songwriting, re-writing, arranging, editing, recording, mixing, mastering, and more. 
Naturally, each of those steps is deep. So much so that there are mixing engineers, mastering engineers, dedicated songwriters, etc. However, each of these specialized professionals understands how the other parts of music production work. 
The best is to familiarize yourself with all aspects of music production, and if you wish, you can then specialize in one. 
Songs
For music production to even start, you need to have… music! Unfortunately, this is often overlooked. You need to have material to produce, preferably good songs.
In essence, songs are the lifeblood of a production. They say that half of the production is already done if you have a good song. 
That said, you can start producing with just a basic idea, and see where the production leads the song towards. This way of approaching production used to be expensive, as studios typically charge by the hour.
However, with the explosion of home studios and the affordable tools that are within our reach, you can spend as much time as you want to explore. All of this without having to pay extra for endless hours of finding that special sound in your home studio. 
Coach can be that bridge between the beginning of an idea and having it developed enough to begin production. 
This great device attaches to your instrument of choice and can help you keep multiple song ideas, riffs, and other notes of production. This is done via its high-quality recording feature.
Coach can also help you with your singing and playing, by giving you personalized feedback on your progress. Over time, becoming a better singer and/ or player will lead to better productions.
Whether you are a guitarist, singer, ukelele player, etc, you can get better as a musician with this tool and it can have an impact on your productions. 
Gear
To be able to produce music, you need some gear. Below we give you the basics and what they do. Keep in mind that these tools come in all shapes, sizes, and prices. It will all depend on what you need and how much you are willing to spend. 
Computer
You probably have one already. There was a time when it made a difference whether you run on Mac or Windows, but that is no longer the case. There are endless software options available for both operating systems. 
The question then becomes how much capacity you need in your computer. If you are just starting out, the answer is not much. 
There is a good chance that you can start with the computer you already have.
Audio Interface
You need an audio interface in order to record and get started with music production. This crucial tool is what turns your sound into a visual presentation that you can manipulate via your digital audio interface. 
Additionally, working with an appropriate interface will position you on the right track to comprehending how the process of producing music really works. 
DAW software
Your DAW software is where you will do almost all of your production. The two most popular are ProTools and Logic. These are used by professionals all over the world and are typically available in high-end studios as well. 
Some options for beginners include Garage Band and Studio One (which comes with any PreSonus interface you purchase). 
Microphone
A microphone is critical if you're intending to record voice or live musicians. However, microphones can differ significantly in quality and cost. Understanding what microphone model works best for each voice and instrument is an acquired skill.
Although the most popular type of mic is dynamic, condenser microphones are the standard choice for the studio. These mics are much more sensitive and can capture voice and instruments with superior detail and warmth.
Speakers and headphones
You need to hear everything you're recording. This is where headphones and speakers come in. Here, you can even opt for headphones and leave speakers out in case your situation demands it. 
The best would be to have both, so you can compare how it sounds on speakers and headphones. Just like in everything, there are affordable and expensive speakers. The same is true for headphones. 
This beginner's guide to music production features all you need to start producing. It is important to know that producing is just like learning to play an instrument. Practice, patience, and repetition are paramount to becoming good at music production. 
Just like learning an instrument, your first production efforts may not be very good. However, they are essential to getting better. With time and dedication, your production efforts will get stronger, and perhaps even become worldwide hits. Remember to have fun on this journey.  
Subscribe to Gain Access to our Alternate Tuning Library & Accompanying E-Book Guide
Discover the origin of the most popular tunings, some less-known facts, AND most importantly, learn how to play songs in your desired tunings.