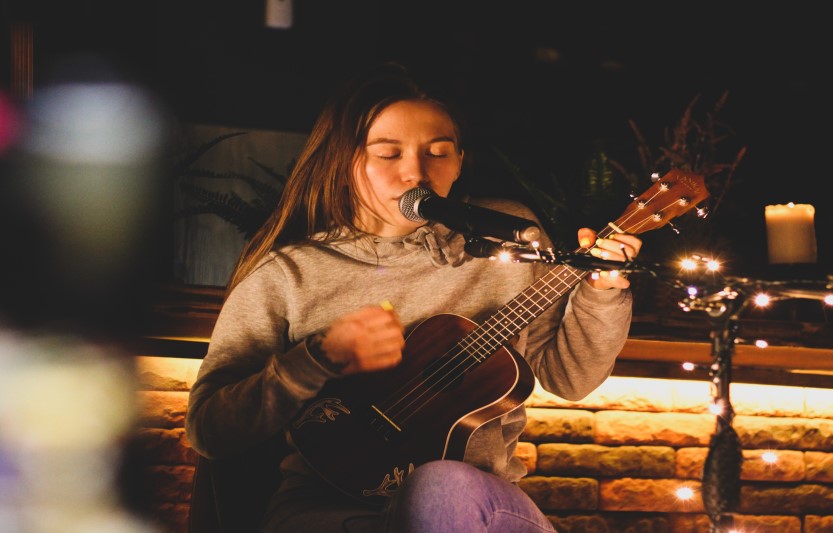 These 5 songs to sing play and learn ukulele can be of great help in your journey. These songs are all hits from different eras, and make up a balanced repertoire. 
With each of these tunes, you will become more confident as a player and singer. In other words, not only will you build up your list of songs but you will also learn something new with each of them.
For an ideal tool to help you further with the ukulele, check out Roadie Coach. It easily attaches to your ukulele and works in tandem with the Coach app. Here you'll find many songs, a high-quality recorder, and personalized feedback to help you with your progress. 
Without further ado, here are the 5 songs to sing play, and learn ukulele.
This is a great song that was a hit just a few years ago. Sung and written by the incredible Taylor Swift, You Belong With Me is particularly popular among younger generations.
This song features a simple form, chord progression, and strum pattern. This makes it great to play and sing as it is relatively easy to match the words with the uke part. 
Somewhere Over the Rainbow is considered by many as the ultimate ukulele song. This classic tune can be quite fun to sing and play. It also can help you get better in the uke, as it features a common strumming pattern and chords. Learning how to play Somewhere Over the Rainbow on ukulele is almost a must for beginners. 
Driver's License was a massive and recent hit. It put Olivia Rodrigo on the map and ignited her career on fire. That is the power of a hit song, and now you can learn this song as well.
This song is fun to play and sing, particularly if you like more heartfelt lyrics and expression. It features regular uke chords and a form that is a bit more challenging than most. 
This timeless Elvis Presley song is another staple of uke repertoire. This song is extremely well known and has transcended time, language, and style. 
Other artists like UB40 and Twenty-One Pilots have also covered it, and it remains a favorite around the world.
It features easy uke chords as well as a common strumming pattern. This song is fun to learn and sure to be a hit wherever you play it. 
I'm Yours has been one of the biggest hits of the last twenty years. Besides being very popular, I'm Yours is also very easy. The chord progression is C, G, Am, F is played with a simple eight downstrokes per chord for the entirety of the song. 
As a result, this song is not only great to play and sing but also fantastic for beginners. 
 These 5 songs to sing play and learn ukulele offer the best of both worlds. You get to learn how to play the uke while having tons of fun. This will also help you be inspired, as these songs are not only easy but also very catchy and pleasing to the ear. They can be a great first step before moving on to more challenging songs. Remember to take it slow, practice, and have fun.