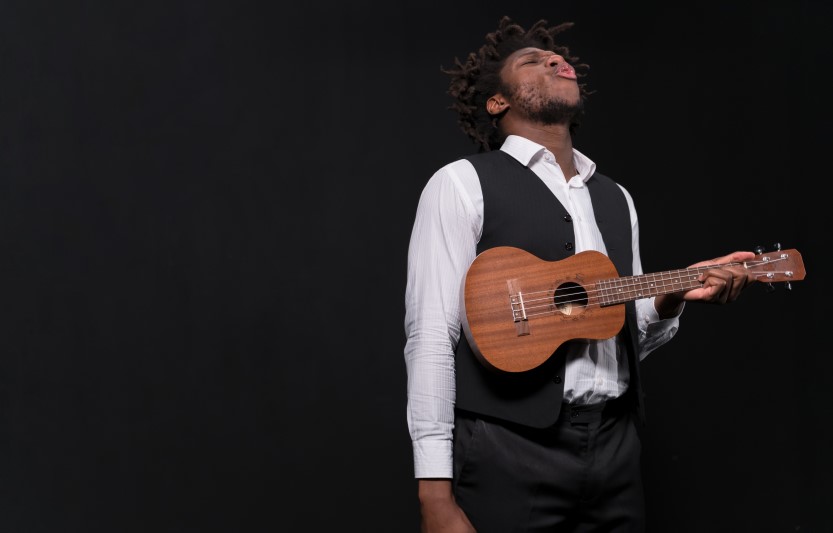 These top 5 difficult ukulele songs to learn will serve as a challenge on your journey. After you've been playing the uke for a while, it may be time to put your knowledge to the test with some difficult material.
This is especially true after you've learned the easy songs as well as the most famous uke songs. 
Learning difficult ukulele songs can be the next step in your development as a musician, so make sure you keep practicing. 
Speaking of practicing, have you checked out Roadie Coach? This wonderful tool can help you in a number of ways. With Coach, you can track your progress via its high-quality recorder. You will get immediate feedback that is certain to keep you on your toes and progressing. Additionally, Coach also comes with a library of songs that you can add to your repertoire, as well as many other features and resources.
 Without further ado, here are the top 5 difficult ukulele songs to learn.
Something is a masterclass in songwriting, for any instrument and the uke is no exception. It features several chords, resources, and progressions, as well as some key changes.
It was written by George Harrison and is a Beatles classic. In this song, you're going to get a closer look at how chord progressions work and what to do if you want to spice up your playing. Besides being a great song to play in the uke, it is also a nice way to get acquainted with new concepts not featured in easy songs. 
The ultimate Eagles song! Hotel California is a massive classic that has defied father time and remains a popular song the world over.
Here you get a chance to truly work on your bar chords for the ukulele. Hotel California also features the challenge of developing the stamina to play it the whole way through. 
This is a great song to work on your concentration as well as your hand dexterity with bar chords. Remember to take it easy, and to stop if anything hurts. 
One of the greatest rock songs of all time! We are the champions is heralded as the number one victory song all over the world. 
It features several chords and shapes that may be new to you on the uke. This song goes all the way to diminished chords, so be prepared for a nice harmony workout. 
Although its form is relatively simple, We Are The Champions features many chords that are not common for easy uke songs. 
The most famous song by arguably the greatest rock band ever. Stairway to Heaven is a staple song among guitarists at it offers several challenges, which can also be translated to the ukulele. 
In this song, you get to work your right-hand finger independence as you pluck, as well as your ability to retain longer forms.  
Learning Stairway to Heaven will certainly help you become a much stronger uke player. This song is particularly hard, so take your time and do not rush through it. 
Don't be alarmed by another Beatles song! After all, the Fab Four basically created the modern song paradigm. 
Written by John Lennon and Paul McCartney, this arrangement features all the intricacies and details that make this song great. Playing it will pose a challenge and will give you a true sense of accomplishment once you learn it all. More importantly, in this song, you get to use multiple ukulele techniques that are harder to come by in easier songs. 
These top 5 difficult ukulele songs to learn can be not only challenging but fun. They will make you grow as a musician and put your skills to the test. These songs will also help you understand songwriting and harmony in ways that you did not before. Remember to go slow and have fun!