A Guide To Locking Tuners
by Rodrigo Sanchez, Jan 20, 2023 . 4 min read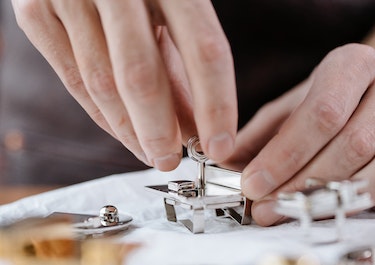 In this guide to locking tuners, we'll share some of the best options on the market today.
In essence, locking tuners provide improved tuning stability and make restringing a lot easier. Upgrading the tuning heads on your guitar is a common modification that immediately makes your instrument better. Whether you use regular, or alternate tuning, locking tuners are all about better performance. This guide to locking tuners contains four of the best models available.
These locking tuners feature a '3+3" configuration. This means they are designed for guitars that feature three tuners on each side of their headstock. For instance, a Gibson Les Paul uses this configuration, but a Fender Stratocaster does not.
Besides giving your guitar great tuning stability, the Hipshot 6GLO Grip Lock machine heads also offer you a vintage look. They come in three different finish options. You can choose from chrome, black, and gold, in order to match the hardware on just about any guitar you may have.
Grover is one of the most renowned brands for guitar hardware, including locking tuners. They produce some of the smoothest and most accurate tuners and have many models to choose from.
The 406C6 is a cost-effective option with a unique interlocking cam post mechanism. With these locking tuners, the string gets locked with the first few twists of the main knob, to add convenience to the stability that this product provides.
With an innovative and effective approach to a guitar-locking tuner, you get a fantastic Grover machine head at an affordable price.
D'Addario is one of the biggest names in guitar accessories and strings. These tuning heads offer you fantastic functionality and greater convenience when changing strings.
The Auto Trims contain a locking mechanism comparable to most other brands of locking tuners. However, they also feature a hardened steel cutter that automatically cuts the excess off when you tighten the locking clamp knob. In other words, changing strings becomes even faster and more convenient as you don't need to use wire cutters.
They come in three finish choices and feature a 3-on-3 configuration.
Schaller tuning machines have an unparalleled reputation and history. Many consider them to be one of the best guitar hardware companies and their locking tuners feature top-notch quality.
The Original F Series locking tuners come with a rugged locking mechanism and offer superior tuning stability and convenience when changing strings.
These tuners are a bit more expensive, but their quality is well worth it. They will last you for years and make your guitar a better and more reliable instrument.
However, one disadvantage of locking tuners, especially if you're a musician who likes experimenting with alternate tunings is that you have to lock and unlock the tuners every time you want to change the tuning. Roadie 3 is a recent addition to the world of guitar tuning that offers a unique solution to this challenge. It utilizes vibration detection technology to tune the guitar to the desired pitch and has more than a hundred built-in alternate tuning presets, making it an ideal tool for musicians who often switch between alternate tunings. This device is compatible with a variety of stringed instruments and can be programmed to handle custom tunings as well. Compared to traditional locking tuners, Roadie 3 offers more advanced tuning capabilities and is a great option for musicians looking for improved tuning stability and convenience when using alternate tunings.
We hope this guide helps you make a good choice for your guitar. After all, all of your hard practice can be rendered worthless with an out-of-tune guitar. Locking machine heads ensure that your instrument remains in tune song after song. It is hard to overstate their importance, which is why they have become so popular. Along with pickup replacement, exchanging regular tuners for locking models is one of the most common guitar modifications today.
Subscribe to Gain Access to our Alternate Tuning Library & Accompanying E-Book Guide
Discover the origin of the most popular tunings, some less-known facts, AND most importantly, learn how to play songs in your desired tunings.