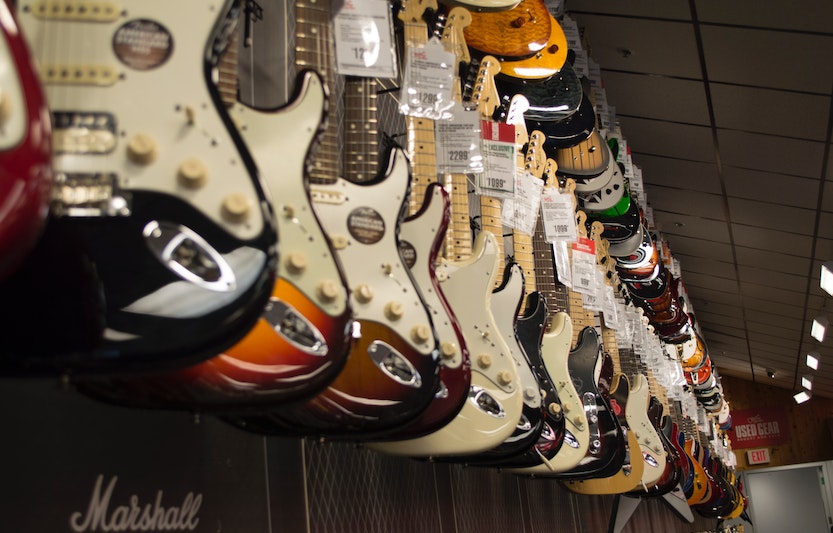 The 4 most popular guitar brands have decades of tradition and the highest reputation.
Although some like Fender and Gibson are quite old, we also have newer ones like PRS and Ibanez. Naturally, there are other guitar brands that are popular and offer high-quality instruments, but the ones below seem to also be the best-selling ones.
Without further ado, here are the 4 most popular guitar brands.
Fender is arguably the most iconic brand in guitar history. The Fender Stratocaster was introduced by Leo Fender and ignited rock 'n roll and a revolution. 
Other solid bodies like the Telecaster, Jaguar, and Mustang also became legendary, helping make Fender into what it is today. Guitar heroes like Jimi Hendrix, Jeff Beck, Ritchie Blackmore, Stevie Ray Vaughn, and many others used Fender guitars as their preferred instruments and changed the world in the process. For many, Fender is king among the most popular guitar brands.
Gibson is an iconic brand deeply rooted in tradition. They started in 1894 as the Gibson Mandolin-Guitar Manufacturing Co. in Kalamazoo, Michigan, moving later to Nashville. 
One of the most heated debates among guitarists is whether Gibson is better than Fender. Naturally, you can have the best of both worlds, and just own guitars from both brands, if you can afford it.
The most popular model is the Gibson Les Paul, which comes in a variety of versions and has been in production for many years. Other famous Gibson guitars include the SG, Explorer, Flying V, ES-335, and L-5, to name a few. 
Legendary guitar players like Wes Montgomery, Slash, B.B. King, and Jimmy Page are just a few of the iconic musicians that used Gibson as their main brand. Simply said, Gibson and Fender are the two most popular guitar brands. 
Ibanez is a Japanese brand that took the world by storm in the 80s. They produce fantastic hard-rocking metal guitars and affordable yet high-quality jazz instruments. 
As a matter of fact, Ibanez's versatility is arguably its most impressive trait. However, you could say the same about Ibanez's penetration in the market, as it literally took artists from Fender and Gibson and made them switch brands. 
Take, for instance, Pat Metheny. He is one of the greatest jazz guitarists ever and switched from Gibson to Ibanez for good. 
Other legendary Ibanez players include virtuosos George Benson, Joe Satriani, and Steve Vai.
Founded by Paul Reed Smith in Maryland, in 1985, this guitar brand has become a symbol of quality and reliability. They make everything from quality acoustics, electrics, basses, and amplifiers, all the way to their newly unveiled line of high-end guitar pedals. 
With models like the Silversky, Custom 24 and Custom 22, PRS has risen to prominence thanks to instruments that excel in many genres. 
The list of players that prefer PRS is a who's who of guitar greatness, from Neal Schon and John Mayer, all the way to John McLaughlin and Orianthi.
The 4 most popular guitar brands are responsible for some of the most iconic guitars in history. In an ideal world, I'd like to have several models from each of these brands, as they are simply fantastic. Do you have a favorite brand that was not among these four? Please let us know in the comment section below. 
As an Amazon Associate, we earn from qualifying purchases. However, this list is curated by our team and we only recommend products we truly believe are the best and might use ourselves.